Kuehne + Nagel is partnering with Lufthansa Cargo on a partnership for the promotion and use of synthetic sustainable aviation fuel (SAF) to reduce carbon output from air freight.
There are two main types of sustainable aviation fuel – bio SAF and synthetic SAF. The latter is derived by blending conventional kerosene with renewable hydrocarbon.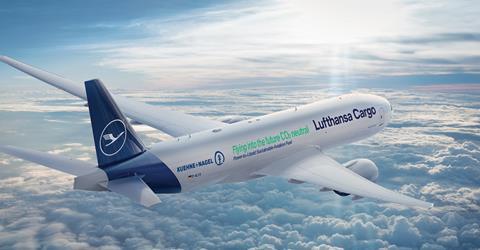 Kuehne + Nagel said that until now both it and Lufthansa Cargo have used bio SAF, which is produced from biomass. The primary energy source and feedstocks for the production of synthetic SAF are renewable electricity, water and carbon dioxide (CO2). Synthetic SAF is considered the long‐term solution for the industry as it can be produced without availability limits, avoiding biomass supply limitations, and can reduce emissions up to 100%.
The synthetic SAF is being provided by atmosfair, an independent German non-profit organisation that offers offsets for greenhouse gases emitted by aircraft and other forms of long-distance transport.
The logistics companies have committed to purchasing 25,000 litres of the fuel per year for the next five years and in doing so are helping to support production at the world's first industrial site for SAF, which is in the German town of Werlte.
"Already now, Kuehne + Nagel customers can avoid carbon emissions of their shipments globally with our bio SAF solutions and I am delighted to see that time has come for synthetic SAF as the long‐term solution for aviation," said Yngve Ruud, member of the management board of Kuehne + Nagel, responsible for air logistics.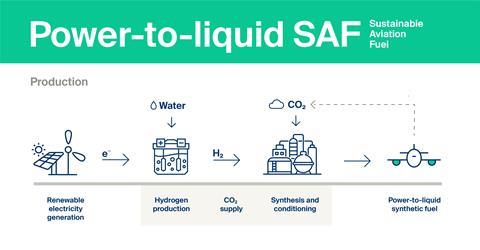 "By securing the first power-to-liquid fuel production together with Lufthansa Cargo, we are sending a strong message of commitment and collaboration, inviting our industry colleagues and customers to join us in creating the low-carbon economy of the future already today."
Power-to-liquid fuel is that produced by the conversion of renewable energy to liquid fuels.
Dorothea von Boxberg, CEO of Lufthansa Cargo, explained the strategic background to the partnership with Kuehne + Nagel: "We clearly see the key to a sustainable reduction of our emissions in flight operations in the research and use of synthetic, sustainable aviation fuels. The fact that we are now pioneering power-to-liquid technology together with Kuehne + Nagel makes us particularly proud and shows once again that we are actively tackling our climate protection challenges."
This latest move follows a partnership that Kuehne + Nagel established earlier this year with American Airlines for the use of 11m litres of SAF.