Kuehne + Nagel has entered into a partnership with American Airlines to use 11m litres of so-called sustainable aviation fuel (SAF). The logistics provider claims this would allow 13m kg of cargo to be transported from London to Dallas on a Boeing 777F in a carbon neutral way.
SAF is produced using various feedstocks such as waste oils, household waste or forestry waste. The International Air Transport Association (IATA) said that SAF feedstocks cannot come from sources that compete with food. These are then usually refined and blended with normal jet fuel.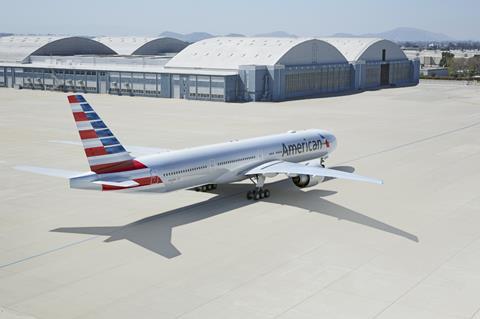 Burning SAF still releases CO2, but since it can be made from waste or biomass, it is a lot closer to having a circular carbon lifecycle. To compensate for the kerosene jet fuel that needs to be burned as part of the blend, as well as the carbon released by the production and transport of the SAF, Kuehne + Nagel use carbon reduction projects.
SAF is currently regarded as the most effective way to decarbonise air transport, as it is a drop-in solution that does not require technical changes to the aircraft.
Yngve Ruud, member of the management board of Kuehne + Nagel, responsible for air logistics, said: "The demand for environmentally friendly air logistics services is certainly on the rise. Through the innovative collaboration with American Airlines, we commit to support our customers' sustainability ambitions and contribute to the development and widespread use of alternative aviation fuels. We encourage all the industry stakeholders to join us in bringing carbon neutral flying one step closer."
"Partnering with Kuehne + Nagel as part of our effort to reduce the impact of aviation on our planet has been an incredible example of the kind of collaboration that will drive real change," said Jessica Tyler, president of American Airlines Cargo and vice-president of operations innovation and delivery. "This strategic, market-based solution will help create a cleaner supply chain and is aimed at accelerating our transition to a low-carbon future."
Logistics providers are constantly looking for new ways to make transport more sustainable, including alternative propulsion methods such as Wallenius Wilhelmsen's Orcelle Wind, LNG-powered trucks, an recycled oil for shipping, with increasing willingness and pressure from OEMs to decarbonise. However, panellists at the recent ALSC North America virtual conference agreed it would be a gradual effort.
In other recent news, Kuehne + Nagel has acquired Asian air and sea freight forwarder, Apex, for an undisclosed sum.
In 2020, Apex handled 750,000 tons of air freight and 190,000 TEUs of sea freight.
Dr Detlef Trefzger, CEO of Kuehne + Nagel International, said: "The combination of Apex and Kuehne + Nagel provides us with an opportunity to offer our customers a compelling proposition in the competitive Asian logistics industry, especially in e-commerce fulfilment, hi-tech and e-mobility. We are looking forward to welcoming the Apex colleagues to the Kuehne+Nagel family."