XPO Logistics and Mazda UK are working together to cut the carbon dioxide emissions from the carmaker's aftersales parts distribution network.
The companies plan to make the aftersales supply chain more sustainable by using trucks that run on hydrotreated vegetable oil (HVO). The renewable fuel is made from vegetable oil, tallow or used cooking oil and is made from 100% renewable waste.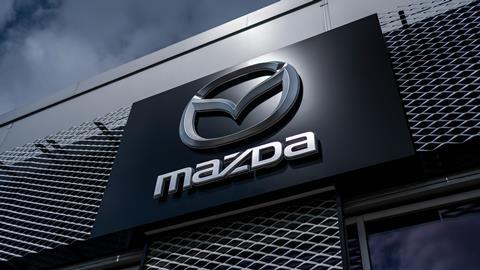 XPO's distribution fleet has 200 HVO trucks, which emit up to 90% less CO2 than traditional diesel engine trucks, making up 9% of its overall fleet. The logistics firm said it has installed a tank for HVO at its Motherwell site to make access to the biofuel easier in more of its vehicles.
"Over the years, Mazda and XPO have built a genuine, long-term partnership working together to successfully tackle multiple challenges from Brexit to the pandemic," said Dan Myers, managing director UK and Ireland, XPO Logistics. "When faced with such an ambitious objective as decarbonising supply chains, both organisations understood that working together was the only way to make meaningful progress. That's why we're working as a single, focused team to eliminate CO2 from Mazda's UK logistics operations."
David Wilson Green, customer service director, Mazda UK said: "At Mazda, we are working to reduce CO2 emissions across our business, and it's great to see the work XPO Logistics is doing to help reduce emissions in our UK supply chain. We are pleased that both companies share the same ethos of reducing the carbon footprint of their businesses."
Earlier in the year, BMW said it would be expanding its use of HVO-powered trucks alongside electrified equipment to meet green logistics goals. BMW's logistics provider Guggemos (GV Trucknet) is running a trial on a fraction of the fleet, with four trucks running on renewable HVO100 diesel between BMW's Munich plant and landau an der Isar, about 120km to the northeast. It's part of a one-year pilot programme for trialling the new fuel and was recently expanded to include another six trucks from third party logistics provider DB Schenker.
While using HVO fuel is seen to be an interim method to sustainability, it is important in the short-term, as electrified trucks will take longer to come into play due to regulations and shortages of charging infrastructure. Carmakers like Nissan and Hyundai have been ramping up trials for electric vehicle (EV) and fuel cell trucks for the onward delivery of finished vehicles.
Steve Jernigan, senior director of Supply Chain at Nissan North America said Nissan has been learning from a challenging electric truck trial in California. He told delegates at the recent FVL North America 2023 conference that Nissan has been collecting data from the trial to improve a future rollout on a larger scale.
Hyundai is set to launch its hydrogen fuel cell electric truck trial this month. The trial, in partnership with the state of California, will use Class 8 hydrogen-powered vehicles, developed based on XClient Fuel Cell, a new mass-produced heavy-duty hydrogen truck. Hyundai has already logged over 4m commercial miles in Europe using the trucks, having debuted the project in Switzerland in 2020. In the California pilot, Hyundai is starting with eight of the trucks and plans to use 30 throughout the programme.
Learn more about Nissan's sustainable logistics strategy across North America from our Red Sofa interview with Steve Jernigan at FVL North America 2023.