As Nissan learns from a challenging electric truck trial in California and Hyundai ramps up for its hydrogen fuel cell truck project next month, the carmakers hope more investment will follow.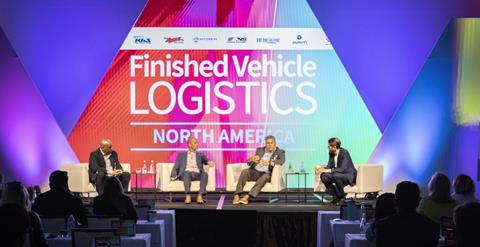 Nissan and Hyundai are both using California as a testbed for EV and fuel cell trucks for onward delivery of finished vehicles, with Nissan having learned lessons from its trial while Hyundai prepares for its pilot project.
Steve Jernigan, senior director of supply chain at Nissan North America told delegates at the recent FVL North America 2023 that the carmaker's trial had its fair share of challenges, but the company is implementing learnings from it.
Jernigan said: "We've been working on it with our partners for over a year and it was absolutely a challenge to coordinate all the activity. The set-up and launch was absolutely horrid, it was tough and teams spent a tremendous amount of hours on it."
The carmaker has been working with Avant Garde Auto Logistics (Agal) on the project, using Class 8 electric semi-trailers (etrucks) for onward delivery of finished vehicles to dealers in California from the port of Los Angeles. Operations began in February this year, beginning with two operational trucks and with two more anticipated to start this summer. Agal said at the time that it expected to be moving around 4,000 vehicles a year out of the port using the etrucks which are provided by commercial vehicle makers Kenworth and Nikola Motor.
Jernigan said part of the challenge came from the fact there were no guidelines. "It was just problem after problem," he said. "There was no check sheet. Nothing was easy."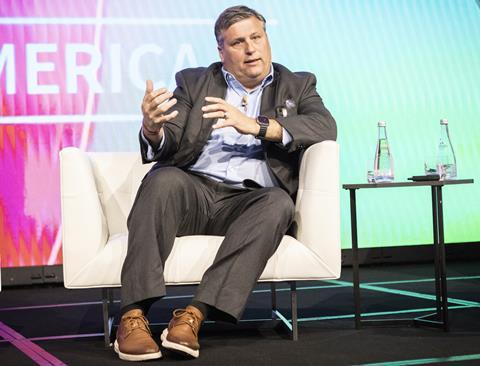 Since the launch, however, Nissan has been collecting data to learn from the challenges and improve on them. "We have collected a lot of data, and now we understand charge time, we understand driver experience, some of us here drove the truck, and it's really quiet and cool inside, it's high technology.
He said that some of the drivers in the trial had anxiety about making it back on the vehicle's charge. "There are systems out there that we're trying to understand that help us optimise the charge cycles," he said. "Truck utilisation is the key, so how do we maximise that and educate our drivers and work with the system to make sure they maximise that piece of equipment."
Learn more about Nissan's sustainable logistics strategy across North America from our Red Sofa interview with Steve Jernigan at FVL North America 2023.
Fuel cell future
Charles Franklin, senior national manager of business development at Glovis America, said Hyundai is preparing for its hydrogen fuel cell electric trucks trial next month. The trial, in partnership with the state of California, will use Class 8 hydrogen-powered vehicles, developed based on XCient Fuel Cell, a new mass-produced heavy-duty truck powered by hydrogen. Hyundai has already logged over 4m commercial miles in Europe using the trucks, having debuted the project in Switzerland in 2020. In the California pilot, Hyundai is starting with eight of the trucks and plans to use 30 throughout the programme.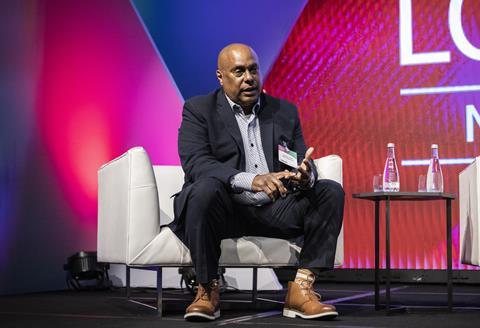 Franklin said the carmaker is working in partnership with California and private backers. "It's a trilogy," he said. "You have our support with the equipment and, operationally, you have the state which is backing it (but not by funding us), and then you have some private investment as well."
Franklin added that the trial could lead to further investment from the government. "This project that's happening out of the port of Oakland is going to be a testing ground," he said. "So, if it's successful and they see that these non-ICE vehicles can do what we say they can do, then that's probably going to be a catalyst to promote more investment."
He said that he is not anticipating major challenges for the drivers in the trial because of the ease of the hybrid model. "Basically, if you have a standard licence, you can drive the trucks," he said. "It's just that when you turn the key, it's got a different source of fuel."
The trucks have a 720km (450-mile) range with a 30-minute refuelling time. When asked whether finding refuelling stops on daily hauls over 1,000km would be a problem, Franklin said the carmaker is working with competitors to ensure this isn't the case.
"I'm not a politician so I can't speak on the government level, but as a commitment from our company, there is another competitive hydrogen truck manufacturer that we've invested $100m in, to help establish a network of hydrogen refuelling stations across the country," he said.
Lean more about California's policies and incentives to decarbonise freight logistics in our Red Sofa interview with Toks Omishakin, Secretary of Transportation, California State Transportation Agency.
Find out more about FVL North America and register for 2024