Silicon carbide supplier Wolfspeed has opened a wafer fabrication facility (fab) at Marcy in New York state to support semiconductor production in the US.
The Mohawk Valley Silicon Carbide facility will make 200mm wafer fabs for sectors including automotive and Wolfspeed said the devices made there will be critical to its $20 billion supply to the global semiconductor industry.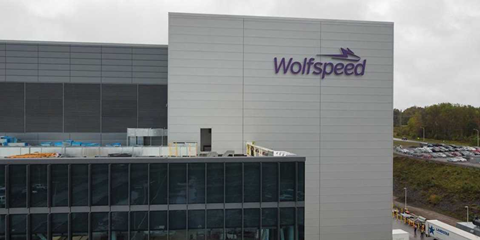 Localising supply in the US for both established and new carmakers, including GM and Lucid Motors, alleviates the risk to supply at a time when the automotive industry is suffering ongoing shortages of semiconductors and disruption to supply routes. The majority of semiconductors are still made and packaged in Asia but industry and government are working together in the US to localise supply of the crucial components. Last March president Biden signed an executive order designed to fortify US supply chains, including those supporting the production of EV batteries and semiconductors.
Wolfspeed's fab in Marcy is billed as the world's first 200mm silicon carbide fab. Until now 200mm silicon wafers have been made from crystalline silicon but silicon carbide offers the advantages of performing the same functions more quickly, at a lower temperature and at a much smaller size. The devices have a wide range of applications across industry, and especially now in automotive.
Last year, Wolfspeed signed an agreement with GM for the supply of silicon carbide devices for use in the carmaker's Ultium Drive units, which will power the next generation of its EVs. The Ultium Drive combines electric motors and single-speed transmissions powered by lithium-ion batteries. GM is developing a modular architecture for its future EV production.
Wolfspeed has also signed a deal with EV start-up Lucid Motors for the supply of devices for its vehicles and Lucid was present at the opening of the fab this week.
"Today, we are very proud to announce we will be partnering with Wolfspeed to source the highest quality silicon carbide components here in the state of New York, providing even more American jobs for the EV industry," said Eric Bach, senior vice president of product and chief engineer at Lucid.
Wolfspeed said it is also expanding operations in North Carolina with the creation of a materials factory in Durham, scheduled to be completed later this year.