Supply chain disruption as a result of the ongoing global semiconductor shortage continues as the imbalance between chip production and demand is forecast to maintain into 2022.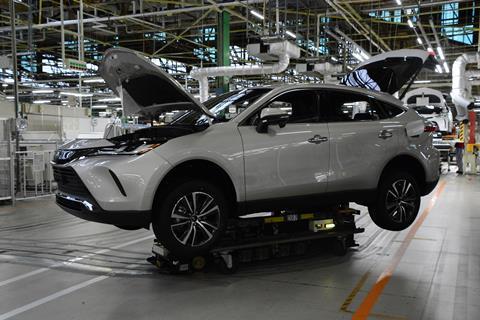 Toyota has been forced to make further cuts to its planned output for September because of the spread of Covid-19 in South-East Asia and the ongoing shortage in the supply of semiconductors. It will also now be cutting global production for October by 330,000 units.
As reported in August, the carmaker planned to cut production by 40% this month, equal to around 360,000 units.
It has now reviewed that figure and cut production by a further 70,000 units, with 30,000 accounted for in Japan across nine plants. For October, Toyota plans to cut global production by a further 330,000 units (180,000 overseas and 150,000 units in Japan).
The carmaker's annual production forecast to the end of March 2022 has been revised from 9.3m to 9m.
"Although the outlook for November and beyond is unclear, current demand remains very strong," said the company in a statement. "As a result, the production plan for November and beyond assumes that the previous plan will be maintained."
Toyota said the main reasons for the production cuts were the prolonged spread of Covid-19 in South-East Asia and the impact of tighter semiconductor supplies.
"Although our plants and suppliers are taking thorough quarantine and vaccination measures in response to the pandemic in South-East Asia, the spread of Covid-19 infections remains unpredictable, making it difficult to maintain operations due to lockdowns at various locations, and we are working to transfer production to other regions," said the carmaker.
Several workers have also tested positive for Covid-19 at plants in Japan over the last week.
Toyota said it was continuously assessing the semiconductor shortage and discussing medium- to long-term countermeasures with related suppliers. Currently, carmakers don't have direct contracts with suppliers of semiconductors, but that will become a crucial element in production in the future, according to Gartner analyst Pedro Pacheco. Companies are looking to improve communications regarding chipmakers' production allocation and establish closer partnerships through joint ventures he told Automotive Logistics. 
The automotive industry is planning for extended disruption because of the semiconductor shortage, which is now expected to last into 2022. Increasingly, disruptions to production and finished vehicle inventory shortages are contributing to declines in new vehicle registrations, partly as customers seek alternatives including used vehicles.  
The impact of the semiconductor shortage on the global automotive industry, including Toyota North America, will be discussed at the Automotive Logistics and Supply Chain Global Live conference in Detroit and online between October 5-7.