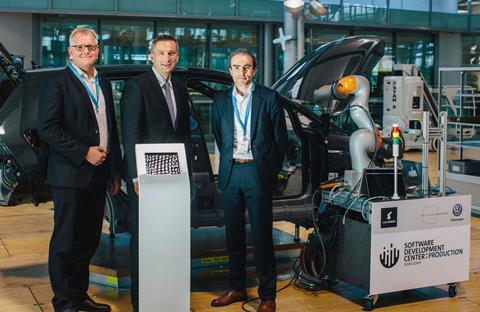 Volkswagen has opened a new production software development centre (SDC) at its showcase Gläserne Manufaktur site in Dresden.
Up to 80 newly hired IT specialists will be working at the SDC with the Volkswagen industrial cloud which, in future, will link all 122 of the group's production facilities. The goal is to amalgamate all data to digitalise production and logistics.
VW predicts material flow being organised more efficiently through the industrial cloud and delivery bottlenecks and process disruptions being detected at an early stage. The company's use of its cloud will enable smart real-time control at all production plants simultaneously.
"If a truck is stuck in a traffic jam, a component is faulty or a machine breaks down, everyone involved knows immediately," the company said.
The SDC's opening comes under the Gläserne Manufaktur's role as a high-tech site and centre of future mobility. A former car factory, the transparent building has been transformed to a site where future concepts of logistics, production and emobility are trialled.
At its inauguration, an example of the SDC's early quality-control work was on show - a robot performing visual checks of automated priming of door and side windows through SDC-developed software.
VW is establishing its industrial cloud to develop technologies for automotive production. The OEM is working with Amazon Web Services, drawing upon its expertise in the internet of things (IoT), machine learning and general computer services, and Siemens, which is contributing expertise in automation, connectivity of machines and systems and the industrial IoT.
Volkswagen also has experts in Munich and Wolfsburg supporting the SDC in Dresden, while the participating companies plan to establish a joint industrial cloud innovation centre in the German capital, Berlin.