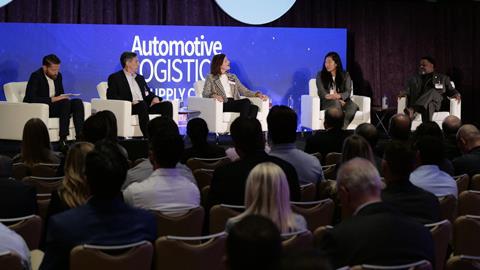 Carmakers are striving for greater supply chain resiliency in the face of widescale disruption, including through localising manufacturing and increasing inventory. However, OEMs cannot implement these decisions quickly or without impacting free cashflow and freight networks. So, what does a resilient automotive supply chain today look like in terms of logistics planning, capacity and partnerships? See for yourself in this session with General Motors, automotive supplier IAC Group and major logistics providers DSV and Ceva Logistics, as leaders discuss strategies for resilience, including securing logistics capacity across the global supply chain, managing equipment and labour shortages, systems upgrades and other critical steps necessary to keep the supply chain moving today and tomorrow.
Learn about the network changes, coordination and investments in assets and people necessary to adapt to the era of disruption while preparing for long-term transformation towards electrification and sustainability.
A panel discussion featuring:
Edgard Pezzo, executive director, global logistics and containerization at General Motors
Kelly Bysouth, chief supply chain officer at IAC Group
James C. Williams, VP global key accounts at Ceva Logistics
Eva Ames, vice-president – Electrification & Mobility Competence Center at DSV Global Transport and Logistics
Moderated by Christopher Ludwig, editor-in-chief at Automotive Logistics
For more on logistics resiliency at GM, read a recent interview with Edgard Pezzo.
For more on GM's supply chain strategies, watch an interview with executive director of global supply chain, David Leich.
This panel took place during the Automotive Logistics & Supply Chain Global conference September 20-22, 2022 in Detroit. All sessions and interview are available to view for registered users of Automotive Logistics.
Watch Automotive Logistics & Supply Chain Global 2022