Automotive Cells Company (ACC) has officially opened the first of three planned European battery gigafactories in Billy-Berclau, Douvrin, France.
ACC, of which Stellantis, Mercedes-Benz and TotalEnergies are key stakeholders, said the gigafactory will develop "a new generation of sustainable and efficient batteries" for electric vehicles (EVs).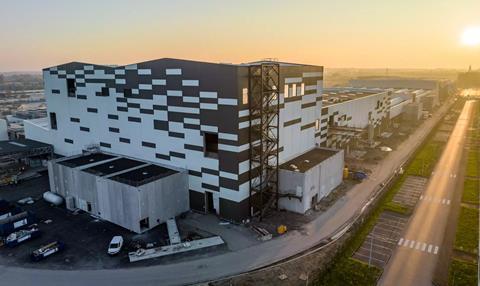 The 60,000 sq.m factory has three production blocks, with an initial production line capacity of 13 gigawatt-hours (GWh), rising to 40 GWh by 2030. With the installed capacity to produce 56,000 battery cells per day, or more than 2.4m battery modules per year, it will be able to supply batteries for between 200,000 and 300,000 EVs annually.
The factory will be fully operational by the end of this year, with its order book already full until 2028. It is the first project of many, according to ACC.
"The construction of this unprecedented site in the heart of Hauts-de-France represents the first stage of a colossal project," said Yann Vincent, CEO of ACC. "ACC's German and Italian gigafactories will begin production in 2025 and 2026."
Vincent said the factory in France is a response to multiple challenges, including controlling the production chain, reducing the environmental impact of transporting batteries as it shortens shipping distances, and "helping to consolidate the European automotive industry in the face of global competition".
The site was built in 17 months at a cost of €800m ($860m). The first of three blocks contains 20,000 sq.m of dry rooms, 16 mixers of 1,600 litres each, five coating lines of 90 metres each and between 10-12 ovens for each coating line
Stellantis, which partnered with TotalEnergy to form ACC in 2020, said the gigafactory will help it reach its goal of increasing battery manufacturing capacity to 250 GWh in Europe by 2030.
Carlos Tavares, CEO, Stellantis said that through the partnership the OEM agreed to "an ambitious global timeline to develop electric vehicle batteries that would power [Stellantis'] plan to electrify mobility". He added: "Stellantis is actively contributing to the European electrification transition with state-of-the-art EV solutions and supporting France's crucial role in a sustainable future."
Over the past year in particular there has been a push for an increase in the number of European gigafactories. While China has long dominated the production of battery cells, carmakers in Europe are playing catch up.
Local priorities
Last year, ACC's Vincent told a panel discussion hosted by Elite Experts Conferences where that the coincidence of the pandemic and the rise of EV production presented an opportunity for European battery suppliers. "Building a battery industry in Europe is very exciting," he said. "It contributes to the protection of the planet thanks to its contribution to CO2 reduction and it contributes to the re-industrialisation of Europe, so it is a very ambitious project."
Similarly, battery experts at this year's Automotive Logistics and Supply Chain Europe conference said that the European automotive sector has to start localising suppliers to get supply chain logistics as close as possible to certain hubs.
At the event, the need for expertise in the battery circular economy and sustainability was also presented as essential for Europe to get up to speed. This is something that ACC has also addressed with its new factory. It said the cells "meet the highest standards on the market" and are eco-designed to have a reduced carbon footprint.
Automotive Logistics spoke to an analyst at Bloomberg Intelligence earlier this week about the demand for lithium batteries for EV production, and how this demand could cause a bottleneck from 2025 as it outstrips the available supply.