The US Department of Energy (DoE) has confirmed a $2.5 billion loan for the Ultium Cells battery joint venture between General Motors and LG Energy Solution. The money will go toward construction costs on three battery factories in Michigan, Ohio and Tennessee that will supply GM's electric vehicle (EV) assembly lines in North America.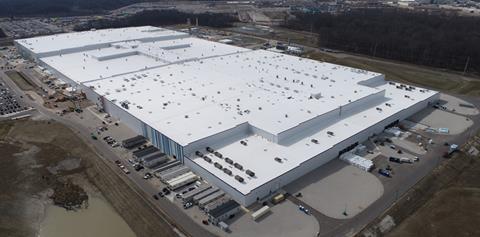 GM has a strategic plan to localise its EV production there in line with the Biden administration's incentives for OEMs to source battery supply chain components in the US, Canada and Mexico in line with the recently introduced Inflation Reduction Act (IRA), which will pass on tax credits to the consumer.
The loan will also support the creation of 5,100 construction jobs and a subsequent 6,000 specialist jobs at the plants, as they are brought into production. The battery gigafactories are located in Lansing (Michigan), Lordstown (Ohio) and Spring Hill (Tennessee). Battery cell production has already begun at the Lordstown plant and the plant is increasing output by 20% per quarter. The Spring Hill plant will open in late 2023.
"The DoE is flooring the accelerator to build the EV supply chain here at home – and that starts with domestic battery manufacturing led by American workers and the unions that support them," said US Secretary of Energy, Jennifer Granholm. "This loan will jumpstart the domestic battery cell production needed to reduce our reliance on other countries to meet increased demand and support President Biden's goals of widespread EV adoption and cutting carbon pollution produced by gas-powered vehicles."
In September this year, Dr Jacob Ward, supply chain deployment manager at the DoE's newly created Office of Manufacturing and Energy Supply Chains (OMESC) told those gathered at the Automotive Logistics and Supply Chain Global conference in Detroit about extensive plans to expand the battery supply chain in the US.
The loan to Ultium Cells represents a move towards President Biden's ambition for half of all car sales to be electric by 2030 and for the automotive industry to achieve net carbon zero by 2050.
Honda also stands to benefit from the investment in battery production following its strategic alliance in North America with GM, which includes a joint sourcing initiative covering essential components, including motors, batteries and starters. The purchasing collaboration will also cover logistics and localisation, research and development, and services. The two carmakers will collaborate on a range of vehicles to be shared under each company's distinct brands.