Volkswagen Group's PowerCo battery division has revealed further details of its planned gigafactory in Canada, which it announced last month would be located in St Thomas, Ontario. It is the first battery cell facility PowerCo has announced in North America and is due to start production in 2027.
PowerCo's other gigafactories in Salzgitter, Germany and Sagunto, Spain, are expected to be operational by 2025 and 2026 respectively.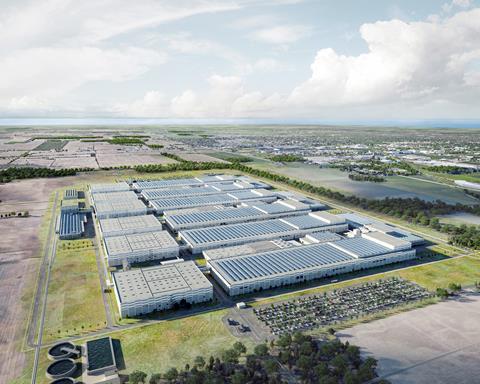 The St Thomas gigafactory will provide regionalised supply for VW Group's battery electric vehicle (BEV) production in North America, which includes introducing more than 25 new BEVs through to 2030.
The battery maker is investing €4.8 billion ($5.3 billion) in the 150-hectare facility, the largest industrial investment in Ontario to date. It will sit in an industrial footprint covering 600 hectares that will include a supplier park. It will be PowerCo's biggest gigafactory so far and have an eventual production capacity equal to 90GWh.
"North America plays a key role in our global battery strategy," said Thomas Schmall, head of technology for VW Group. "The region will become PowerCo SE's second pillar beside Europe, with battery cells made in North America for North America. Gigafactory St Thomas opens the door to a key market for e-mobility and battery cell production."
The facility will be located with good transport links in the middle of the Great Lakes Automotive Corridor, 30km north of London, Ontario, and near major cities including Toronto and Detroit. It will have a well-established supply chain, supported by the fact there are 700 automotive-related companies in Ontario.
Speaking at last month's Automotive Logistics and Supply Chain Europe conference in Germany, Matthias Braun, head of logistics at PowerCo, said local battery production comes with its own logistics complexity, requiring greater supply chain transparency from beginning to end. That means a need for greater collaboration with suppliers down to the tier-n level, including those involved in the mining and chemical industries.
Importantly, the St Thomas cell factory will be able to source critical minerals, such as lithium, in Canada. Canada does not currently produce lithium but has large hard-rock spodumene deposits and brine-based lithium resources.
VW Group said the Canadian gigafactory is part of a larger plan that Volkswagen and PowerCo agreed upon with Justin Trudeau's government in August last year. The memorandum of understanding signed at the time focuses on battery value creation and raw material security to promote e-mobility in Canada.
In February, battery maker LG Chem signed an agreement with American mining company Piedmont Lithium for the supply of spodumene concentrate. Piedmont Lithium will provide LG Chem with 50,000 metric tons per year from a mine in Quebec, Canada, run by North American Lithium, in which Piedmont has a 25% stake.
READ OUR FEATURE INTERVIEW WITIH MATTHIAS BRAUN WHERE HE EXPLAINS HIS WIDER VISION TO ACHIEVE LOGISTICS 5.0 IN THE BATTERY SUPPLY CHAIN SUPPORTING VW GROUP'S ELECTRIC VEHICLE FUTURE