VW Group's lithium battery division, PowerCo, has announced plans to build a gigafactory in the province of Ontario. The battery cell facility, located in St Thomas, will be PowerCo's first in North America, with production expected to begin in 2027.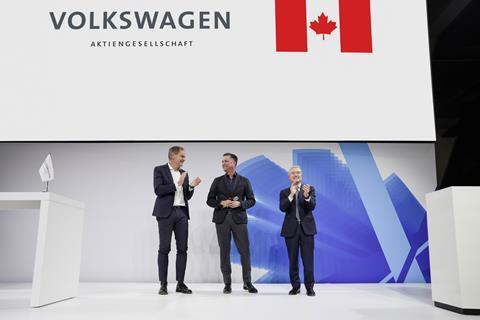 The battery plant will provide regionalised supply for VW Group's substantial growth plans for battery electric vehicle production in North America, which includes introducing more than 25 new battery electric vehicles (BEVs) through to 2030.
PowerCo has already announced gigafactory locations in Europe – at Salzgitter, Germany and Valencia, Spain. The first to come online in 2025 is at Salzgitter and that facility will serve as a blueprint for the company's battery cell operations around the world, including for logistics.
"Our operations in Salzgitter will set a benchmark for everything that we do elsewhere, and so it is a great opportunity and responsibility to ensure that our logistics and supply chain operations help us to have a smooth ramp up and are also future oriented," said Matthias Braun, head of battery cell logistics at PowerCo, in a recent interview with Automotive Logistics.
Matthias Braun will be speaking at next week's Automotive Logistics and Supply Chain conference, held in Bonn, Germany between 21-23 March
Battery logistics
Supply chain experts have been developing a new framework strategy to manage the logistics complexity of battery cell production, including new locations, energy and supply requirements, port and rail access, and transport regulations. PowerCo is factoring in logistics costs, risks, systems and efficiency, not only at the beginning of product planning, but across its entire business model.
In August last year PowerCo and VW Group signed an MoU with the Canadian government focused on battery value creation and raw material security to promote battery electric vehicle developments in the country.
Speaking at the time, Herbert Diess, CEO of the VW Group, said that working closely with governments around the world was a prerequisite to meeting its climate goals and he thanked the Canadian government for its support.
"The supply of battery raw materials and the production of precursor and cathode materials with a low carbon footprint will allow for a fast and sustainable ramp-up of battery capacity – a key lever for our growth strategy in North America," he said.
An electric expansion
As noted, that growth strategy includes more than 25 new BEVs through to 2030. VW Group is ramping up assembly of the ID.4 compact electric SUV in US plant in Chattanooga, Tennessee. It also has plans to upgrade manufacturing plants in Puebla and Silao, Mexico, for the assembly of BEVs and potentially for BEV components such as electric motors in the second half of the decade.
VW is also resurrecting its Scout off-road brand on an electric platform and will operate it as an independent unit. It will make the vehicle in Columbia, South Carolina from 2026 with annual production capacity set at around 200,000.
VW Group is also working on a charging network in the US and Canada with 800 stations and 3,500 DC fast chargers powered by 100% renewable energy, part of its Electrify America plan, which aims to double that number of stations by 2026.
VW's software and technology company Cariad has also established a technology hub in the US at the beginning of 2023, based in Silicon Valley in northern California and Seattle, Washington.
Sustainable supply
Volkswagen said that Canada offered the benefit of localised supply of raw materials and wide access to clean electricity.
Frank Blome, CEO of PowerCo said: "PowerCo is all set to introduce key strategic assets such as the unified cell and the standardised cell factory to Canada and the larger North American market. We are dedicated to build up regional and therefore robust, transparent and sustainable supply chains."
Canada is estimated to have 2.9m tonnes of lithium reserve, according to government figures, the majority of which is held in hard rock spodumene.
Last month battery maker LG Chem signed an agreement with American mining company Piedmont Lithium for the supply of spodumene concentrate. Piedmont Lithium will provide LG Chem with 50,000 metric tons per year from a mine in Quebec, Canada, run by North American Lithium, in which Piedmont has a 25% stake.