German carmaker Audi will return to production in Puebla next week following the latest announcement from the Mexican state.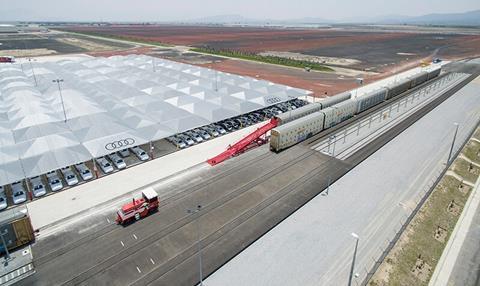 "As with VW, Audi México will resume its activities gradually on June 15 with 30% of the workforce and strictly complying with all the measures established by the Ministry of Health," an Audi spokesperson told Automotive Logistics. "We will be assessing in the following weeks how and in what percentage we can increase our production, as we will be doing this gradually."
The facility in San José Chiapa is responsible for making the Q5 and exporting around 95% of its output around the world. In 2019, the plant produced 156,995 vehicles. It shut down operations on March 23 this year because of a lack of parts caused by the coronavirus and problems moving vehicles out of the plant to destination countries. The majority of vehicles are shipped to China, the US and Germany. Between 60-80% of output is moved by rail either to the west coast port of Lázaro Cárdenas for Asia, or to Veracruz on east coast. Audi also moves volumes by rail north across the US border.
Safe restart
After more than two months of inactivity, construction and automotive industries in Puebla can now start up operations with 30% of the total workforce in alternating shifts, subject to health and safety regulations. The state will be one of the last to return to automotive manufacturing in Mexico. The rest of the country has been opening up facilities since the end of May, again subject to strict health and safety protocols.
Mexico is by far the largest foreign source of parts used by the US automotive industry. About 16% of all parts used by US assembly plants come from Mexico, according to an estimate from the Center for Automotive Research. This being the case, OEMs such as Volkswagen in Chattanooga are still heavily reliant on Mexican factories and as such have been eager for president Obrador and his administration to reopen factories that are crucial to the North American supply chain.
When Audi opened its assembly plant in Mexico in September 2016, it was the first factory the carmaker had set up outside Europe and the first that it was exclusively managing overseas. Its two factories in China are joint ventures with local partners.