Carmakers are looking at a damaging month of sales as new lockdowns in Europe hit the dealer network. At the same time they are closely monitoring inbound supply chains ahead of a winter that could see continued disruption to automotive supply chains.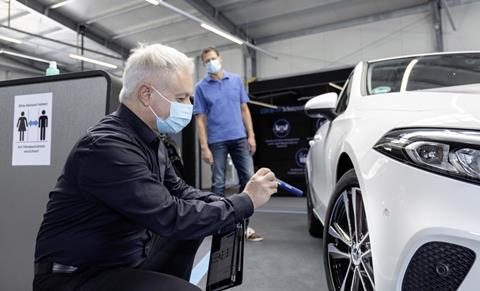 A number of European countries have re-introduced lockdowns to control the spread of the Covid-19 virus. In the first week of November, Belgium, France and most of the UK have imposed national lockdowns that will include closing in-person sales and visits to vehicle dealerships – measures that will in effect shut off major parts of the outbound vehicle supply chain.
A number of other countries have imposed partial lockdowns, including Germany, Austria, Portugal and the Czech Republic, where dealerships will remain open but new vehicle sales are likely to be impacted significantly.
In most cases, the control measures do not affect the workplace, and manufacturing and supply continue. However, shutting dealerships will likely pause the majority of new vehicle sales in those markets. Based on the data from the first lockdown, the closure of dealerships typically resulted in sales falling drastically, by between 90-95%, according to Ultima Media's Automotive intelligence unit. The remaining trickle of sales were accounted for by online click and collect, lease renewals and sales of essential vehicles, such as those for the emergency services.
Safety first as plants stay open
Volkswagen confirmed its production was not affected, supporting logistics was stable and stocks were at normal levels. Workforce infection is being dealt with quickly as part of VW's 100-point safety plan, which covers a range of measures to protect worker's health.
Production at Mercedes-Benz plants is also running as normal, with the priority on worker health. In order to protect employees the company has taken measures to protect infections and has agreed a comprehensive package of measures with the General Works Council. This includes hygiene and cleaning standards, as well as regulations on behavior in the workplace.
BMW Group said that in the current unprecedented situation it was taking a two-pronged approach that balanced the health and safety of its employees with what is needed to keep business running.
"The health of our workforce is the BMW Group's number one priority," a spokesperson for HR. "As restrictions have been eased, we've gradually returned to normal operation under coronavirus conditions. We have already implemented effective measures across the company to prevent infection and protect all our employees and their families."
Supplier monitoring
However, carmakers are paying close attention to their supply chains. BMW said it was maintaining meticulous daily monitoring of around 7,000 tier one suppliers and a further 1,500 n-tier suppliers, along with checking what it calls its global country radar.
A spokesperson for BMW purchasing said: "Our focus is on a wide range of different topics: from whether borders are open and logistics [working], up to and including possible lockdowns at regional and national level. We will also continue to respond to future developments with the greatest flexibility possible. One thing is clear: the situation remains dynamic."
The spokesperson added that BMW Group had highly capable teams on the ground in all major purchasing markets, something that has proved "more valuable than ever" in the current situation, ensuring a stable and flexible supply of parts. The carmaker also benefits from long-term relationships with its suppliers.
"We implement preventive risk management to identify possible risks to our supply chain in the early stages," she said. "To do so, we are actively reaching out to our suppliers, especially in regions critically impacted by the pandemic, to find preventive solutions together."
Mercedes-Benz said it is also in close contact with suppliers, checking and managing worldwide requirements and stocks through close monitoring of the individual suppliers and supply chains. In doing so the carmaker said it was able react to the very dynamically changing situation at any time and adjust measures accordingly – on production, supply chain and sales.
"Since the beginning of Covid-19, the exchange with our suppliers has become even tighter in order to counteract disruptions in the supply chain," said the spokesperson. "Experience from the first wave of Covid-19 has shown that the measures taken to secure the supply chain and production have proved effective."
Dealer network
Concerns about the closure of dealerships have been allayed in Germany, with the government decision to allow showrooms to stay open through the lockdown, though there are access restrictions to the number of people visiting a dealership at any one time.
However, in France and England dealerships will be closed to walk in customers until the beginning of December and in the interim customers will only be allowed to collect pre-ordered vehicles if they have made a prior appointment. Online services remain in place and dealerships will be able to deliver vehicles to customers – an area of the supply chain that may see more volume compared to the first lockdown, but still likely to be a small share of normal sales. Repair and maintenance services are also available in both countries. In the UK those services are available "if this is necessary and cannot reasonably be deferred until after the lockdown period", according to the National Franchised Dealers Association (NFDA).
Mercedes-Benz said it was in constant contact with its global dealer network to get them through a challenging time.
"The situation is very volatile and differs from market to market," said a spokesperson for the carmaker. "We are complying with the official orders to contain the Covid-19 pandemic. In a few markets we have therefore closed our sales and service outlets where this was required by the authorities, but in most of the countries our operations are currently running.
Declining output
Although Europe had seen some vehicle sales recovery in the third quarter of 2020, the new restrictions come at a time of declining production. Figures from the European Automobile Manufacturers Association (Acea) show that vehicle production in Germany in September stood at 369,300, down 11% compared to the same month in 2019. Meanwhile, figures from the French Automobile Manufacturers Committee (CCFA) show that domestic French carmakers only produced 87,400, a decline of 20% on September 2019 (production figures for foreign carmakers based in France are release annually). France registered approximately 168,300 vehicles in September, a fall of 3% but a significant improvement on the 20% decline recorded in August.
In the UK, where a growing number of areas had been placed under tighter restrictions prior to an England-wide lockdown, car production was the lowest for 25 years in September. The country produced just over 114,700 units (-5%), while exports fell by almost 10% to 87,500, according to figures from the Society for Motor Manufacturers and Traders (SMMT). After the first nine months of 2020, UK car production has dropped almost 36% on 2019 levels, with 632,800 vehicles built, the SMMT recorded.
"With countries across Europe experiencing a surge in Covid cases, and with local lockdowns already in place across many parts of the UK and beyond, the final quarter of 2020 looks increasingly challenging," said the SMMT in a statement.