Mercedes-Benz has partnered with Microsoft to deepen their collaboration on production systems, creating a data platform that gives transparency across every passenger car factory and allows inventory management and supply chain oversight to maximise production.
The system will let Mercedes resolve logistical bottlenecks with dynamic prioritisation, putting top-end and electric vehicles first for resources.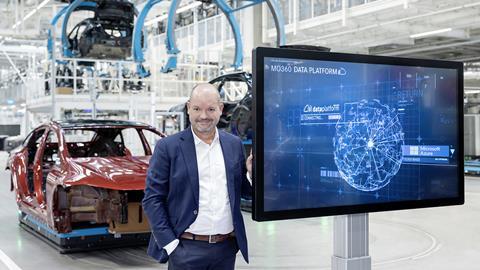 Mercedes and Microsoft have already collaborated on the existing MO360 system, which is Mercedes' digital production ecosystem. This new rollout, called the MO360 Data Platform, goes further in order to unify all information across Mercedes 30 passenger car plants worldwide. Already in use across Europe and the Middle East, the MO360 Data Platform will now include sites in the US and China.
Jörg Burzer, Mercedes-Benz's board member for production and supply chain management, said "This new partnership between Microsoft and Mercedes-Benz will make our global production network more intelligent, sustainable and resilient in an era of geopolitical and macroeconomic challenges. The ability to predict and prevent problems in production and logistics will become a key competitive advantage as we go all electric."
The role of the MO360 Data Platform is to create a complete, virtual version of Mercedes' production facilities. This allows simulation of production, in order to make supply chain decisions more quickly.
"Mercedes-Benz' partnership with Microsoft is a testament to the power of the industrial metaverse." said Judson Althoff, executive vice president and chief commercial officer for Microsoft. "Together, we are merging the physical and digital worlds to accelerate value creation. Mercedes-Benz can simulate and refine manufacturing processes infinitely in the Microsoft Cloud before bringing them to the shop floor to enhance efficiency and minimize its environmental impact amid constant change and uncertainty."
The product does not just allow Mercedes to see where resources would be best deployed or where the most urgent logistics needs are but also to make environmental decisions. The introduction of MO360 is part of Mercedes' goal to become carbon-neutral by 2039 and it will be used to track and forecast carbon emissions, as well as energy and water usage and waste management out of plants. The tool will help balance energy demands to better use renewables, in line with Mercedes' plan for 70 percent of its energy needs to come from solar and wind by 2030. It also intends to create a circular usage of water, reusing plants resources in order to avoid global disruption seen this summer due to drought.
Mercedes-Benz Digital Factory Campus in Berlin will be the home base for the MO360 Data Platform engineering teams, however, the software itself is entirely based in the Microsoft Cloud to allow all facilities to have equal access to it and for there to be balanced, global connectivity.
Jan Brecht, Chief Information Officer of Mercedes-Benz Group AG: "With the MO360 Data Platform, we democratize technology and data in manufacturing," said Jan Brecht, chief information officer at Mercedes. "As we are moving towards a 100 percent digital enterprise, data is becoming everyone's business at Mercedes-Benz. Our colleagues on the shop floor have access to production and management-related real-time data. They are able to work with drill-down dashboards and make data-based decisions."
Mercedes intends to make impressive production gains using the tool, predicting a 20 percent increase. That will come, it says, from being able to use MO360 to balance demands so that it can switch between fully electric, hybrid and internal combustion engine vehicles on a single production line. This will allow Mercedes to address component shortages and avoid delivery delays by lines working on whatever vehicle is most optimised, according to current supply levels. Running production simulations can then show where resources that have proven availability isssues, such as semiconductors, are best used and to schedule maintenance on lines when it will have the least impact on production.