US finished vehicle carrier Swift Transportation has signed up to use a digital yard management system from ICL, provider of finished vehicle logistics software, to better support its OEM customer Stellantis.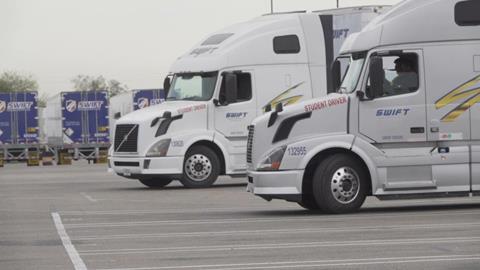 Since the beginning of February this year, Swift Transportation has been using the YMS Express system to feed through data on the pick-up and delivery of vehicles to and from its distribution terminal in Laredo, Texas, on the border between the US and Mexico. In addition, Swift Transportation is currently growing its provision of services for the movement of finished vehicles.
The YMS Express system, which digitises vehicle inventory and in-yard processes, including bay locations, integrates data from Swift Transportation, as well as from Stellantis and ICL's third party logistics (3PL) provider partner, Rubicon VLS. Rubicon VLS is providing transport data. The combined data is integrated into Stellantis' external system along with ICL's VLMS platform, which Rubicon leverages to manage the Stellantis network.
According to ICL, YMS Express is a mobile and web-based application that improves yard visibility and automates event reporting. That includes recording damage information, vehicle arrival and departure times, and vehicle movements with the distribution yard.
"Good quality and timely data are the foundation of any logistics operation," said Brian Hook, vice-president of sales, marketing and product at ICL. "We're excited to help Swift Transportation deliver this type of data to our shared customer, Stellantis, through improved inventory visibility using our YMS Express platform."
Swift Transportation provides a range of truck services in North America, including linehaul, flatbed, intermodal, refrigerated, dedicated and logistics management. When it merged with Knight Transportation in 2017, it became the largest provider of truckload services in North America.
In January this year, BMW in Canada contracted ICL Systems to manage the track and trace, invoice auditing and freight claims management to deliver its finished vehicles to the sales network.