Volkswagen has made its last vehicle with a combustion engine at the Zwickau assembly plant in Germany. It will now only produce electric vehicles (EVs), starting with the ID.3.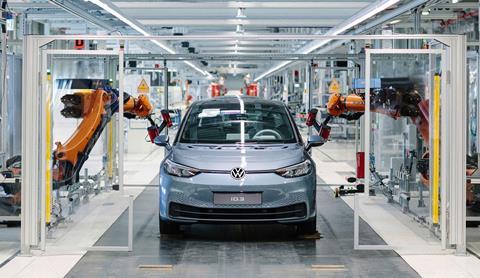 After 116 years of producing combustion-engine vehicles, the last one to leave the production lines at Zwickau was a Golf R Estate with a 2.0-litre petrol engine. Reinhard de Vries, managing director of technology and logistics at Volkswagen, Saxony said: "We are proud of what we have achieved so far, and at the same time are greatly looking forward to what the future holds for us. The trend towards electric mobility will continue to pick up speed. We will meet this demand from Zwickau: we have already created the capacity to build 330,000 vehicles next year."
VW has already converted part of the plant in Zwickau to the production of modular electric drive kit (MEB) vehicles with production of the ID.3 running since November 2019 until coronavirus-related disruption closed it in March this year. However, the plant reopened on April 20. According to a company statement, six electric models of three of the Volkswagen Group's brands are to be produced at the plant from 2021 onwards.
Charging ahead at Emden
The OEM is also converting its Emden plant in Lower Saxony, Germany, investing €1 billion in its transformation and with plans for EV production from 2022. Ralf Brandstätter, CEO of the Volkswagen brand, said: "With the conversion of our plant at Emden into a production location for electric vehicles, Volkswagen is forcing the pace of system change. Emden will be developed into a cornerstone of our electric strategy."
The first vehicle to be produced at Emden will be the ID.4, which the OEM said will be its first carbon-neutral SUV. VW is also reported to be planning production of the ID.4 in Chattanooga, Tennessee, for the North American market, although details on when this will happen are subject to change.
VW has previously confirmed that production of the ID.4 will begin at the end of 2020, though that is likely to be pushed back slightly because of the coronavirus pandemic. However, despite global lockdowns paralysing the market, electric and hybrid cars have managed to keep up momentum among European buyers.
Battery electric vehicles (BEVS) and plug-in hybrids (PHEVs) accounted for 17% of sales across all European markets, including the UK, in April, according to data collated by industry analysts Jato Dynamics. That was more than double the 7% market share in April 2019. In Germany, production slumped by a staggering 90% in April according to PwC, but the EV and PHEV incentive scheme introduced by the country's government will increase subsidies on those vehicles by 50%.