Chinese electric vehicle (EV) maker Nio is opening its first overseas plant in Hungary in September. The Nio Power Europe facility, which will be located in Pest, will make battery swapping stations and provide aftermarket services for those stations.
Nio's EVs are powered by a replaceable battery, meaning drivers can either top up the charge at a regular recharging point or swap out the whole battery at a dedicated Nio Power Swap station. The stations are fully automated and it takes less than five minutes to swap the battery.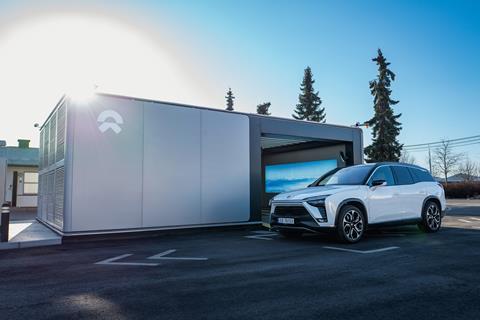 The 10,000 sq.m facility will also operate as an R&D centre for power products and provide training for power operations in Europe.
Nio is already exporting vehicles from China to Norway where it already has one battery swap station and plans to add 20+ this year. The EV maker will begin exports to Denmark, Germany, Netherlands and Sweden this year, with battery swap networks in each country.
To support those plans Nio said that its operations in Hungary will mark the first step in building Nio Power Swap stations in these countries and establishing local battery swapping and charging services.
Earlier this month it said it was planning to expand its battery swap network to approximately 4,000 stations over the next few years with around 1,000 outside of China. As of July 31, this year Nio had deployed 1,047 Power Swap stations in China, through which over 10m battery swaps had been completed cumulatively.