The UK automotive industry is calling for an industrial strategy to aid its transition to electric vehicles (EVs).
At the annual Society of Motor Manufacturers and Traders (SMMT) conference, industry representatives from firms such as DHL Supply Chain, Alexander Dennis and Volvo Trucks urged all political parties to support the industry by scaling up the EV supply chain and helping the sector become more competitive and attractive to investors.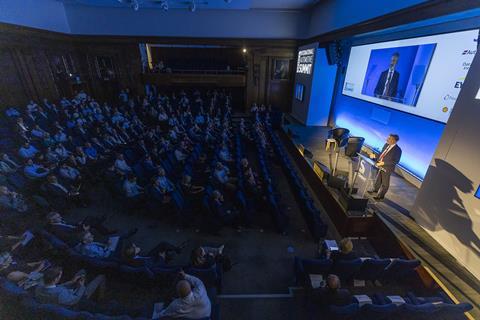 The industry representatives said the threat of Rules of Origin tariffs due to the UK-EU trade deal which are due to come into force in six months' time would further disadvantage the industry, making British-built and supplied EVs uncompetitive in the export market.
"We are in the middle of the most fiercely competitive investment landscape of a generation and need a UK response urgently, using every policy, every fiscal and regulatory lever, to make Britain the most attractive place to invest," said Mike Hawes, chief executive, SMMT. "The automotive industry rises to every challenge, so we set out today a challenge to all political parties: back us with the right conditions and we will turn our obligations into opportunities for our industry, for jobs, for the environment and for the UK."
Hawes added that there was a "£106 billion prize at stake" with the UK BEV production market set for a 10-fold volume rise by 2030, "contingent on a competitive business environment".
He said that a delay to the rules of origin implementation until 2027 would help the industry and its supply chain, but that the decision is currently "with Brussels". Hawes said: "We've had discussions with the UK government and they're supportive and recognise the negative impact this will have on cross-border trade. It is obviously for the Commission to agree that something needs to be done. We know they've been talking to manufacturers to understand the scale of the impact for European manufacturers. But these things seem to happen incredibly slowly."
Previously, carmakers like Stellantis warned that the implementation of the rules of origin would put the UK sector at a "major competitive disadvantage" against Asian imports and cause an increase in logistics costs.
Simon Villanueva, legal director for Europe South Sales, Volvo Trucks said the issues in the UK supply chain are constantly changing. "We're seeing issues across component supply," he said. "It had been an issue with the chip shortage, but the issues move around. Last week we had an issue with paint and couldn't get parts painted, we solved that issue but now we can't find painters. Every time we solve a problem, we get another. It is getting better and further down the supply chain it's a brighter picture, but we're not quite seeing it yet."
The industry is asking the UK government to commit to five pledges, including a green automotive transformation strategy, net zero mobility for everyone, green skills for a green future, a positioning of the supply chain as a core of the UK's trade policy through tariff-free exports, and energy and investment measures to make zero emission vehicle production possible. The demands by the industry follow the introduction of the Inflation Reduction Act implemented in the United States. This sets out ambitious targets and funding to increase EV sales, along with regional lithium-ion battery sourcing and production, and included a $2.5 billion loan from the US Department of Energy for the Ultium Cells battery joint venture between General Motors and LG Energy Solution.
Despite similar investment being welcomed by many OEMs and supply chain firms, Kemi Badenoch, Secretary of State for Business, Energy and Industrial Strategy said the UK government is "not going to copy and paste" that strategy.
Badenoch said: "I know the thing that is looming it the Inflation Reduction Act and subsidies that are taking place in the US. We are not going to copy and paste exactly what is happening in another country. We have to do what is right for our own economy where we have comparative advantage. We will come out with plans soon, please stick with us. The reason why we are doing this is because we are thinking things through."
She added that the government will be setting out a long-term plan for the EV transition in the UK supply chain "in the next month", in a way that is "affordable and sensible".
Let us know what you think the UK automotive industry needs to help it thrive. Get in touch here.