EVs are often portrayed as a mainstay of the fight against climate change, but when the supply of battery materials and processing of used batteries are taken into consideration, they are much less green than they look. Automotive Logistics investigates the idea of a holistic approach to EV batteries, as espoused by Swedish battery maker Northvolt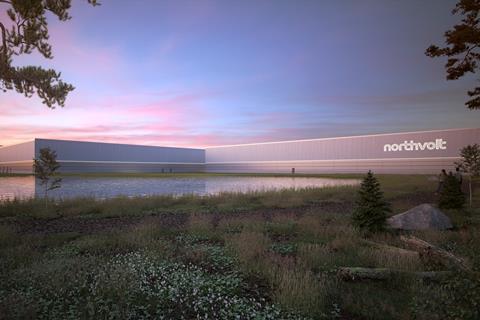 Electric vehicles (EVs) are often held up as a key element of the fight against climate change. Governments and cities around the world have announced ambitious targets for the number of EVs on the roads, and ever stricter emissions regulations are pushing manufacturers to accelerate their electrification programmes.
Meanwhile, there are many financial incentives on offer to help lessen the grip of the internal combustion engine on the car-buying public. Those who do buy an EV are able to drive around avoiding congestion charges and feeling virtuous.
But few people stop to ask: where does the power come from to run these EVs? In fact, much of this electrical power is generated by fossil fuels, which somewhat undermines the idea of EVs as a 'green' mode of transport.
"There is an increasing momentum. We see more news on companies changing to electric vehicles [and] transportation companies purchasing fleets of electric vehicles… there is a big need for these batteries and this new technology" – Dora Sebestyen, Northvolt
Another question mark over the environmental and ethical credentials of EVs arises from the need to mine minerals such as lithium, cobalt and nickel for production of their batteries. These mining operations often take place in locations, including parts of Africa, where operating processes and the treatment of workers are dismal.
Some vehicle-makers have now started trying to establish better oversight of their EV battery supply chains. For example, along with various battery makers, BMW, Volvo and Daimler have joined the Responsible Cobalt Initiative and Volkswagen (VW) is part of the Responsible Minerals Initiative. In some cases, collaborations are employing new technologies such as blockchain, which offers huge potential for tracing raw materials and keeping better control over supply chains.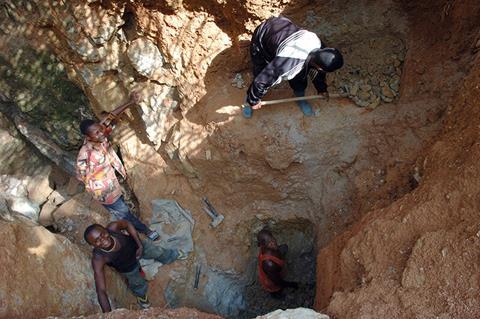 So, it is clear that the drive towards electrification and a cleaner planet is not as simple increasing the volume of EVs; it requires more of a holistic approach to the EV battery supply chain. This view is certainly shared by Swedish battery maker Northvolt, which was founded in 2016 and now has more than 600 employees. The company's stated ambition is to develop "the world's greenest battery cell".
"We all know that we have this energy challenge which is growing and we have a very late response to climate change. Northvolt came into existence to change the world," said Dora Sebestyen, logistics developer at the company, during Kuehne and Nagel's online Global Auto Meeting last month.
"There is an increasing momentum. We see more news on companies changing to electric vehicles [and] transportation companies purchasing fleets of electric vehicles. We see that there is a big need for these batteries and this new technology," she stated.
Northvolt's production and recycling footprint
Sweden
Northvolt Ett in Skellefteå – main production site for battery cells, including active material preparation, cell assembly and auxiliaries
Northvolt Labs in Västerås – R&D centre and demonstration line for qualification and industrialisation of products and processes
Germany
Northvolt Zwei in Salzgitter – JV battery manufacturing plant with Volkswagen Group
Poland
Northvolt Battery Systems in Gdansk – production site for battery modules and energy storage solutions
Batteries for the big boys
Besides the automotive industry, where it is already working with BMW, Scania and Volkswagen Group, Northvolt is also catering to grid, industrial, portable tools and micromobility applications. Industrial uses include mining, agricultural, construction and material handling machines.
The mining industry, which needs to make substantial investments not only in vehicles but ventilation and exhaust systems, has proven to be a useful testing ground for Northvolt's technology. Sebestyen said that one battery pack for a mining customer weighed over 4,000kg and was "as big as half a room".
In the automotive industry, where excessive size and weight tends to be a concern, this may not seem like something to boast about, but the fact that batteries can power such immense applications is undoubtedly impressive. It also raises the interesting possibility of the materials for EV batteries being mined by machines running on similar batteries, which seems like a neat solution.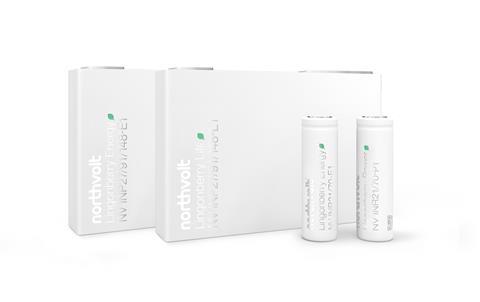 Current sales of EVs may not be as high as policymakers would like – for example, in the whole of the US only around 300,000 are sold per year – but the general trend is upwards. Ultima Media's Business Intelligence Unit expects global sales of pure EVs to rise from 2.2m in 2019 to 17.8m in 2030 (the full powertrain forecast 2020-2030 is available here).
"In these years and the coming years also, electric vehicles are the driving force behind the demand for batteries, and lithium-ion batteries are going to be the key in moving away from these [fossil] fuels," said Sebestyen.
This trend poses a challenge for battery supply, especially in certain parts of the world. "There is growing coverage for the demand but there is still a big shortfall, especially in Europe," Sebestyen continued. "Right now, there are a couple of companies who are building manufacturing facilities here in Europe, but there is no true European manufacturer of batteries."
Battery makers which have set up business in the region, in expanding electrification hubs such as Central and Eastern Europe, are largely South Korean – for example, Samsung SDI, SK Innovation and LG Chem – while GS Yuasa is Japanese.
"So, Northvolt will be the first battery manufacturing company which will supply Europe from Europe," Sebestyen asserted.
Making batteries green
According to Sebestyen, "the world's greenest battery" is not just a slogan. The idea behind it is to take into consideration the whole lifecycle of the battery, from the sourcing of raw materials to the processing of used batteries.
"We have these high goals and commitments in sustainability and [we need] to make sure that our whole supply chain is as green as possible; we try to make sure that our sourcing is as clean and sustainable as possible. We know that it is a very bold goal, but we think that we need to make this effort in order to have a cleaner future," she explained.
Northvolt is currently building a gigafactory in Skellefteå, northern Sweden, which will use 100% clean energy for manufacturing. Northvolt Ett, as it is known, will also feature a high level of vertical integration, with some production of the active materials needed for the battery cells.
"We have these high goals and commitments in sustainability and [we need] to make sure that our whole supply chain is as green as possible; we try to make sure that our sourcing is as clean and sustainable as possible" – Dora Sebestyen, Northvolt
"That is something very unique and will help us with our goal of the greenest batteries," Sebestyen added. However, the supply chain for materials will remain global, as it is not possible to source every ingredient from Europe.
Construction work on this massive plant – covering 1 sq. kilometre – began last year and the shell of the building is now in place. While Sweden's snowy northern territory makes the logistics of factory construction rather difficult, the conditions are ideal for battery production and storage, given that the batteries must be kept cool. According to Sebestyen, the availability of clean energy was also a factor in selecting this location. "Once up and running, we will be the second-biggest energy user in the whole of Sweden," she noted.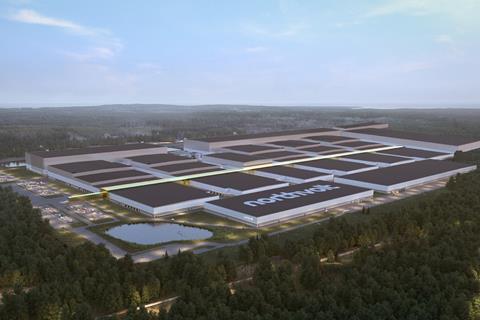 Despite the emergence of the coronavirus pandemic earlier this year, Sebestyen said that the factory was still on track for the start of production in 2021. Its annual capacity will be at least 32GWh by 2024 and as much as 40GWh by 2030, which is enough to power 600,000 EVs.
Also serving the needs of the automotive industry will be a battery cell manufacturing plant that is under construction in Salzgitter as part of a joint venture with VW. Northvolt Zwei, which is based on the Northvolt Ett blueprint, will launch operations in early 2024 with an initial capacity of 16GWh.
Northvolt already has a factory in operation in Västerås, southern Sweden, which was designed for the qualification and industrialisation of battery cells and manufacturing processes, with an annual capacity of 350MWh. That this plant is now regarded as a "small" factory shows the scale of demand for EV batteries, Sebestyen pointed out.
Connecting batteries as well as cars
Connectivity is a term that is regularly used in the automotive industry to describe the technology which links vehicles with their surroundings, their manufacturer and potentially other interested parties. However, Swedish start-up Northvolt is working on what it calls "connected batteries" – with interesting implications for EV battery supply chains.
According to Northvolt logistics developer Dora Sebestyen, the company will use a Cloud-based technology to track the materials built into its battery cells and monitor which cell is delivered to which customer, providing visibility on usage potentially throughout the lifecycle.
She said it would be "very important to see what is the use of the battery so that we can learn in the future and develop [our technology] based on how our batteries are used."
Northvolt already has considerable R&D muscle and also works closely with its customers across different sectors to develop appropriate solutions, but being able to harness data from delivered batteries would take its knowledge – and power – to a whole new level.
The connected batteries project is still in progress, however, and it remains to be seen if vehicle-makers – which tend to regard the batteries almost as their own product – will allow a battery provider such as Northvolt to implement this tracking technology.
Recycling used batteries
At the other end of the spectrum, Northvolt is putting significant resources into working out how to collect and recycle batteries at the end of their life. Given that volumes of EVs are predicted to rise, what to do with used batteries will become an increasing concern.
"We really want to make sure that our manufacturing and our supply chain support this vision [of the world's greenest batteries] and that we have a low emission and a minimal environmental footprint. To make sure that we have the greenest batteries on Earth, we need to think of what happens to our batteries at their end of life," said Sebestyen.
"To make sure that we have the greenest batteries on Earth, we need to think of what happens to our batteries at their end of life" – Dora Sebestyen, Northvolt
At the end of 2019, the company announced its Revolt recycling programme, involving the development of a recycling plant at Västerås, on the same site as the factory, followed by larger facilities at Skellefteå. At the time of the announcement, the company was aiming to recycle 25,000 tons of battery cells per year by 2022 and to use 50% recycled materials in the production of its cells by 2030.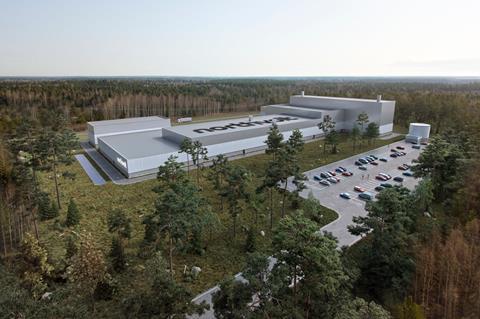 Sebestyen explained that Revolt would not only deal with Northvolt's own batteries, but those of other manufacturers as well. The reverse logistics of this would be complicated, and Sebestyen admitted that the best methods have not yet been confirmed.
"A big team in our company is working on this topic, to make sure that this is possible. It's a big challenge in terms of supply chain, because you need to collect from different sources and… these batteries can have a different set up and build than our batteries," she said.
Highlighting the importance of end-of-life processes, however, she said that battery recycling is "a technology that needs a lot of attention, because it could make the whole system sustainable".