The quality of finished vehicles has traditionally been checked by eye, but this convention is being challenged by automated image technology such as that developed by British start-up DeGould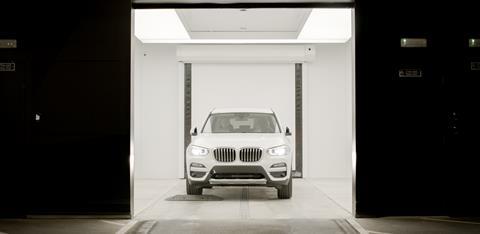 With approximately 80m new cars being produced globally each year, the automotive industry has a big job to do when it comes to checking the condition of finished vehicles, something that has long relied on human labour. Whether leaving the factory or arriving at port, vehicles undergo inspection checks throughout the production process and logistics chain, but any damage needs to be accounted for and assigning blame to the correct party for cost recovery is not always straightforward.
According to engineering and software company DeGould, the average damage rates across global brands and markets are 2-10% for finished vehicles, with an average cost per claim of over £250 ($328), and often much higher for premium brands.
"OEMs, LSPs and retailers used to rely on a person walking around, generally with a bit of paper and a phone or basic camera," says DeGould's CEO, Ed Jones. "They were out in all weather conditions, light or dark, trying to get an objective view of the car… it's so difficult to do."
In 2012, former digital strategist Dan Gould decided to find a more cost-effective, less ambiguous way to evidence vehicle inspection after witnessing an argument over the return of a rental car – and the idea for DeGould was born. "An employee and a customer were arguing about whether the car being returned was damaged before or during their hire," explains Jones. "It's the classic argument; the lack of evidence for both parties is frustrating."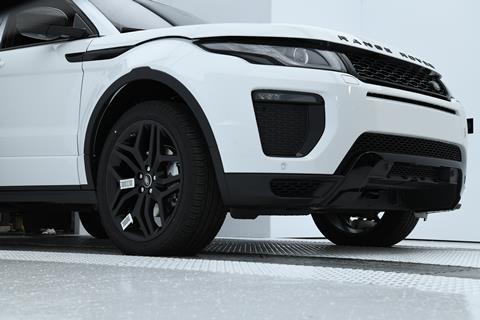 This led to the development of the first DeGould Auto-scan system, initially aimed at the car rental sector, but later picked up by car manufacturers looking to document damage to new vehicles, off the production line and throughout their supply chains.
Photo opportunity
Auto-scan is a drive-in, drive-out booth featuring controlled lighting, studio quality scans and a full camera system to scan and capture the 360-degree exterior of the car in as little as two seconds, including roof and undercarriage.
At the handover or inspection point, the vehicle is identified using a barcode or QR code, and then driven into a booth through high-speed, rapid-rise doors. The images are captured and the exit doors are immediately released. "Everything is done to speed up the process. For our partners, speed and efficiency represent big cost savings," says Jones.
A specially designed lighting rig ensures high- quality images. "The booth takes an objective, crystal-clear image that retrospectively you can review and say there is damage on the car or not – it's evidential," states Jones.
After the scan has been taken, data is securely stored and processed in the cloud, with results immediately available on the company's dashboard. Artificial intelligence (AI) inspection algorithms are then used to detect damages such as dents, chips and scratches, as well as to check against build data that the car is the correct specification.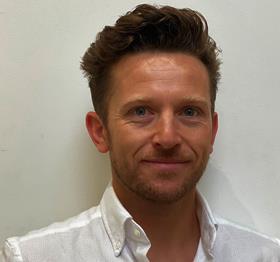 Auto-scan is able to detect incorrect build items by reading the vehicle identification numbers (VINs) as the car enters the booth. "Missing features, for example dust caps on a wheel, or incorrect assemblies, such as the wrong badges, or transport specific items like correct fitment of body protection and correct towing eye, are immediately flagged," says Jones. "This allows for corrective work to be undertaken before the vehicle leaves the factory."
According to the company, the system has an uptime of 99% and offers an open application programming interface to integrate into OEM and other systems, with supplementary apps and dashboard features for the users.
OEMs and ports on board
DeGould now has contracts with more than ten OEMs, including BMW, Daimler, Bentley (see box), Volkswagen and Jaguar Land Rover. The latter has been a client of DeGould since 2014, after an employee saw an Auto-scan booth outside one of Gould's old offices. The equipment had previously been at Heathrow Airport, where it was used for car rental company, Avis.
"JLR is our longest-serving customer and has been instrumental in the technology's success," states Jones. "Having installed our first booth in Solihull in 2014, it's great to have live systems throughout JLR's plants, as well as see JLR vehicles coming through our global port network.
"When JLR hands the vehicle over to BCA, for example, to take down to Southampton port, it now gets a scan at the plant and also when it arrives at the port, and so it's very clear to see from those three parties who caused any damage."
"When JLR hands the vehicle over to BCA, for example, to take down to Southampton port, it now gets a scan at the plant and also when it arrives at the port and so it's very clear to see from those three parties who caused any damage" - Ed Jones, DeGould
DeGould's Auto-track technology is also used in factory line systems without the rapid-rise doors; images are taken as the vehicle passes through on the conveyor. This version is being deployed at JLR's Slovakian plant in Nitra.
As well as working with OEMs, DeGould has several contracts with ports, notably at the Wallenius Wilhelemsen terminal in Southampton, where the logistics provider's senior vice-president, Michael Rye, descibes the technology as a "game changer".
At Southampton, DeGould currently has five Auto- scan systems in operation for different customers – with plans for more in the future. "Areas of the port have been redesigned to accommodate the technology and new streamlined processes adopted without the limitations of manual inspections to contend with," says Jones.
Each Auto-scan system at the port uses 23 high- resolution smart cameras. "The booths capture multiple OEMs exporting from the UK, several of whom also have booths in their own plants, which creates a digital passport of the vehicle's condition through the supply chain," says Jones. "In terms of ports it's very collaborative. You have the same OEMs using the same ports and even from an inbound perspective VW, BMW, Daimler etc are often bringing cars into the same ports, using the same carriers, so it's really about aligning those companies."
Auto-scan is also installed in Shanghai port as part of a global roll-out for Daimler, following the installation of its first scanner at the Mercedes-Benz plant in Vance, Alabama in November 2018.
Multiple inspection standards
Despite its apparent limitations, manual inspection is still DeGould's biggest competition and Jones says it has been a challenge to convince companies they should move to automated image technology. "We had to educate the market that this was the sort of technology they should be employing," explains Jones. "Now people accept that, but in our early days people thought it was a crazy conceptual idea.
According to Jones, the company has made a lot of progress in the UK market and has gained traction with the OEMs manufacturing in the country. While some already have a DeGould system, others are in the process on installing one.
However, despite the efforts of organisations like ECG, Jones suggests it has been difficult to create an inspection standard because many brands have their own preferences.
2-10%
Average damage rate for finished vehicles, with an average cost per claim of more than £250 ($328). This is often much higher for premium brands
"Many countries and markets also have their own interpretation of the standards, dependent on their environment, labour and culture," he explains. "Many use the Automotive Industry Action Group codes, for example, but our app only requires the identification of the damage in relation to the actual vehicle being inspected. We have vector-mapped all the parts on each vehicle, so we can back-code in the preferred codes for each brand."
This method is used worldwide, usually at retailers reporting damages on receipt. "They scan the vehicle identification number with a mobile device and then mark on the images where damage has been found," Jones explains. "This is then automatically mapped against any connected Auto-scan data, increasing visibility for OEMs and suppliers and streamlining claims handling.
"As each partner we work with has their own inspection standard that covers damage, dents and scratches, we incorporate this into our AI algorithms when automatically detecting incidence on a vehicle. A powerful AI system requires the best data."
Bentley's assembly operation at Crewe, UK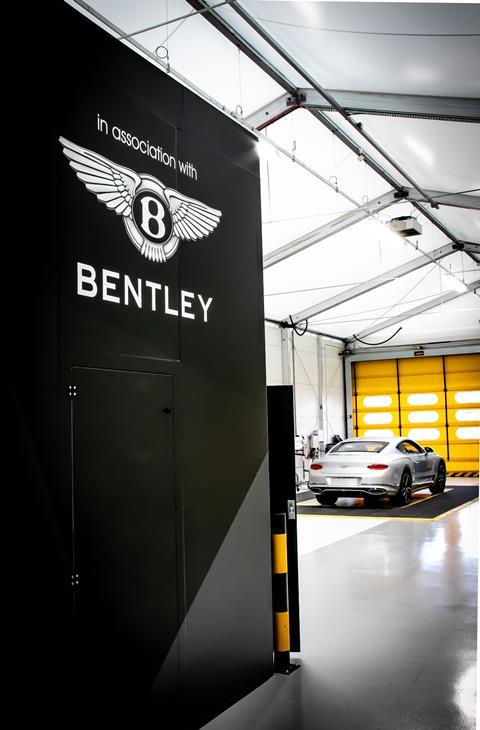 DeGould has been working with premium carmaker Bentley since 2018. The OEM has an Auto-scan booth installed at its plant in Crewe, UK, where all finished vehicles are processed at the end of the production line.
Finished vehicle distribution comes with an added challenge for the OEM due to the size and width of its vehicles. Jones says DeGould's system allows the team to validate any warranty claim that may arise at dealer or customer level and establish whether the factory was at fault, and if so, to take preventive action.
"It assists Bentley to determine exactly whether any damage or defect was present before each and every vehicle they manufacture leaves the plant, or whether damage was caused in the supply chain," he says.
As well as the Auto-scan booths, Bentley is also using the DeGould v ector-mapping app, which automatically notifies global retailers as vehicles pass through additional Auto-scans at ports in the supply chain.
"We are privileged to be associated with such an iconic British brand," says Jones. "As we move into automatic notifications for dents, damages and non- conformances in real-time, we are looking to provide additional quality measures and solutions further up the value stream on the Bentley assembly line."
These systems will include quality gates throughout the production process, using different applications of DeGould's technology. "The most thorough checks will remain at Checkpoint 8 [the final quality gate], where our automatic digital inspection takes place, giving real-time notifications at the handover point from plant to logistics," explains Jones.
Paul Allen, Bentley's vehicle distribution manager, comments: "Our cars pass through an Auto-scan as they leave Crewe, and again at the port of export and the port of entry. This gives us a photographic digital stamp of the condition of that car, complete digital vector mapping throughout the entire supply chain.
"If an incident does happen along the journey, we are able to pinpoint where that incident happened, what kind of damage it was, and then we can do some root cause analysis, allowing us to identify any trends before a car reaches an importer."
Future improvement
DeGould believes the industry can expect an improvement in the quality and conformity of vehicles entering the supply chain, as well as issues being picked up at handover points and corrected. "Vehicles can now be delivered and stored with fewer handles [handling points], and far less delay," he states. "We can expect an uplift in quality and a reduction in damage, but also a greater sense of acceptance when incidents do happen, as the evidence system takes away the emotion and argument. This leads to bottom-line savings at the plant and greatly assists in the end customers receiving their vehicles in the correct condition, to the correct specification and on time," he adds.
The introduction of more AI capabilities in 2019 has moved the system from passively documenting vehicle condition for retrospective review to actively performing digital inspections. "Rather than wait for someone to make a claim and say if it was there or not, now we can let our clients know, when the car passes through the system, if our AI thinks that the car is damaged at that point in time or not. This happens live on the system and can notify the operative or the customer via our secure, cloud- based software," explains Jones.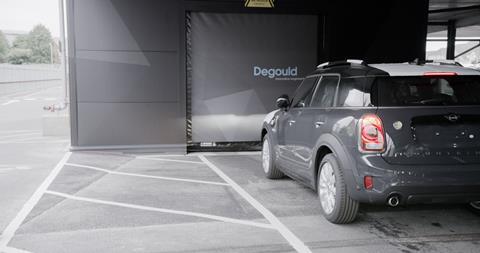 The company anticipates strong growth in the US market, where it has recently secured a multi-million- pound investment. Its strategy will also extend further into the vehicle ownership cycle. "We are fulfilling requests by vehicle remarketing operators as our system can provide retail-ready vehicle images and damage detection for used cars. This is a perfect solution for auctions and de-fleeting centres," explains Jones.
The technology also has applications in other sectors like car rental and airport parking solutions. The company recently completed an installation at Bristol Airport, UK, which now captures images as customers arrive at the valet centre in the car park.
"In the previous two years of rapid growth we have processed over 2m vehicles and we expect to at least double that in the coming year, based on current orders," says Jones. "With technology you never know what is around the corner, but we never see a product as finished or fully developed, so we'll keep listening to our customers and keep meeting their demands."