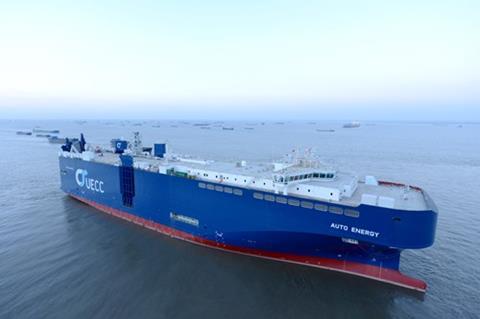 United European Car Carriers' (UECC) pure car and truck carrier (PCTC) Auto Energy has been recognised as the most environmentally friendly vessel calling at the ports of Bremen, northern Germany. Its sister ship, Auto Eco, was runner-up.
Dual-fuelled LNG (liquid natural gas) PCTCs were first deployed on UECC's weekly Baltic service linking ports in the UK, Belgium, Germany, Sweden, Finland, Russia and Poland in March 2017.
Bremenports' managing director Robert Howe said Auto Energy's eco-friendly LNG propulsion earned it the Greenports Award 2019, the sixth held. The vessel had an average ESI (Environmental Ship Index) score of 60.8, pipping sister ship Auto Eco, with 58.1, into second place.
The 181-metre long, 30-metre wide Auto Energy can carry up to 4,000 cars spread over 10 decks, as well as high and heavy loads.
UECC's CEO Glenn Edvardsen commented: "This is a great achievement when considering the numbers of vessels calling the port of Bremerhaven and a nice recognition of UECC's past investment in environmentally friendly vessels.
"UECC's future generation of even more environmentally friendly vessels has already been ordered and a series of battery-hybrid LNG solution vessels will be delivered to UECC in 2021."
He pledged UECC will exceed current and future environmental regulations.
The ESI is made up of individual scores awarded for the emission of nitrogen oxides, sulphur oxides and carbon dioxide, plus further points if the vessel has a ship-to-shore power connection. Any score above zero surpasses current legal requirements.
When using LNG, vessels' emissions of nitrogen oxides are reduced and there is no particulate matter or sulphur dioxide emitted.
Commenting on wider trends, Bremenports' Howe said the share of ships reporting an ESI rose by almost 7% in the last six months, taking the total to 7,731 vessels worldwide having lower emissions and outperforming environmental limits prescribed by the International Maritime Organisation (IMO).
"In view of the urgency of the climate challenges, it is essential that this trend continues to pick up speed. The target has to be zero-emissions shipping."
UECC is a short-sea operator and logistics provider for transportation of cars, vans, and high and heavy cargo in Europe, equally owned by Nippon Yusen Kabushiki Kaisha (NYK) of Japan and Wallenius Lines of Sweden. UECC has a fleet of 20 purpose-built vessels and transports around 1.5m car equivalent units (CEU) annually.