The European Commission has made a proposal to extend the length of loaded trucks used in finished vehicle logistics, which would allow logistics firms to move vehicles more efficiently across the continent.
The Association of European Vehicle Logistics (ECG) has been lobbying for the change for more than two decades, to harmonise many existing national laws regarding car transporters in Europe. Currently, at EU level, trucks carrying vehicles can move over borders as international traffic with a maximum loaded length of 18.75m. In many European countries, trucks can travel nationally with a higher maximum length, however, if crossing borders, they can't take advantage of this as the EU law does not currently recognise car transporters in any way, so the standard truck length whether loaded or unloaded of 18.75m applies. The ECG said that many member states have enforced the restriction of 18.75m at their borders to generate revenue through fines, which has caused further problems for vehicle carriers at a time of tight capacity and high costs.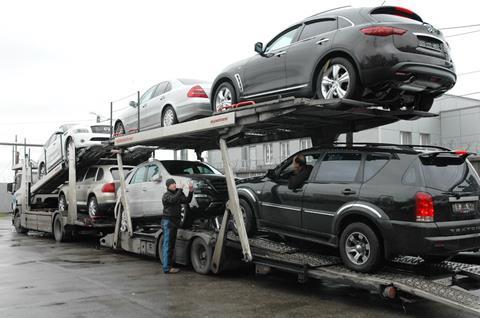 If agreed upon, the proposal would allow vehicle logistics trucks to travel both nationally and internationally on the continent with a loaded length of at least 20.75m, which would mean fewer trucks on the roads as each would be able to carry more vehicles. The proposed changes would allow the overhang at the front of the truck to protrude up to a maximum of 0.5 m, and up to 1.5m at the back, provided the total length doesn't exceed 20.75m. The ECG claims that, in general, car transporters with a loaded length of 20.75m can carry an average of nine vehicles, whereas those that are 18.75m long can only carry an average of seven, though this varies according to the vehicle models being carried.
The net cost savings for operators as a result of this is estimated to be €45 billion ($50 billion) between 2025 to 2050, according to the proposal document.
The proposal said: "Diverging national rules on the overhanging of loads on vehicle carriers cause distortions of competition and limit significantly their potential to improve operational efficiency and energy performance in international traffic. Therefore, it is necessary to harmonise rules on the overhanging of loads of vehicle carriers with open bodies, so as to ensure that these objectives are properly met."
Mike Sturgeon, executive director, ECG told Automotive Logistics: "The timing is perfect, because at the end of last year, the Italians picked up on the border crossing issue and started to fine trucks making international movements that are crossing through Italy as part of their journey." He said that alongside monetary fines, Italy has also been impounding trucks that have crossed the border that are longer than 18.75m. "You can't criticise them for it really, because they're applying the existing law correctly," he said. "That's the problem. They're not wrong in what they're doing, which is incredibly frustrating."
Sturgeon said that if this proposal wasn't being considered, the industry would be "massively impacted". He said: "An average load factor of eight cars on an international movement could be reduced to six, which in percentage terms is huge. For every three trucks, you would then need four, to move the same number of cars with a consequent increase in cost. So, it's really important now that we do get this into EU law.
In a lobbying paper, the ECG said: "By putting an end to the patchwork of loaded length, the EU would be alleviating a major legal uncertainty that can damage both the environment and the logistics sector." It added that by extending the length of the load on these trucks to 20.75m, carbon emissions per loaded truck could be reduced by up to 19.5%. In total, the proposal expects the changes to reduce C02 emissions by 27.8m tonnes between 2025 to 2050.
The ECG said the proposal would reduce costs by optimising loads, provide legal certainty for truck operators, and help the industry deal with capacity issues and a shortage of drivers in the FVL sector as training would be simpler with a continental set of standard rules. Sturgeon told Automotive Logistics: "The fact this is already a proposal is positive. It's good news for everybody because it keeps costs down, it keeps emissions down, it keeps the number of trucks on the road down. So, it's good for the OEMs, for the customers and for the carriers."
The proposal will now have to be negotiated between the European Parliament and the European Council. Sturgeon said that the ECG is hoping that the proposal will be agreed upon by next year, ahead of the European Parliament elections which are scheduled to take place from the 6th to 9th of June. "It is rather worrying that the European elections come around next year, and if we don't get it done by then, unfortunately we're going to have a lot more months of waiting than we want," he said. "But let's hope we get it passed through by then."
While the ECG said it would like to modify some of the wording in the proposal, Andreea Serbu, senior manager External Affairs, ECG, told Automotive Logistics that it's a positive starting point. "It's easier to modify the working with the relevant legislators in the coming months," she said. "Our role is to tell the legislators how they should shape policy in order to allow operators to decarbonise and operate in a single market to maximise their efficiency, so I think this is very positive and will work."
In terms of a timeline for implementation, member states would each have two years to put the directive into national law if passed. But the moment the directive is published, it would instantly become EU law and therefore allow trucks to be loaded up to 20.75m on international borders, regardless of how quickly each member state implements the directive. Sturgeon added: "And better still, while it's already a proposal, we can ask [the EU] to support us in asking the Italians not to fine people, because it's anticipated to come into law."
Now, the ECG will continue its lobbying work to help get the member states to come to a consensus. "We will be counting not just on our members, but also the vehicle manufacturers to support in lobbying at national level," said Sturgeon. "We've already involved Renault in lobbying with the French government. Any country that has vehicle manufacturing, we will be going to the manufacturer concerned and asking for their support."
Sturgeon said the ECG will build on its previous attempt to get the proposal through European Parliament. "The Parliament already voted in 2015 for harmonisation of loaded length and we will remind them of that, so we hope that this time it will just be a formality," he said.
"We'll be mobilising everybody that we can. Over the coming months, we'll be talking to the Parliament, we'll be talking to the permanent representations of the various member states in Brussels, and where appropriate and possible, we'll go and talk to their transport ministries in their home countries. There is a lot of work to do, that's the nature of the game, but we couldn't have gotten off to a better start."
The ECG also announced the publication of the first harmonised methodology to account for emissions from ro-ro operations this week. The project was initiated by ECG in February in partnership with the Smart Freight Centre, and members of the ECG contributed their input. The methodology will allow shipping lines to have a reference guidance which will support them and car manufacturers in their decarbonisation journey, according to the ECG.