Automotive Logistics' exclusive new market intelligence reveals the considerable capacity challenges facing European logistics are set to continue.
The European Automotive Logistics Market Report 2023-2033 found that as volumes gradually recover post-pandemic there is an asset capacity shortage, particularly in finished vehicle logistics (FVL). This is being compounded by labour shortages, especially for truck drivers.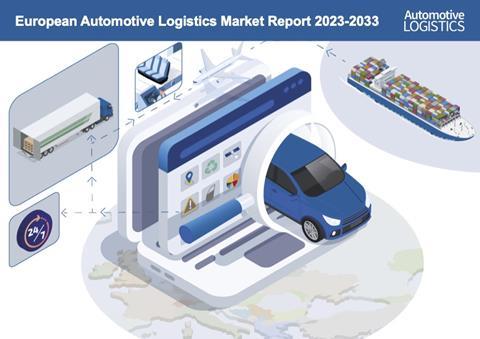 Throughout the pandemic, shortages of container shipping, road freight and air freight capacity were experienced in inbound logistics, which resulted in elevated prices and a profits bonanza for some operators. Now that the supply & demand imbalance has somewhat eased, container rates have fallen back to pre-pandemic levels.
However, many operators are on fixed price contracts which in a rapidly inflationary climate means many FVL providers are operating at low margins, break even or even at a loss.
"Without a healthy profit margin, there is little or no capital to invest in restoring or expanding much needed capacity," said Daniel Harrison, inhouse automotive analyst at Automotive Logistics. "With an uncertain economic outlook and unreliable volume forecasts, the need for extra capacity is put into doubt, creating an extra reluctance to invest in new fleets, perpetuating the capacity crunch."
Both carmakers and logistics firms have been attempting to deal with the capacity crisis in varying ways. Shipping firm Sallaum Lines, which moves finished vehicles between the US, Europe and Africa, announced this week that it is attempting to increase ro-ro capacity by ordering six new pure car and truck carrier (PCTC) vessels, set for delivery by 2026. Some carmakers are taking matters into their own hands to secure ro-ro capacity. Chinese carmakers Chery and JAC have ordered vessels themselves or through joint ventures with whipping groups to try to get ahead of the capacity crunch.
Dieter Braun, head of supply chain at Audi, told delegates at this year's Automotive Logistics and Supply Chain Europe conference that Audi is trying to deal with the capacity issue in a sustainable way. The carmaker is looking for greater use of rail for the shipment of finished vehicles, and the rail needs to be powered by renewable energy. This is offered in Germany by state rail operator DB Cargo, but disruption to the German rail network is forcing inbound and outbound shipments back to the roads, pushing Audi to be more flexible. "Even with a clear strategy we won't make it alone," said Braun. "That means strategic partnerships with logistics service providers, with the German railway, with the fuel companies to offer bioenergy. You need to be flexible, have clear goals that you may have to revise and adjust where necessary, but you have to stay on course. Legislation will help but the most important thing is to have clarity in legislation that is changing every year."
For further insight, download the European Automotive Logistics Market Report 2023-2033 here.