Shipping firm Sallaum Lines, which moves finished vehicles between the US, Europe and Africa, has ordered six new pure car and truck carrier (PCTC) vessels from China Merchants Shipyard to increase its ro-ro capacity.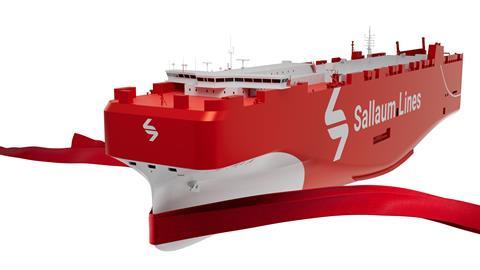 The new vessels, which include four firm orders and two optional, are scheduled for delivery from March 2026, bringing Sallaum Lines' vessels ordered to date up to eight in total.
Each vessel will have a 7,400-car-equivalent-unit (CEU) design, according to the shipping company, with 13 vehicle decks across each. Measuring 200m in length, 38m in width and a draught of 10m, Sallaum Lines said the vessels will "ensure effective cargo handling and maximise operational efficiency".
While the delivery will take a few years, the increase in capacity will be much needed since the recent ro-ro capacity crunch. As part of its plan to tackle this, Sallaum Lines also announced it plans to double its fleet by 2027 with the addition of eight new vessels, to "broaden its footprint and strengthen its capabilities".
A decrease in ro-ro capacity for vehicle shipments since August last year has been pushing up unit rates for carmakers, causing them to look for space in containers. The shortage in capacity was caused due to plants rebuilding volume output after Covid but not having access to the vessels needed for ro-ro services, as the operators of the vessels either scrapped or laid them up during the pandemic.
On top of this, vehicle exports from China added to the demand on ro-ro capacity. According to market analyst Vessels Value, Chinese finished vehicle exports increased 54% year-on-year by December 2022, topping 3m units. This has also driven some Chinese carmakers, such as Chery and JAC, to take steps to secure their own ro-ro capacity, either through ordering vessels themselves or forming joint ventures with shipping groups. The China market is planning to export 2.3m units to Europe this year, but currently ro-ro capacity will only be able to serve half that, according to Christoph Seitz, co-owner and managing member of specialist containerised vehicle shipment service CFR Rinkens.
The two vessels Sallaum Lines previously ordered are set to arrive in 2025. The company signed a deal with Mawei Shipbuilding in November for the two PCTC vessels, which each hold 7,500 spaces for finished vehicles. At the time, Sami Sallaum, president, Sallaum Lines said: "We are here to serve this industry in the best ways possible. The industry is suffering from vessel shortages, causing disruption in the supply chain of finished vehicles. Following our outstanding deal with Fujian Mawei Shipbuilding, we set an aim to further increase our fleet by adding new builds each year."
The new vessels from China Merchants' Jinling Shipyard could reduce carbon dioxide emissions by 25% and greenhouse gases by 63%, according to Sallaum Lines. The shipping firm said: "The decision to expand our fleet with these technologically advanced PCTC vessels underlines our conviction in a greener and more sustainable future for global shipping. Our commitment to reducing the industry's carbon footprint remains unshakeable, and with these new vessels, we're another step closer to realising that vision."
To date, Sallaum Lines has shipped more than 3m vehicles for 400,000 end users, including OEMs like BMW and Ford.
Find out more about ro-ro capacity in our European Automotive Logistics Market Report 2023-2033: Capacity Constraints, Costs and Collaboration Come to the Fore