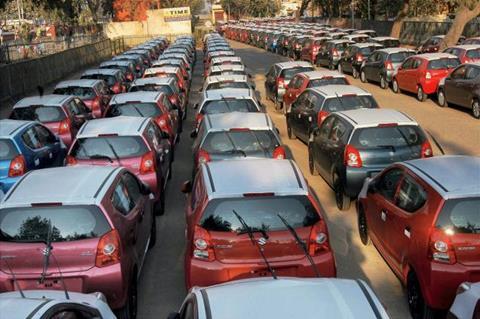 India carmaker Maruti Suzuki has highlighted the environmental benefits it has made over the past six years through the greater use of rail to move finished vehicles around the country.
The company said last week it had transported more than 670,000 vehicles since it adopted rail as a mode for finished vehicle transport in March 2014. In doing so the carmaker said it had saved 3 billion tonnes in CO2 emissions over that time, as well as 100m litres of fuel by avoiding 100,000 truck trips.
Rail currently only represents around 7% of vehicle distribution in India, with trucking moving the vast majority of finished vehicles around the country. That compares with 40% rail penetration in Europe and close to 75% in the US. However, India's government wants to increase the use of rail by the automotive sector by the middle of the next decade and it wants the private sector to provide the means through its Automobile Freight Train Operator (AFTO) scheme. Maruti Suzuki said it was the first carmaker in the country to obtain the AFTO licence enabling to operate high speed, high capacity finished vehicle carrying wagon rakes on Indian Railway's network.
In the last financial year the carmaker said it had it increased the number of vehicles transported by rail by 15% to 178,000, accounting for 12% of the vehicles sold. The company utilises five loading terminals and 13 destination terminals (see box), and its extension of services to the northeast of the country has helped to reduce transport times to the region by almost half.
"Considering the increasing volumes, our team felt the need for large scale logistics flow," said Kenichi Ayukawa, managing director and CEO of Maruti Suzuki India. "We realised, that not only for expansion but also for risk mitigation we have to look beyond road mode logistics."
One rail provider catering to the demand for more finished vehicle rail services is APL Logistics Vascor Automotive (APLL Vascor), which started running dedicated vehicle trains in 2014, the same year that Maruti Suzuki adopted the mode. The joint venture between APL and Vascor has grown fast and it now accounts for 70% of finished vehicle rail moves in India, with customers representing over 80% of the vehicle-makers in the country.
Read more about APLL Vascor and the AFTO scheme
Rail terminals used by Maruti Suzuki
Loading terminals Unloading terminals
Gurgaon Bangalore
Farukhnagar Nagpur
Kathuwas Mumbai
Patli Guwahati
Detroj Mundra Port
Indore
Kolkata
Chennai
Hyderabad
Ahmedabad
National Capital Region
Siliguri
Agartala