In the midst of continuing disruption to the automotive supply chain from a variety of causes there has never been a greater importance attached to getting finished vehicles to market on time.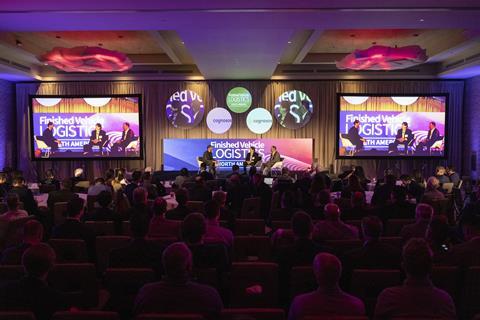 That is certainly true in the US where consumer demand for vehicles is high but inventory is at a historic low.
According to data from market analyst firm Eaton, US vehicle inventory is currently around 1.1m units, equating to a 25-day supply, and it is unclear what the 'new normal' will look like going forward. Supply is down 25% year-over-year, and 70% from pre-Covid levels.
Speaking at this week's Finished Vehicle Logistics North America conference in Huntington Beach, California, Ray Mikicuik, senior vice-president of sales at Volkswagen Group of America (VWGoA), said that 100 of its retailers in US sold down to zero new cars in their inventory last month, with turnover rates on the lot up to 75%.
In the face of these inventory pressures, carmakers and their transport providers are working harder than ever to distribute the cars that are produced to the dealers and end customers as quickly as possible. However, delivery times are longer than they have been for years. Michael Arnold, operations supervisor for North America vehicle logistics at Ford said it used to take an average of ten days to get a car to a dealer but right now it could take 15. He said managing customer expectations was a big priority.
The patience of car buyers is being tested by delays in delivery. Their ability to purchase vehicles and run them is also being tested by inflation and rising fuel prices. The average transaction price (ATP) for a new vehicle in the US stood at $46,000 in the first quarter of this year. Recognition of customer concerns is putting a stronger focus on being able to inform the dealer and the end-customer of exactly where the vehicles they want are in the delivery process and, most importantly, when they will be delivered. It has also meant that sales and logistics teams are now working a lot more closely.
Pipeline pressure
In turn, a more accurate estimated time of arrival (ETA) at the point of handover depends on better visibility in the outbound supply chain. At this week's conference, carmakers and their transport and logistics providers, discussed the major challenges of achieving this.
Mikicuik said tracking ETAs and ensuring VW and its dealers knew when the cars were coming off the production line, and how they were getting to the dealer network, was a difficult task at the moment.
"The customers are concerned and the dealers looking for more data, said Mikicuik. "We are at a point now where every car has a team adjusting ETAs twice a week."
Over at Nissan North America, Chris Styles, vice-president of supply chain at Nissan North America, said the company was monitoring and tracking every vehicle it built because, right now, those vehicles were being sold before they have arrived at the dealer.
"The pressure from the final customer side is immensely different," he said. "It is now much more a build-to-order model versus the old build-to-stock. Figuring out how we are going to get better visibility is really increasing as a priority."
The same is true over at Kia America. Steve Center, chief operating officer and executive vice-president at the carmaker said the outbound industry had changed entirely.
"This is a part of the business that you never used to worry about," he said. "You had a fixed distribution plan, the car showed up and you had a huge buffer of inventory, and the customer was not looking for a particular vehicle."
According to Center, vehicles are now being sold directly out of the pipeline to customers of the Amazon generation who want to know exactly where the car they have chosen with custom specs is, and when it will arrive.
At Ford, Arnold said there had been an increase in demand for information on the location of vehicles and his company was feeling the pressure. It is something that is driving an increase in dealers arranging their own transport for vehicle pick-ups. In response Arnold said there was now an intense focus on providing more accurate ETAs for the customer and minimising the number of revisions to those ETAs.
Project ETA
Those carmakers are responding well to the demand for greater visibility. Toyota Motor North America (TMNA) has just completed the rollout of a new outbound pipeline tracker under Project ETA, which is designed to more accurately trace the movement of its vehicles from the assembly plant to the dealer network. Importantly, the company is sharing that information with its dealers and training them in its implementation.
"We are able to track the specific lifecycle and logistics milestones from order-to-delivery in near real time," said Kevin Austin, vice-president of demand and supply management at TMNA, and head of Project ETA. "The visual pipeline tracker provides a view of each vehicle's identification number (VIN) through its end-to-end journey. It marks completed milestones and highlights its current status."
However, there remain issues for carmakers in North America because of visibility problems further upstream caused by disruption to the manufacturing of the vehicle in the first place. Like Toyota, that is something Nissan is working to address.
"The visibility [on vehicle delivery] has to start with the vehicle being ready to be shipped," said Styles. "There are so many factors that can come into play between production and the car actually going on a truck, train or boat. Once it is moving, we are getting more accurate on expectations and delivery time but its everything before that point that can create frustration with the dealer and customer."
Darren Acker, director of logistics operations for logistics provider Glovis, said accurate production forecasts tied into allocation rates were essential when managing ETAs and matching a consistent throughput of vehicles. The delivery of vehicles through the vehicle processing centres (VPCs) is currently about knowing how to manage exceptions and having the labour force and technology to do so. Glovis has also developed an app for finished vehicle carriers to more accurately track where the vehicle is in the delivery process.
Global disruption
The reasons for parts shortages are well documented and include the ongoing (though gradually easing) problems in the supply of semiconductors. Production was held down last year because of an estimated chip impact that caused a shortage of 2.5m units in North America, according to Eaton. Added to which, shipments of parts out of China are still delayed by the Covid lockdown in Shanghai, which has only very recently been lifted. There is also fallout from the Russian invasion of Ukraine, where a lot of wiring harness manufacturers are based. The impact of sanctions on Russia is also a factor. These are all contributing to volatility in global supply chains and continuing to make production hard to predict.
The allocation of vehicles is also complicated by the lack of clarity in manufacturing and the release of vehicles from the plants. Center said that had changed from idealistic pre-planning at to last minute allocation because carmakers don't know exactly what they can build until late in the day when the parts either do or do not arrive.
Ray Mikicuik said VWGoA currently only had a two-week visibility on parts availability and it had to make decisions on whether to build a car with or without the part. That myopia on parts supply has resulted in monthly production plans being carried out every week instead, something that was quadrupling the workload for the team working under Johan de Nysschen, chief operations officer.
That lack of visibility has repercussions right along the supply chain, impacting capacity because of volume spikes and troughs.
"Part of the problem is either the upstream lack of production or an OEM building several thousand vehicles that are not ready to ship and then flooding the network with as many cars as they can," said Styles. "This disruption really has an impact on capacity, whether rail or truck [or ocean vessel]."
What compounds the problem is that, faced with spikes in volume and sudden lows that can last for weeks, trucking companies chasing revenue have to adjust their routes and go where the volumes actually are. This is disrupting a balanced flow in the network. Added to which, trucking companies able to invest in equipment are now facing longer-than-ever lead times for that equipment while also suffering a severe shortage of drivers, exacerbated by an exodus of 30% from the industry over the Covid pandemic who are gone for good.
Dealing with these pressures calls for closer collaboration with the transport providers and providing as much information as possible to manage expectations with accurate forecasts and planning.