US vehicle inventory is down 37%, to 2.24m units compared to the same period to the end of April in 2020, according to analyst firm Cox Automotive.
The squeeze is down to a strong recovery in vehicle sales at the same time that production output is being hit by the current semiconductor supply shortage, something that is expected to last into next year.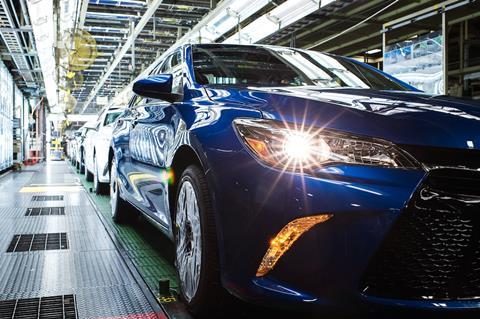 That combination of strong demand and low inventory is driving up sales prices, which are now 3.8% above 2020 and 7.9% more than 2019, according to the analyst.
Taking inventory data from its subsidiary vAuto, Cox Automotive reported that the market has 44 days of supply as a national average, the lowest since October 2020. That figure compares to 59 days near the end of March. The current figure is 52% down on 2019 levels and 75% down on the same period last year, when sales were hit by the coronavirus pandemic and stock was sitting on lots.
Cox Automotive bases its days of supply figures on the daily sales rate for the most recent 30-day period. According to the analyst, sales last month started strong before slowing mid-month. However, toward the end of April they "picked up to a blistering pace" and the month ended with 1.5m vehicles sold, up 111% from Covid-hit April 2020. That put the seasonally adjusted annual rate of sales (SAAR) at 18.5m, the highest for the month since records began in 1976, according to Cox.
"The industry is in uncharted territory by trying to maintain robust sales with this low level of inventory," said Charlie Chesbrough, Cox Automotive senior economist. "Supply was down significantly, yet April sales finished at an 18.5-million seasonal pace. So, limited stock does not appear to have had much impact for buyers – yet."
Chesbrough added: "Some high-volume models are in very limited supply, and May's sales numbers could suffer as a result."
While the majority of brands had days of supply over the 44-day average, some notable volume brands have pulled that average down. According to analysis of vAuto's Available Inventory data, Toyota now has 23 days of supply, while Lexus and GMC have 29 and 30 respectively, the top three ranking as the shortest days of inventory available. Chevrolet, Kia, Subaru, Land Rover, Mini and Mercedes-Benz are all below the national average of 44 days.
Cox reported that at GM pickup trucks and SUVs had the lowest inventories. The full-size GMC Sierra and Chevrolet Silverado pickup truck were at 27 and 28 days worth of supply, respectively. The midsize GMC Canyon and Chevrolet Colorado, which have been hit by the chip shortage, were in the single digits.
GM was reporting very tight inventory back in January, following a good recovery in the last quarter of 2020 for its Cadillac, Chevrolet and GMC brands.
Pickup trucks and full-size SUVs were the segments with lowest inventories, according to Cox.
The impact of the semiconductor on the automotive market in North America will be under discussion at next month's Finished Vehicle Logistics North America Live conference