BMW's parts export operations in Spartanburg are a study in managing complexity and quality in packing, and where innovation can make a big difference.
(Opening photo credit: SC Ports/English Purcell)
BMW's plant in Spartanburg, South Carolina, is not only the company's largest volume producer and exporter of vehicles, but also a major exporter of parts to other BMW and partner plants around the world. Each day, the plant consolidates and sends more than 100 containers worth of body and assembly parts, along with semi-knockdown (SKD) kits, including a large share by rail through the nearby inland port of Greer to the port of Charleston. By contrast, BMW imports fewer than half as many containers of imported material from outside North America.
Among the many logistics and warehouse operations across BMW Manufacturing is Supply Centers America, which is responsible for receiving, consolidating, storing, packing and shipping material for export. It is made up of several warehouses located directly adjacent to the Greer inland port, around 3 miles (5km) from the main plant. The volume handled here is nowhere near the scale of the plant's production and logistics, however there is high complexity, including supply and packaging from the plant and North American suppliers. BMW coordinates shipments with global plants based on international production orders. The operation depends on integrated production, logistics and order systems, and strong visibility of processes across BMW and its logistics providers.
Parts exports do not have the same automation levels as the plant's logistics centres. Nonetheless, these operations are increasingly based on advanced IT systems and digital tracking to ensure quality and accuracy in packing and handling. Small improvements can also have big impacts, whether in reducing the time it takes to pack containers or increasing pack density.
Supply Centers America is part of BMW Manufacturing's wider logistics department in Spartanburg, but also reports directly to the carmaker's central international logistics division, which includes other global packing centres in Germany, Mexico and China shipping to more than 30 plants globally. In Spartanburg, the business is split between two major operations: Production Network Warehouse One (PNW1) and Production Network Warehouse Two (PNW2).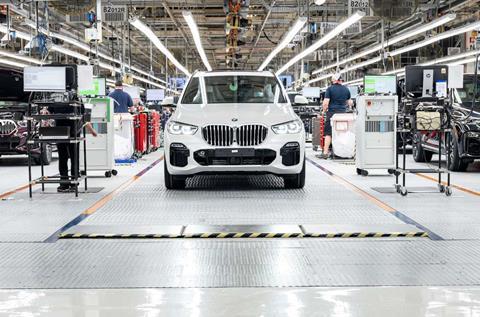 PNW1, which consists of two main buildings, consolidates part-by-part exports for X3 and X5 models from the plant – primarily body shop components – and from assembly suppliers across North America for shipment to BMW plants in South Africa and China, which also have full-scale manufacture of these models. PNW2, meanwhile, consolidates SKD kits for models produced in Spartanburg and assembled across seven partner assembly plants, including in South America, India and Thailand. Combined, these business units ship around 105 shipping containers per day.
As with other global BMW packing plants, the carmaker outsources operations in Greer to logistics providers. Syncreon is the main operator and has more than 500 employees across the warehouses managing parts packing, inventory management and packaging. But the site is also served by other providers, including four different providers for inbound transport, along with international providers in container shipping and air freight; another provider manages security. The inland port also serves as an extension of the export operation, working closely with BMW and its logistics providers.
"In steering these operations, we at BMW are more focused on commercial topics and management of partners than the production process," says Ken Hiott, manager of PNW1 Operations, who worked more than 20 years in the plant. "We track quality, accuracy and efficiency, and work with providers to improve operations."
Rod Marcengill, operations lead for PNW2, credits BMW's strong relations with its logistics providers, including at the inland port, as well as with Syncreon, which has run the operations since it opened more than a decade ago. "The processes here are technically those of the logistics provider, which can run things how they want, but the [Syncreon] team is open and collaborative with us," he says. "We run workshops and analysis, whether in receiving, packing or inventory management. It's important to have this openness."
"In steering these operations [in export parts logistics], we at BMW are more focused on commercial topics and management of partners than the production process. We track quality, accuracy and efficiency, and work with providers to improve operations."
-Ken Hiott, BMW Manufacturing
Coordinating global supply
Order management, delivery accuracy and packaging efficiency are key topics for BMW in its parts export operation. At PNW1, part-by-part export means that BMW must manage supply based on a wide variation in customer options and accessories, as well as significant changes in demand schedules. "One of our most important KPIs is on-time delivery. We need to hit daily shipment deadlines Monday through Friday, which depends on quality and accuracy of our inventory and packing," says Hiott.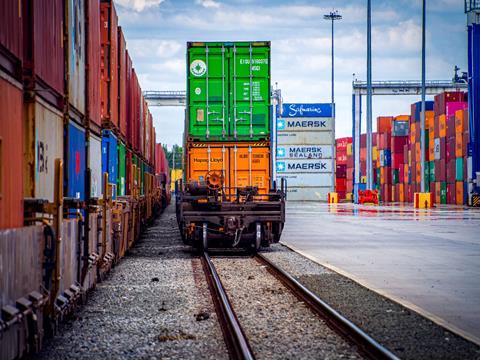 The knockdown kit operations at PNW2, meanwhile, consume a broader variety of parts across the full model range; one facility processes the painted, welded bodies, while another consolidates body-in-white parts and assembly components. The shipments are not based on specific customer orders, however, but are instead in predefined lots that each make up 24 cars.
"Within that lot there can be various body colours, but they will all be the same variant and model," says Marcengill. Complexity comes, however, in coordinating the shipment with other partner plants in other countries that supply up to 45% of the trim parts for each car, which makes meeting the 'F2' date – the planning date for shipment – especially important.
"For example, the drivetrains and engines may be coming from Europe, and we have to ensure they come together at the same time so that the partner plants can assemble their cars at the F0 date, which is the intended day for assembly," Marcengill adds.
The export operations also work in close cooperation with other departments, notably material control, which manages programme planning and steers allocation of material from the plant and suppliers. There is also a close alignment for production planning from body shop and assembly. Purchasing teams are closely involved, both in managing suppliers and in contracts for logistics providers.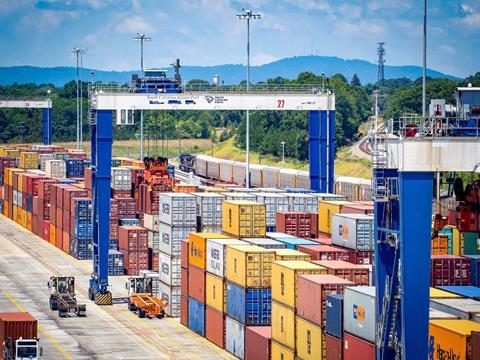 What local for local means for global parts exports
The export volume out of Supply Centers America has been dynamic in recent years. It currently represents around 105 containers per day of material between knockdown kit and parts export business lines – however, that is below recent peaks before the pandemic.
Part of the decline is the result of changing markets and geopolitics. BMW no longer assembles vehicles in Kaliningrad for the Russian market, suspending operations after the country invaded Ukraine. Volumes to other destinations, such as India and Thailand, have increased.
Volumes to China have also declined. In 2019, BMW switched from sending SKD kits of X3 to China to part-by-part exports after it localised assembly in the country; in 2022, it did the same for X5. However, since the pandemic Chinese volumes for these models have been below expectations, says Ken Hiott.
China's recovery could yet accelerate and drive more volume; however, BMW's 'local-for-local' production and supply chain strategy also suggests that the carmaker continue to increase localisation in major markets like China wherever possible, just as it has for North America.
Hiott admits that such shifts in the supply chain raise questions about the volume for export centres like in Spartanburg. However, it is still cost effective to consolidate and ship many parts than fully develop all local suppliers. As Spartanburg expands production to include more models and electric vehicles, it is likely to continue to use economies of scale in North America wherever it makes sense.
Packing in the savings
Both operations use a variety of packaging and packing processes. Special equipment is used to pack welded bodies into sea containers, for example. One building also functions as a crossdock, receiving individual parts pre-packaged by suppliers in cardboard and then relabelled for onward shipping.
Another building handles body and trim parts that need to be repacked. The body parts that arrive in PNW2 for repacking need to be held for 24 hours to acclimatise, according to Rod Marcengill, to avoid condensation and potential rust. Most parts are repacked into small, foldable boxes – referred to as FS for the German Faltschachtel, which are then packed into larger folding containers, or FK (Faltkisten). Larger parts such as radiators, air conditioning systems and instrument displays are fitted directly into an FK.
Packaging is an area of significant cost-saving potential. In PNW2, for example, BMW mainly uses cardboard to pack material, however it has recently switched to a custom wood solution to move parts such as glass-panel roofs. The wood allows BMW both to pack more parts per crate, but also to stack each crate where it couldn't before. Since introducing the concept in February 2022, it has increased volume per container from 36 to 47 cubic metres, with the goal of surpassing 50 by the end of 2023. According to Marcengill, it has saved $1.2m in a year, along with carbon emissions.
Digital control of packing processes
Digital control of the parts export operation is at the heart of its success. The warehouse flow was originally managed using Syncreon's own IT system, however BMW later developed its own, SAP-based system to ensure greater visibility. Today, both BMW and Syncreon interface with the BMW system, with operations steered by Syncreon, and BMW managing overall orders, material and inventory control, delivery scheduling and cost management.
Along the packing lines, associates scan orders, which bring up detailed pack instructions on computer screens at each station that provide step-by-step instructions for each container. BMW and Syncreon are also rolling out new applications to improve packing quality and accuracy. A new system is in place to scan labels at each packing station to ensure that the correct bodies are loaded, for example, pulling data from SAP based on orders and production. Inventory accuracy across the operations is above 99%, according to Ken Hiott.
BMW has also been rolling out a new throughput tool, Celonis, in the warehouses, which integrates data from SAP across the entire process, including for individual packages. It helps BMW to define the optimal time that each packing operation should take, from inbound handling through to outbound staging and shipment. It then compares the actual time that the logistics operations took. "We can then drill down into each operation and identify where specific bottlenecks are," says Hiott, who notes that physical logistics teams at the plant are also using the tool.
Marcengill adds that the tool is especially important for its logistics providers, as contract and payment terms are based on methods-timed measurements (MTM) – which means that the better the provider performs relative to the MTM-engineered processes, the more they are paid. "It's a real motivating factor, as providers are making more money if they're packing faster. This system helps them to identify where they can improve," he says.
Although Hiott doesn't expect any immediate implementation of autonomous yard hostlers or STRs in these operations, he does see more room for digitalisation. His hope is that the export centres become more of an innovation centre for other logistics systems. "Beyond the business cases that we need to make for system investments, we'd like to become more of a testing ground. Since our operations are less production-intensive here, we are a good candidate to try new ideas," he says.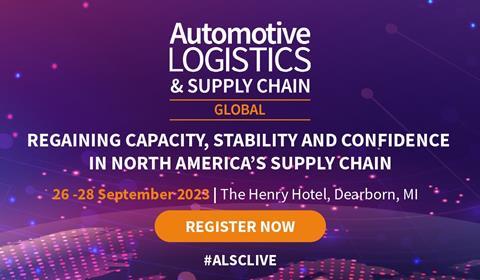 Hear more about BMW's logistics
Learn more about how BMW's logistics and supply chain at Automotive Logistics and Supply Chain Global, September 26-28 in Dearborn, Michigan. VP of logistics Oliver Bilstein will speak about the carmaker's transformation in Spartanburg, and its use of digitalisation to drive resilient and flexible logistics.
'Performing while transforming' BMW's logistics in Spartanburg: Special series
1

2

3

4

5

6

Currently reading

From South Carolina to the world of BMW, with love