In its latest annual financial report, BLG Logistics reports earnings in its Automobile division that are significantly below target because of continued problems in the automotive industry. However, earnings were positive and the company is investing to digitalise operations and make them more sustainable.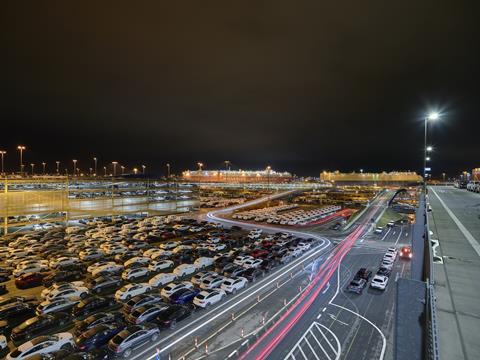 Earnings before tax were down €1.1m ($1.16m), which the company said was because of car production slowdowns caused by parts shortages and the high costs involved in implementing Covid rules.
In total, BLG Automobile moved 4.8m vehicles over the financial year, which it said was comparable to 2020.
At the German port of Bremerhaven, BLG Logistics' largest location, volumes were also similar to 2020, with 1.7m vehicles processed through the year. Bremerhaven remains the second busiest vehicle handling port in Europe, behind Zeebrugge in Belgium (2.3m).
However, AutoTerminal Bremerhaven lost €11m through FY 2021. The company said that productivity dropped dramatically, partly because of coronavirus measures and a high level of staff sickness leave.
Earnings and investments
Nevertheless, BLG Logistics' overall performance was positive, according to the company. After a pre-tax loss of €116m in 2020, the company generated earnings before tax of €52.2m in 2021. Revenue was down -1.4% at just below €1.1 billion, around the same level as 2020.
"In the financial year 2021, we significantly improved earnings and exceeded our expectations," said CEO Frank Dreeke. "Together with our workforce, we mastered the challenges. Globally, we have almost 12,000 employees, and their commitment helped us to maintain a stable customer base, and even expand it in some divisions."
There were also positive developments amid the challenging automotive situation. BLG pointed to the successful joint venture established with Hyundai Glovis in December last year. The world's largest ro-ro operator will be using BLG AutoTerminal Bremerhaven to import Hyundai, and Kia volumes and other car makes from Asia.
BLG is also spending €24m on a third multistorey car park at its inland auto terminal in Kelheim, Germany, for Kia Motors Deutschland. The seven-deck car park will provide capacity for 5,368 vehicles and will be the largest of the three multistorey car parks at the Kelheim terminal. Once complete, the car park will bring total capacity at Kelheim to 32,000 vehicles.
In addition, BLG has expanded its automobile logistics site in Dodendorf, also in Germany, by 95,000 sq.m. The inland terminal now covers 230,000 sq.m for around 11,000 new and used vehicles. The new area is exclusively used by Hyundai Motor Deutschland for used car operations. 
BLG was also able to pick up more trade from high & heavy equipment producers because of the capacity made available by the lower numbers of vehicles and containers being moved. In addition, throughput was healthy at its Neustädter Hafen breakbulk terminal, which handled 1.3m metric tons of material in what BLG described as a "highly competitive environment",
There were also positive results for BLG's Contract division, which provides contract logistics services covering procurement, production and distribution, and spare parts logistics and returns. Earnings before tax in the division hit €8.7m, significantly above the negative result the company registered in 2020 when it lost €14m.
Investing in digitalisation
BLG is also continuing to invest in projects to digitalise operations. The company has invested €14.6m in seven collaborative AI projects so far. Amongst them is the Kite project, in which BLG is working with science and industry partners to develop an AI-based forecasting method for predicting transport volumes.
"Its use should reduce empty runs by up to 15% and thus support the overarching goal of making transport logistics more sustainable by reducing CO2 emissions and [creating] more sustainable transport logistics," said a spokesperson for BLG.
Through 2021 BLG also continued its Isabella project, which aims to integrate multimodal transport processes, including the loading and unloading of trucks, trains and ships.
One further example is Insert, a project aimed at assisting production and logistics planning, and which involves transferring expert knowledge into an AI system that learns. BLG said the system will support planners and increase service quality, while at the same time shortening the planning process.
Emissions targets
BLG also reports being on target to reduce emissions and last year recorded a saving of 13.1% since 2018, more than a third of its target.
"Over and above, we are continuously working to increase our energy efficiency," said BLG's spokesperson. "We also want to generate more of our own electricity from renewable sources."
BLG's use of rail for vehicle shipments has improved the company's CO2 balance for its customers, with 200 vehicles shipped per train. In the German and Austrian rail network that rail service is run entirely on green electricity.
"We take responsibility for the environmentally compatible use of resources and want to reduce our waste volume through avoidance, reduction, recycling and reuse," said the spokesperson for BLG.