APM Terminals (APMT), which is owned by AP Moller-Maersk, is pulling its business out of Russia, with the divestment of its 30.75% share in Global Ports Investments (GPI), Russia's biggest container terminal operator.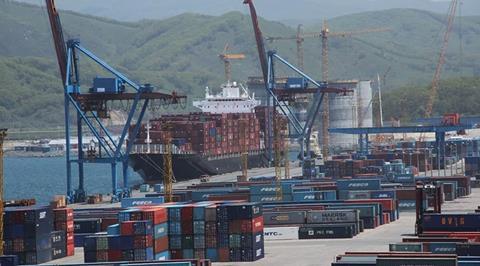 GPI owns and operates marine container and multipurpose terminals in Russia, with four on the Baltic and one in the Far East port of Vostochny, as well as the inland terminal at Yanino Logistics Park near St Petersburg. It also operates container terminals in Finland at the ports of Helsinki and Kotka under its Multi-Link Terminals subsidiary.
APMT's partner Delo Group is buying the 30.75% share of the business, making it the majority owner, though Maersk said that the terms of the divestiture included the ability for APMT to re-enter the partnership with Delo in the future. For the time being, however, APMT said it would no longer be involved in any operations in Russia or have any assets in the country. Delo is one of Russia's biggest logistics and freight forwarding companies.
"We are pleased that we have now concluded this transaction according to the plan and with our long-standing partner Delo, enabling us orderly exit from GPI in line with our decision to discontinue activities in Russia," said Keith Svendsen, CEO of APMT.
APMT acquired the stake in Global Ports Investments back in 2012 but it announced its planned divestiture of the business following Russia's invasion of Ukraine.
Back in March this year Maersk stopped taking bookings to and from Russian sea ports, as well as suspending air bookings to and from the country, and halting rail bookings in either direction between Europe and Asia. The suspension of rail shipments through Russia has diverted volumes to ocean and air, adding complexity to freight movements, which are rebounding for port congestion in China.
Global Ports Investments locations in Russia
First Container Terminal (Big Port St Petersburg)
Moby Dik (Big Port St Petersburg)
Petrolesport (St Petersburg, offshore)
Ust-Luga Container Terminal
Yanino Logistics Park (St Petersburg, inland)
Vostochnaya Stevedoring Company (Vostochy Port, Far East Russia)
Moving to Malaysia
At the same time, Maersk has signed an agreement with the Malaysian Investment Development Authority (Mida) to drive investment into logistics infrastructure and contribute to the growth and development of the supply chain in the country, and transform it into a regional logistics hub in south-east Asia.
Maersk said it would work with Mida to attract "high-tech and high-impact" investments in sectors including automotive, electronics, and machinery and equipment, amongst others.
"The country's geostrategic position has made it a natural hub," said Goh Hean Chun, managing director of Maersk Malaysia. "By further enhancing Maersk's logistics strength, we will contribute towards the growth and development of Malaysian supply chain sector."
"Logistics is a cornerstone of Malaysia's economy," added Sivasuriyamoorthy Sundara Raja, head of the Investment, Promotion and Facilitation department at Mida. "By connecting suppliers to manufacturers, and consumers to businesses, we support the growth of various industries. I applaud Maersk for their continuous efforts in taking the lead on initiatives to uplift the logistics industry."