Read rolling updates on the developing situation in Ukraine, wider Europe and Russia as it impacts the global automotive supply chain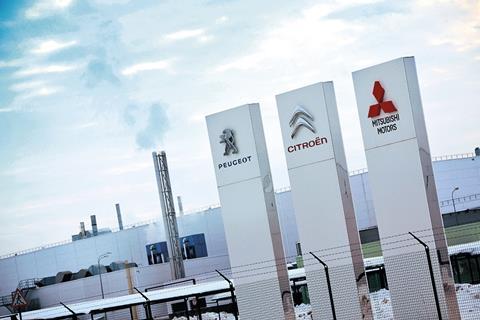 [Update April 20]
Stellantis has suspended production at its joint venture plant with Mitsubishi in the Russian city of Kaluga because of sanctions and logistics difficulties resulting from the war in Ukraine.
The company said it was taking the action at the plant, which is 200km south-west of Moscow, to "ensure full compliance with all cross sanctions and to protect its employees".
Stellantis owns 70% of the joint venture PSMA Rus plant, which makes mid-size light commercial vehicles (LCVs), mainly for the Russian market, including the Opel Vivaro, Peugeot Expert and Citroën Jumpy. A small percentage of the vans are also exported.
As reported earlier this month, the vehicle maker's CEO Carlos Tavares said the plant was facing a shutdown because of components shortages.
The closure of the plant by Stellantis follows others in Kaluga's automotive production hub. Volvo suspended production of trucks in Kaluga (including those for Renault) last month and VW also stopped vehicle production at its plant there in March (see below).
However, tier one supplier Continental has temporarily restarted tyre production for passenger cars at its factory in Kaluga. The tier one supplier said it supported and continued to comply with all applicable sanctions and legal regulations imposed as a result of the war in Ukraine but added that the current situation was "extremely complex" for international companies that had production sites in Russia.
"Our employees and managers in Russia… are faced with the prospect of severe criminal penalties if we fail to meet local demand," said a spokesperson for Continental. "To protect our employees in Russia from prosecution, we are temporarily resuming the production of passenger tires for the local market at our tyre plant in Kaluga. We are taking this step in order to fulfill our duty of care to our employees in Russia."
The supplier was keen to add that the temporary resumption of production in Kaluga was no way motivated by profit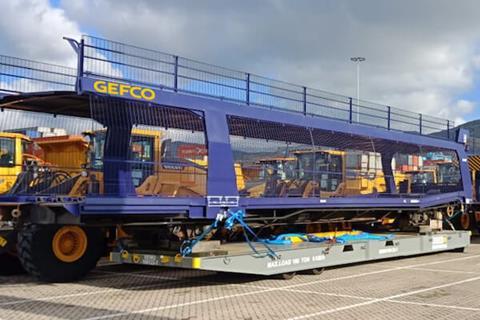 [Update April 8]
Container shipping line CMA CGM has bought French logistics provider Gefco for an undisclosed sum. The buyout follows an earlier statement from Gefco that it was taking back the 75% stake in its business that Russian Railways bought in 2012 for €800m ($869m).
The buyout has been submitted to competition authorities for approval. However, CMA CGM has worked out a special procedure with the European Commission to authorise its purchase immediately. In doing so, it has avoided a more problematic situation for Gefco, which would have been subject to international sanctions against Russian Railways from April 11 this year following Russia's invasion of Ukraine. Final approval on the capital deal will take place in the coming months, according to CMA CGM [read full report].
[Update April 5]
Logistics provider Gefco is buying back the 75% stake in its business that Russian Railways bought for $1.04 billion back in 2012. The management board said it was making the bold move to ensure Gefco's sustainability for its customers, partners and employees.
Russian Railways is under sanctions imposed by the EU, UK and US as a consequence of Russia's invasion of Ukraine. While that is not impacting Gefco's business, as an independent company registered in France, the management board has decided to buy back the majority stake, subject to approval by the supervisory board.
"Despite this clarification, conducting our daily business with our worldwide customers and business partners has been exceedingly difficult due to our legacy shareholding structure," said the company in a statement.
Gefco said it hoped to have the "vital transaction" completed before April 11, freeing it of any issues related to the sanctions and preparing it "to accelerate [its] business with customers and partners".
The company added that it hoped to "communicate exciting news regarding our shareholding structure in the coming days". It is rumoured that container transport and shipping company CMA CGM is going to buy out Gefco in the next few days, but so far neither company involved in that potential deal has confirmed it.
Disruption to the supply of parts caused by the invasion of Ukraine combined with the ongoing semiconductor shortage is halting production this week at Volkswagen's plant in Bratislava, Slovakia.
Assembly is being halted between April 4-8. The plant manufactures the VW Touareg, Porsche Cayenne, Audi Q7 and Q8 SUVs, as well as the VW Up, Seat Mii and Skoda Citigo minicars.
"Experts from Volkswagen Slovakia, in cooperation with the Volkswagen Group, analyse and evaluate the global supply chain situation on a daily basis to secure production and reduce stoppages… [but] despite their efforts production is temporarily halted this week" said a spokesperson for the company.
The spokesperson said the company was using the downtime to work on logistics contingencies and achieve greater stability in the supply of parts in the coming weeks. The aim is to adjust production depending on the supply of parts "with an emphasis on flexible management of the production plan and logistics processes".
[Update March 28] Renault has once again suspended production at its plant in Moscow. The company said it was stopping operations from March 23, having only recommenced them on March 21.
Supply problems caused by Russia's invasion of Ukraine and the sanctions imposed by suppliers in Europe have caused what Renault described as an "unstable and changing" situation regarding parts supply (see below).
However, there has been additional political pressure on the company, with Ukraine's foreign minister, Dmytro Kuleba, calling for a global boycott of Renault because of its operations in Russia. Ukrainian president Volodymyr Zelensky earlier accused Renault of financing Russia's war in Ukraine and "the murder of women and children".
Renault maintains it is implementing the necessary measures to comply with international sanctions.
With regard to its 51% majority stake in Russian vehicle maker AvtoVaz, Renault Group said it was "assessing the available options, taking into account the current environment, while acting responsibly towards its 45,000 employees in Russia".
The AvtoVaz plants in Togliatti and Izhevsk have been operating on a restricted basis since the conflict in Ukraine began because of supply issues, including those of electronic parts. Weekly updates show only certain Lada assembly lines and parts production in operation on limited days of the week (see below).
Renault makes the Duster, Kaptur and Arkana models, along with the Nissan Terrano, at the Moscow plant.
[Update March 22]
Renault has restarted production at its assembly plant in Russia with the backing of the French government. A company spokesperson told Automotive Logistics that the plant restarted production on March 21 and was "for the moment" working, though they also pointed out that the the situation with the supply of components is "unstable and changing", and the company preferred not to make any predictions on how production would be affected going forward.
The Moscow plant was forced to close last month because of supply problems caused by Russia's invasion of neighbouring Ukraine.
Production at the AvtoVaz plants in Togliatti and Izhevsk, which make the Lada amongst other vehicles, was also impacted by a shortage of electronic parts on March 14. Renault owns a majority share in AvtoVaz, and production continues to be affected this week (March 21-25).
Togliatti's Granta and Niva lines will idled this week and the B0 line will only run for two days (March 21-22). The Izhevsk plant will produce the Lada Vesta on March 21-22 with the rest of the week on downtime. Some parts production will continue to support that limited assembly.
A spokesperson for AvtoVaz said subsidiaries involved in spare parts production and distribution, including for the Lada Image would continue full time, as would after sales services to customers, including Lada Service.
"The full working week regime is preserved for the services responsible for ensuring the stable operation of the infrastructure of the plants and engineering services engaged in works on new projects, and pre-production," added the spokesperson.
A number of major suppliers have halted supplies of key components to Russia in response to the country's invasion of Ukraine. Other carmakers, including VW Group and Toyota, have also had to suspend production at plants because of the disruption and sanctions on inbound parts. Many companies are withdrawing operations from Russia and applying sanctions in response to the Putin government's invasion.
[Update March 15]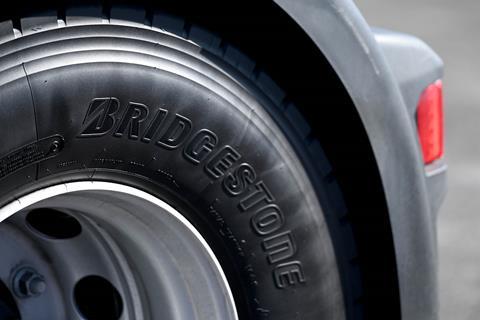 Bridgestone is suspending its tyre manufacturing operations in Russia and has already suspended tyre exports to the country. The Japanese company will completely stop operations its tyre plant at the Zavolzhye Industrial Zone in Ulyanovsk on March 18. Tyre exports to the country were suspended on March 14. The company also said it had frozen all investments in Russia.
Russia accounts for 2% of Bridgestone's global revenue.
The company said it placed a priority on ensuring the safety of its employees and their families. It has decided to return all expats and their families from Russia to Japan (equal to ten people) and would be financially supporting its 1,000 employees in the country.
Furthermore, Bridgestone said it was donating 500m yen ($3.4m) in total to humanitarian causes related to the Ukraine crisis, including €2.5m ($2.7m) to the United Nations High Commission for Refugees.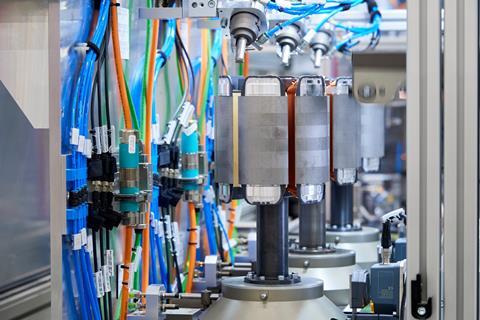 BMW has restarted production at two of its German plants, in Dingolfing and Munich, which were affected by supply chain disruption caused by Russia's invasion of Ukraine. However, the Mini plant in Oxford UK, which BMW owns, remains suspended for two weeks according to a report from Reuters news. BMW's other plants in Europe are running normally.
The plants in Dingolfing and Munich were forced to temporarily suspend production last week because of a shortage of components previously sourced from suppliers in Ukraine.
"Due to an improved supply situation, our plants Dingolfing and Munich will resume production during this week," said the company in a statement but it warned that the situation remained volatile. "We still expect that supply restrictions due to the war in Ukraine, combined with the ongoing semiconductor bottlenecks, can lead to production adjustments at our plants."
BMW said it was continuing to engage in intensive discussions with its suppliers. "Together with them, we are continuously assessing the situation and defining measures to secure production in the best possible way to meet the continued high demand for customers."
European vehicle manufacturers have struggled directly with shortages in components sourcing and production from Ukraine. Overall, there are 22 foreign companies that produce automotive parts in the Ukraine at 38 factory facilities, according to Ukraine Invest.
Of that production, one of the most important to the automotive supply chain is for wire harnesses. Leoni, for example, a global producer of automotive wire harnesses, has closed its two plants in Stryi and Kolomyja, both in western Ukraine.
[Update March 10]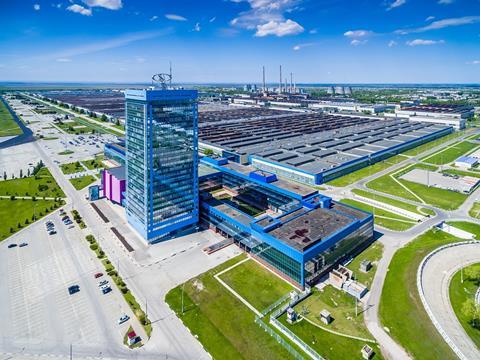 Russian carmaker AvtoVaz has stopped production at its Togliatti and Izhevsk plants, and announced reduced output next week (March 14-18) because of electronic parts shortages.
The carmaker, which is majority owned by Renault Group, did not confirm whether the supply problem was a direct consequence of the impact of sanctions on Russia because of the invasion of neighbouring Ukraine. AvtoVaz only resumed production at its plants on March 11 after a stoppage also related to electronic parts shortages, including semiconductors.
A number of major suppliers have halted supplies of key components to Russia in response to the war in Ukraine. AvtoVaz imports around 20% of the parts it needs from outside Russia.
Renault also had to stop production last week because of supply problems to its plant in Moscow.
In a statement AvtoVaz said that impacts to the production schedule beyond next week will be announced later.
"The company is making every effort to be back to a normal production schedule at its plants in Togliatti and Izhevsk as soon as possible," said the company in a statement.
Assembly at AvtoVaz's main Togliatti plant, located on the Volga River in western Russia, will stop on March 14-15. Production in the week following will be staggered, with assembly of the Lada Granta and Niva Legend running at normal output for two shifts between March 16-18. Togliatti also usually makes the Lada Xray and Largus, and the Niva Travel, along with the Renault Logan and Sandero. The company released no information on these products but the B0 line at Togliatti will be down between March 14-18.
AvtoVaz's Izhevsk plant, 600km to the northwest, will continue project-launch activities for the new generation Vesta, which is the only model it makes.
A spokesperson for AvtoVaz said that the majority of production of components at Togliatti will run for the full day during next week to support vehicle production and for aftermarket supplies for Lada Image. All AvtoVaz subsidiaries involved in spare parts production, distribution and the operations of Lada Service outlets will continue to work as normal, according to the company. Plant maintenance and engineering services related to new projects and pre-production will also continue.
The company said that personnel not engaged at Togliatti on March 14-15, and those not involved in the Vesta project launch at Izhevsk, will receive two-thirds of their average income and employees can issue March 18 as a vacation day with full payment, moved forward from December 2022.
Other carmakers, including VW Group and Toyota, have had to suspend production at plants across Russia because of the disruption and sanctions on inbound parts caused by the war in Ukraine. Major logistics companies have also suspended operations (see below).
Russia's invasion has ramifications that will profoundly impact reshape geopolitics, economies, trade and the trajectory of the automotive industry for years if not decades to come.
[Update March 9]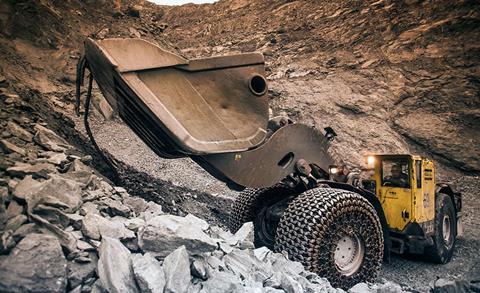 Pressures on the supply of nickel exacerbated by the threat to supplies from Russia, which accounts for 11% of global supply, pushed prices for the metal to $100,000 a tonne on March 8, quadrupling the price in one week. In response the London Metal Exchange (LME) suspended trading in nickel.
The steep increase in price reveals the vulnerability of the battery supply chain to raw material price fluctuations caused by economic and, as in this case, political factors. Nickel is a key material in the building of lithium-ion batteries used to power electric vehicles (EVs) Long-term supply problems could increase the price of those vehicles for the end consumer.
Russia is globally the third biggest producer of nickel and Norilsk Nickel is the largest producer of metal in Russia. Sanctions on the company could have a big impact on global supply. As with other commodities, however, nickel has been subject to a combination of other global supply pressures. Indonesia, which is the main producer of nickel ore globally, put an export ban on the commodity in 2020 in a move designed to develop its own EV industry and bring nickel processors and battery makers to the country.
Speaking on BBC Radio 4's Today programme on March 9, Dr Guy Wolf, global head of analytics at commodities broker, Marex, said that the processing plants needed to support the domestic processing of nickel ore still had to be constructed.
"On top of that we have the pandemic and huge supply chain bottlenecks in pretty much every commodity market, and lost production, which has not been made up," he told the BBC's Sean Farrington. "When you combine all that with the economic recovery we were seeing as pandemic restrictions were easing, we were in a situation where there was no inventory and no slack in the system whatsoever; we had increasing structural demand and no ability for the supply chain to respond."
Russia's invasion of Ukraine has led to supply chain problems because major logistics providers are no longer calling at the country's ports. Sanctions are now also being applied to a wide range of raw materials.
The threat to the supply of nickel ore from Russia triggered a vicious cycle of margin calls, according to Wolf. Margin calls require investors to either deposit additional funds or securities in the account or sell assets. Nickel producers minimise their exposure to nickel price risk by selling futures against their expected forward production as a hedge, but have to pay the losses on their hedge before receiving gains on the physical material.
The steep rise in the cost of nickel is also affected by 'price insensitivity' to base metals on the demand side, according to Wolf.
"An extra $25,000 a tonne on the cost of nickel adds about $2,000 to the cost of producing a Tesla [but] it is still not enough for Tesla to shut production of the whole factory," he said.
That means high demand is maintained in the face of a supply problem, which is why price rises can be so sudden. Nickel is also used in the manufacturing of stainless steel.
[Update March 8]
The impact of the Ukraine crisis could impact vehicle sales and production for years to come, according to automotive analyst Daniel Harrison. In the short-to-medium term, energy and supply chain constraints are likely to impact on supply and production, including minerals essential to semiconductor and battery production. Higher oil and gas prices would have shocks both on consumers and across operations, increasing inflation and risking 'stagflation' should there are also be a global recession. However, higher petrol prices would also likely increase demand for electric vehicles – potentially adding to vehicle inventory pressure at the same time that supply and production are further disrupted. Governments may need to intervene carefully to support transitions away from Russian oil as well as to incentivise EV sales and production.
The US announced that it would ban the import of Russian oil and gas. While the country imports only a small amount from Russia, the move is likely to still put pressure on energy prices. The UK, which imports around 5% of its gas from Russia, also announced that it would phase out Russian oil by the end of 2022, with an announcement expected later on gas. The EU, where Russian gas accounts for as much as half of supply, has announced a more transitional approach, with a plan to cut Russian gas imports by two-thirds in a year and phase it out by 2030. The moves are putting more pressure on fuel and energy prices.
[Update March 7]
Wallenius Wilhelmsen has suspended operations to and from Belarus until further notice. It follows the company's halt on bookings to and from Russia, Ukraine and across the Black Sea in response to the disruption to trade caused by Russia's invasion of Ukraine (see below). Belarus has been supporting Russian military action in Ukraine.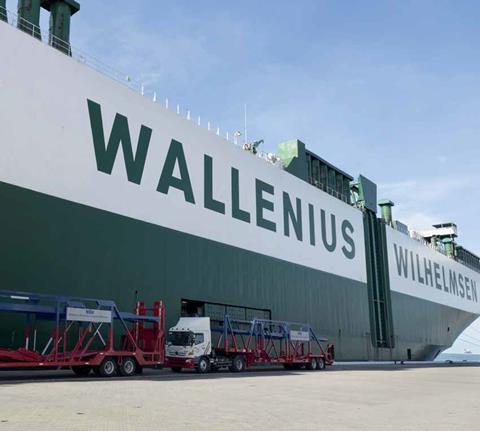 The Norwegian provider of finished vehicle transport and logistics services.
discontinued services into Russia on February 24. Future cargo bookings into the region have been delayed or are cancelled, according to the company, and it has formerly suspended operations in both Russia and Belarus until further notice.
"The invasion of Ukraine is a tragedy," said Torbjørn Wist, acting CEO and CFO at Wallenius Wilhelmsen. "Our deepest sympathy goes out to the people of Ukraine and our thoughts are with the millions of innocent people directly affected."
He added: "Our main concern is the safety and well-being of our employees and partners. We have employees in Russia and partners in Ukraine."
The price of liquified natural gas (LNG) is increasing steeply and is threatened by supply chain disruption following Russia's invasion of Ukraine and the sanctions being imposed on Russia. In response, European markets are accelerating a number of projects to localise production, most notably in Germany.
LNG is a form of biomethane, considered a sustainable 'drop-in' alternative to fossil fuels, including petrol and diesel, and is being widely adopted in the maritime and commercial vehicle sectors.

Ford has suspended production of the Transit van it makes with Russian vehicle maker Sollers in Elabuga.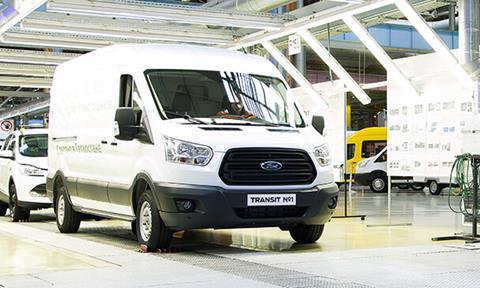 The company said it was "deeply concerned about the invasion of Ukraine and the resultant threats to peace and stability", and was compelled to reassess its operations in Russia.
The only vehicle Ford sells in Russia is the Transit light commercial vehicle made by the Ford-Sollers joint venture (JV). Last year the plant, which is in the Tartastan region, produced 20,000 vehicles and sales of the van in Russia stood at around 21,000.
"In recent years, Ford has significantly wound down its Russian operations, which now focus exclusively on commercial van manufacturing and Russian sales through a minority interest in the Sollers Ford joint venture," said Ford in a statement. "Given the situation, we have today informed our JV partners that we are suspending our operations in Russia, effective immediately, until further notice."
Ford does not have any significant operations in Ukraine but said it had a strong contingent of Ukrainian nationals working around the world and was committed to continued support for them.
Ford Fund is making a $100,000 donation to the Global Giving Ukraine Relief Fund for humanitarian aid to assist Ukrainian citizens and families who have been displaced by the current crisis.
[Update March 4]
Maersk has said it will no longer be taking bookings for cargo in and out of Belarus, other than for foodstuffs, medicines and humanitarian supplies.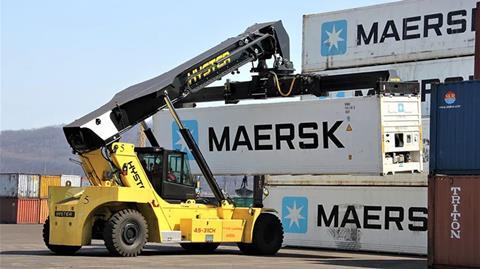 This week (March 3) the global shipping provider stopped taking bookings to and from the Russian ports of St Petersburg, Kaliningrad and Novorossiysk, regardless of whether the cargo is food, medical or humanitarian. Far East Russia cargo is currently unaffected. Maersk said that an increasing number of its terminal service providers in Europe were advising that they would no longer be able to handle any additional cargo originating or destined for Russia, including transshipments. The company said it was eager to minimise supply chain disruption and not add to the global congestion in ports and depots.
Maersk has also suspended all air bookings to and from Russia, and Ukraine, until further notice, explaining that it saw potential risk to the cost of air transport, as airspace gets restricted and flights are further subject to rising fuel and insurance costs.
In addition, the company said it was suspending new intercontinental rail bookings, without exception, in either direction between Europe and Asia.
On top of those actions Maersk said it was also ceasing payments through sanctioned Russian and Belorusian banks.
"[A]s Maersk acts in full compliance with legal regulations and its policies, we cannot engage with, receive from or make payments to any sanctioned banks, or any other sanctioned party – including Belarusian and Russian parties," said the company.
VW Group has stopped vehicle production in Russia and all vehicle exports to the country until further notice in response to Russia's invasion of Ukraine. The decision to stop vehicle assembly affects plants at Kaluga and Nizhny Novgorod.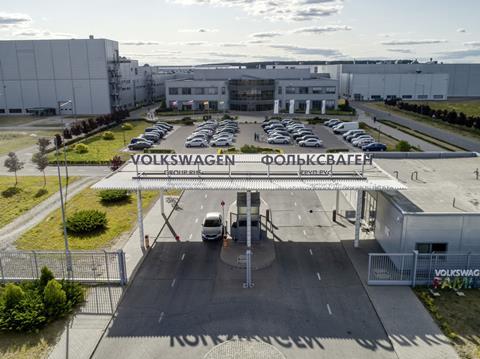 Annual production at the VW plants amounted to 170,300 units in 2021 (-6.5% on 2020). Of that figure 118,000 vehicles were produced at the automotive plant in Kaluga (-4.9%) and 52,300 vehiclesin Nizhny Novgorod (-10.2%).
The company exported almost 11,500 vehicles there (+10%). VW Group sales in Russia last year amounted to 199,200 vehicles (see table).
"The Volkswagen Group has received the news about the war in Ukraine with great dismay and shock," said the carmaker in a statement. "Volkswagen continues to hope for a cessation of hostilities and a return to diplomacy. We are convinced that a sustainable solution to the conflict can only be found on the basis of international law."
The Kaluga plant makes the Volkswagen Tiguan, Polo and Skoda Rapid and also assembles the Audi Q7 and Q8 models from imported semi-knockdown kits (SKDs). The plant also produces engines for the vehicles made there and for supply to the plant VW runs with Russian vehicle maker Gaz in Nizhny Novgorod. That plant makes the Skoda Octavia, Skoda Karoq and Volkswagen Taos.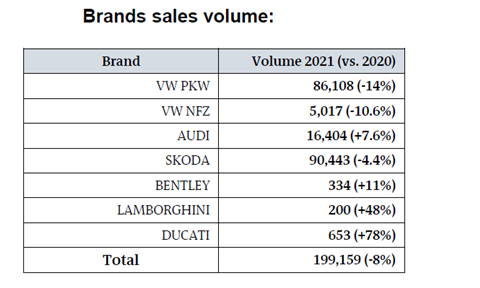 [Update March 3]
DSV has suspended shipments to and from Russia and Belarus, including land, air and ocean transport. The company, which is in the top three transport and logistics providers globally, said it is not taking in new bookings to these countries with the exception of food supplies, medical and humanitarian supplies.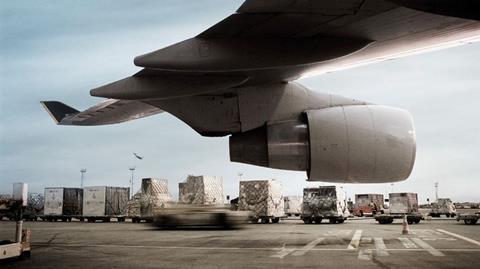 "Knowing that today's decision to suspend transport to and from Russia and Belarus will further add to the supply chain disruption and complexity for our customers, we want to underline that DSV is fully aware of the impact and that we are doing our utmost to alleviate the negative supply chain effects from these measures," said the company in a statement. "Our teams continue to have a close dialogue with our carrier partners, and we will keep monitoring any new sanctions imposed."
DSV halted operations in Ukraine on February 24 when the Russian military invaded the country. Road shipments that were already bound for Ukraine were stopped and returned to origin. The company said the situation is expected to affect road operations in other countries in the region. It also said the driver shortage might intensify as Ukrainian truck drivers return home to defend the country against the Russian military.
Air freight shipments were halted when Ukrainian airspace closed and a growing number of carriers have stopped using Russian airspace, which has had have a direct effect on air freight services.

Wallenius Wilhelmsen has stopped accepting bookings to and from Russia, Ukraine and across the Black Sea until further notice. The action comes in response to the disruption to trade caused by Russia's invasion of Ukraine.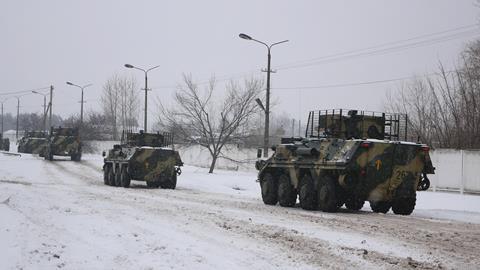 The Norwegian provider of finished vehicle transport and logistics services said it as looking for alternative destinations for vessels already in transit.
The company said that the sanctions and other restrictive measures imposed on Russia by the US, EU and UK could cause disruption to its operations.
"We are prepared and consider possible actions such as the need and availability of terminal spaces at various ports in the Emea region [Europe, Middle East and Africa] and subsequent potential disruption to delivery of cargo already on the water," said the company in a statement. "These preparations and talks happen in close dialog with our customers."
Wallenius Wilhelmsen has set up an advisory group to monitor the situation and provide proactive communication within the company and to external parties.
"Words are insufficient to describe how we all feel," stated the company. "History has taught us over and over that war is not the solution. Let us hope that rationality and sanity return, that dialog will lead to peace."
[Update March 2]
Toyota has become the latest carmaker to halt production in Russia following the disruption caused by the country's military invasion of Ukraine.
The conflict has shut down the industry in Ukraine with widespread repercussions across Europe's automotive supply chain and supporting multimodal logistics network. It has also led to a number of shutdowns in Russia because of supply problems and sanctions.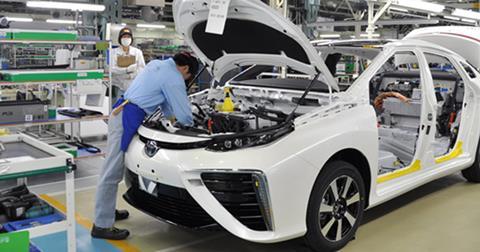 Toyota said it would stop production at its plant in St Petersburg from March 4 and has already stopped imports of vehicles until further notice because of supply chain disruption.
Sanctions on deliveries of goods to Russia have been put in place by the EU and US, and on February 28 Japan joined international sanctions on Russia's central bank by limiting transactions with it.
As well as sanctions, an increasing number of global transport providers are now limiting deliveries to and from Russia.
Daimler, Ford, GM, Jaguar Land Rover and Volvo are among carmakers that have stopped exports of vehicles to Russia. Renault has had to stop production this week because of supply problems to its plant in Moscow and at the AvtoVaz plant in Togliatti.
While parts supply problems caused by the complete closure of the supply chain in Ukraine has hit some vehicle assembly in Europe, including VW Group, Toyota said it that its manufacturing and sales operations had not been impacted.