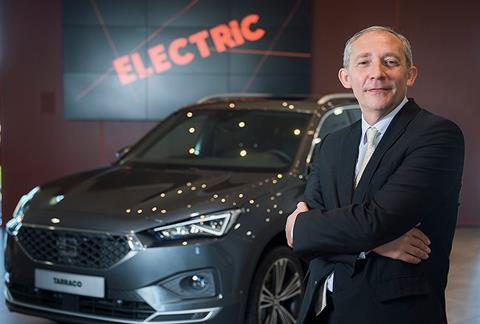 Alfonso Sancha (pictured) will take over as Seat's executive vice-president for purchasing effective September 1, moving from his current position as head of purchasing of metal parts for parent company, the Volkswagen Group.
His goals in the new role include developing Seat's electric strategy within the purchasing division and enhancing the company's activities in China, Latin America and North Africa.
The company says he will also "provide additional momentum" to purchasing, a segment which managed €7.14 billion ($8.00 billion) worth of parts last year, up 5.6% on 2017 and part of a 23.2% increase in the volume of purchases handled by Seat in the past five years.
Sancha has worked extensively within the VW Group and Seat, mainly in external purchasing and new projects. He has held positions in Germany, Mexico and China, where from 2011 to 2014 he was the executive vice-president for purchasing at Volkswagen Group China.
"Alfonso Sancha's long trajectory in the area of purchasing, at the Volkswagen Group and in strategic projects and markets for Seat, such as China, will be decisive for reaching the future goals of the company and boosting the results achieved until now," said Seat's president Luca de Meo.
He is replacing company executive committee member Klaus Ziegler, who is becoming head of purchasing for connectivity, e-mobility and driver assistance systems across the VW Group worldwide.
"Klaus Ziegler has been a cornerstone in managing the network of suppliers for the product offensive we launched beginning in 2016 and has contributed to successfully attaining key projects such as managing general purchases in the Iberian Peninsula and being the lead brand in North Africa," said de Meo.