Infrastructure investment conglomerate, Caxxor Group, is proposing to build a rail route linking the Mexican east coast port of Mazatlán with the Canadian city of Winnipeg. The $3.3 billion (€2.7 billion) project, which will draw investment from the governments of Mexico, the US and Canada, as well as the private sector, will link strategic points across all three countries. Caxxor is targeting the movement of container freight, finished vehicles, bulk commodities and petroleum products.
Called the USMCA Corridor, after the new US-Mexico-Canada Agreement trade agreement between the three countries, it will cover more than 146,000 miles (234,964 km) of existing track, with an additional 54 miles to be added in Mexico.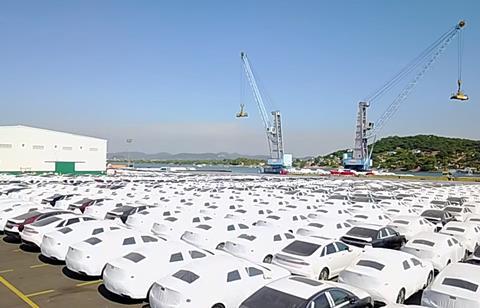 Caxxor's president, Carlos Ortiz, said the trade route would increase competitiveness through rail connectivity across North America while reducing freight costs and transport times.
The project will require a new logistics terminal in Winnipeg and an expansion of the existing terminal space at Mazatlán port for containers and ro-ro. The expansion of the terminal at Mazatlán, which is in Sinaloa state, and the rail link from there to the Mexican state of Durango, will be amongst the first parts of the corridor to be built.
From Durango it will run through the Mexican state of Monterrey and through the cities of Laredo, Dallas, Tulsa and Chicago.
The proposed rail link through Sinloa is a greenfield project and investors are waiting to see the master plan and other milestone details, but one thing is clear, according to the Mazatlán port terminal operator, Terminal Marítima Mazatlán (TMAZ): a lot more needs to be done in terms of industrialisation.
"If the project is executed in the medium term (2025-2030), it would produce an important increase in our throughput volume," said TMAZ's director general, Mauricio Ortiz Medina. "The big question is which international company will be interested in making the investment in completing the remaining train section to connect Mazatlan with Durango in Mexico?"
Room for improvement
Improving the rail network in Mexico is a perennial issue for the North American automotive sector. There has been significant investment at a number of ports as carmakers based in Mexico look for shortsea alternatives to the congested port of Veracruz, North America's busiest vehicle handling port (on the east coast).
While Mazatlán is on the west coast it is seeing increased shortsea trade with the US and Canada, as well as for imports of cars and parts from Asia. It is now the second busiest port for finished vehicle traffic on the Pacific coast in Mexico and the new rail corridor would support import export trade through the port.
"The USMCA rail corridor from Mazatlán will bring another way to move parts and finished vehicles between Mexico-US-Canada," Ortiz told Automotive Logistics. "This Corridor will provide an excellent opportunity to avoid the rail strikes in Manzanillo and Lazáro Cardenás when they are taking place."
The existing rail network is used to deliver vehicles to ports as well as going north via Laredo to the US, but whether domestic or continental, rail shipments through Mexico have long been subject to theft and vandalism and the government has been forced in recent years to deploy troops at various troubled areas in response to safeguard railway lines and automotive cargo.
The rail network is also subject to disruption through protest. Last year a rail blockade in the Mexican border state of Sonora disrupted operations at Ford's Hermosillo stamping and assembly plant, as well as hitting imports and exports to and from the US, according to the carmaker.
According to Ortiz the new route could provide a competitive connection with its most important markets in the US and Canada but could also enable Mazatlán port to compete for traffic with Long Beach port in California with regard to imports from Asia, providing less time in route and transit times between Asia and the destinations in North America.
"Mexico could develop a robust international transportation infrastructure to promote economic security and prosperity," added Ortiz.
Ford has been exporting vehicles out of Mazatlán port for the last three years but is still looking for improvements including new rail routes and capacity, and more security in the logistics network (as originally outlined by its then director of material planning and logistics Rafael Lopez).
The carmaker is planning to build its redesigned Transit Connect in Hermosillo in 2021, in a shift from Valencia, Spain, designed to meet the North American requirements of the new free trade agreement between the US, Mexico and Canada (USMCA).
Mitsubishi is also using Mazatlán as its exclusive port for imports from where vehicles are taken by rail to its vehicle processing centre in Aguascalientes for value-added services before final delivery, and TMAZ is already expanding facilities at the port to support those volumes.