Typifying developments in both the global and domestic automotive industry, the shifting demand for electric vehicles has become the catalyst for the end of Honda production in the UK, which will be replaced with a new logistics site. However, amid a broader push to reduce carbon emissions, the British car industry is investing strongly in electrification.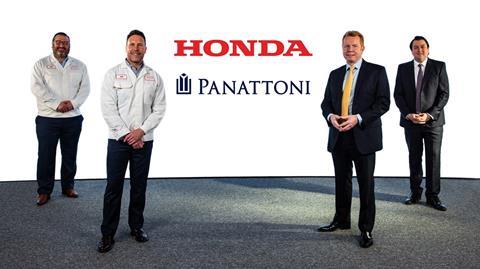 Last Friday (July 30) saw the last Honda model made in Swindon, in southern England, roll off the production line after 35 years of operations. The closing date had already been set and the closure of the factory announced two years ago, but the move is still a blow to the productive landscape of the region and will impact around 3,000 staff.
That includes the closure of the carmaker's logistics division, Honda Logistics UK, which manages parts supplies to Honda's local manufacturing plant, with around 950 jobs lost. Many other jobs in the wider supply chain have also been affected.
The closing is a sign of the challenges facing the global automotive industry and illustrates challenges of scale in production volume and investment in the UK. It is also a sign of how electrification is likely to change the map of the automotive supply chain for some OEMs.
While some analysts have described the shutdown as Brexit-related collateral damage, Honda has denied that Britain's withdrawal from the EU was the cause of its plans to cease production in the UK and manufacture new models abroad since it first announced the closure in February 2019. It has instead cited "unprecedented changes in the global automotive industry", namely a global demand shift towards electric vehicles, and a need to reduce global production capacity in response.
The Covid-19 pandemic has only accelerated these shifts in manufacturing, and ultimately Honda's plant did not have the scale to compete. Since 2018, the South Marston plant had produced the Honda Civic solely, mainly for global export markets, including North America. It has manufactured the internationally successfully Accord, Jazz and CR-V models.
With a small market share in Europe, Honda has clearly decided that it would invest elsewhere in meeting future demand for electrified vehicles, with more imports set from Japan. Nikkei Asia reported last year that some Civic production would move to its plant in Yorii, northwest of Tokyo.
The UK closure is part of Honda is ending European vehicle production altogether and serve it via exports, as it will also shutter its factory in Gebze, near Istanbul, Turkey this year. In March, the carmaker reached a deal with Turkish-owned Habas Group to transfer ownership of the plant, with takeover set for September.
In with the new
The Swindon site itself will see a change of hands after Honda agreed earlier this year to sell the factory base to industrial developer US-based Panattoni – Europe's largest logistics developer. The new owners expect to see the new site up and running by the end of 2022.
Much of the 370-acre (150 hectare) site has not been built on, and Panattoni Development Director, James Watson, said the company plans to invest £700m ($972m) into its redevelopment and potentially provide a range of new opportunities for the local economy.
According to local council authorities, the project could see thousands of new jobs in Swindon and nearby areas. This offers some optimism following two years of confusion and insecurity for Honda employees and residents about the site's future.
Phil Smith, managing director of Business West, said that the number of jobs created will be "equal or greater than currently employed by Honda". Speaking to Business Innovation Mag, he also highlighted that the logistics market is "extremely buoyant".
Panattoni has requested that an environmental impact assessment take place regarding the construction of new factories and warehouses on the site. The finished project is planned to reach around 672,000 sq.m, surpassing the warehouse and delivery centre being developed concurrently for Amazon at nearby Symmetry Park.
As a speculative developer of industrial warehousing facilities, Pannatoni build the site and then finds another firm to use it. No current information is available regarding who will set up shop at the new logistics installations.
Where do we go from here?
This marks the first closure of an automobile factory in the UK for more than ten years and highlights an industry undergoing several upheavals, including Covid, Brexit, and international carbon emission policy.
OEMs are seeing a dramatic shift away from conventional vehicles following regulations mandating lower emissions and government incentives that favour electrified vehicles. That was not an area in which Honda chose to invest in the UK. In 2018, the Swindon plant produced around 180,000 vehicles, or 1 in 10 cars made in Britain. But that number has dwindled significantly in the years since, as UK vehicle manufacturing has also declined.
Representing the largest epochal shifts in British manufacturing, the Honda factory was set up in 1985 after previously serving as a Royal Air Force airfield for the testing of Spitfires. It since became a staple of the Wiltshire economy and rolled out about 6.7m vehicles at the site during its 36 years of operation.
Now with the pivot from automotive manufacturing to logistics operations, the site is once again a signal for evolution in the UK economy. Just as the automotive market has changed, the warehouse and logistics sector has modernised, becoming more advanced and lucrative in recent years, especially with the boom of ecommerce. It's also possible that the new Pannatoni site will attract a diversity of employers, making the region less vulnerable to these kinds of closures.
Despite the closure, the UK automotive industry is still showing signs of recovery and potential, especially where manufacturers are investing in electrification. Nissan, for example, has announced it would invest £1 billion in its Sunderland plant to build a new electric crossover, securing thousands of jobs in the region, as well as investing in a new battery plant with its partner Envision AESC.
Stellantis has also announced that it would also invest £100m to manufacture electric vans and commercial vehicles at its plant in Ellesmere Port. Earlier this year, Jaguar Land Rover announced further investment in electric vehicle production, including plants for Jaguar to become an electric only brand by 2025.