Members of the United Auto Workers (UAW) union started a strike against Detroit's 'big three' automakers on September 15 after their contracts expired and no agreements were reached. Below are the latest updates.
30th November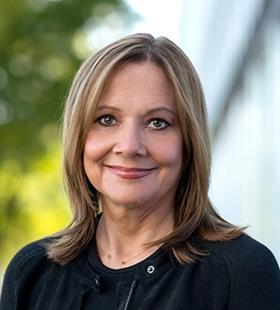 The six-week UAW strike cost GM $1.1 billion, according to a statement released by the carmaker yesterday, but its CEO Mary Barra says the company will "offset" further union-related expenses.
In its reinstated full-year earnings guidance, GM said there was a $1.1 bn EBIT-adjusted impact from the strike, primarily from lost production.
The carmaker also said it will be cutting its full-year capital spending by $500m, now anticipating to invest between $11 billion to $11.5 billion, compared to the prior guidance of up to $12 billion. The OEM said this was "driven by the previously announced retiming of certain product programmes and more capital-efficient investment".
Barra said: "We are finalising a 2024 budget that will fully offset the incremental costs of our new labour agreements and the long-term plan we are executing includes reducing the capital intensity of the business, developing products even more efficiently, and further reducing our fixed and variable costs."
Despite the billion-dollar hit, the carmaker said it will deliver "very strong profits in 2023 thanks to an exceptional portfolio of vehicles", adding that it intends to increase its common stock dividend by 33%. GM also announced a $10 billion accelerated share repurchase programme and will immediately receive and retire $6.8 billion worth of common stock.
Barra added: "With this clear path forward and our strong balance sheet, we will return significant capital to shareholders."
30th October
The UAW has reached a tentative agreement with GM and Stellantis after more than six weeks of strikes against the carmakers.
Similarly to the union's tentative deal with Ford, the union representatives will now vote on whether to approve the agreements before letting union members vote on the deals.
Mark Stewart, COO, Stellantis North America said: "We look forward to welcoming our 43,000 employees back to work and resuming operations to serve our customers and execute our Dare Forward 2030 strategic plan to maintain Stellantis' position at the forefront of innovation."
A statement from GM's chair and CEO Mary Barra following the tentative deal said: "We are looking forward to having everyone back to work across all of our operations, delivering great products for our customers, and winning as one team."
26th October
Ford has reached a tentative agreement with the UAW, moving the union to call off the strikes against the carmaker.
Ford's offer includes a 25% general wage increase over the course of the four-year agreement. With cost of living adjustments (COLA), the top rate is expected to increase by more than 30% to above $40 per hour, and starting wages will rise 68%. Job security has also been improved, as the union has won the right to strike over plant closures.
The deal still needs to be approved by the union members. Union leadership will gather in Detroit on Sunday 29th October to vote on whether to send the agreement to the membership, who can then vote on the deal.
UAW president Shawn Fain said: "Everything we did at the bargaining table, every extra $100m we got the company to give up, was because of you, the members. And the next steps are also up to you, because the members are the highest authority in our union. We send this contract to you because we know it breaks records. We know it will change lives. But what happens next is up to you all."
In a statement, Ford said: "Ford is proud to assemble the most vehicles in America and employ the most hourly autoworkers. We are focused on restarting Kentucky Truck Plant, Michigan Assemly Plant and Chicago Assembly Plant, calling 20,000 Ford employees back to work and shipping our full lineup to our customers again."
24th October
The UAW's latest strike target is GM's Arlington Assembly plant, the OEM's biggest and most profitable plant.
In a filing, GM said the Arlington strike would double the weekly cost of the union strikes to $400m. GM said in a statement: "We are disappointed by the escalation of this unnecessary and irresponsible strike."
23rd October
The UAW has called 6,800 local workers at Stellantis' largest plant, Sterling Heights Assembly plant, to go on strike.
The workers walked out of the plant today, following UAW president Shawn Fain's previous comments that the union would no longer wait until Fridays to call further strike targets, as it had been previously doing.
In a statement, Stellantis said it is "outraged" at the additional strike action. The OEM said it had presented a new offer including 23% wage increases, a 50% increase in contributions to retirement savings and additional job security for employees. It said: "Following multiple conversations that appeared to be productive, we left the bargaining table expecting a counter-proposal, but have been waiting for one ever since."
Stellantis added: "With every decision to strike, the UAW sacrifices domestic market share to non-union competition. These actions not only decrease our market share, but also impact our profitability and therefore our ability to compete, invest and preserve the record profit sharing payments our employees have enjoyed over the past two years."
The total number of workers on strike has now reached around 40,000 across all three OEMs.
18th October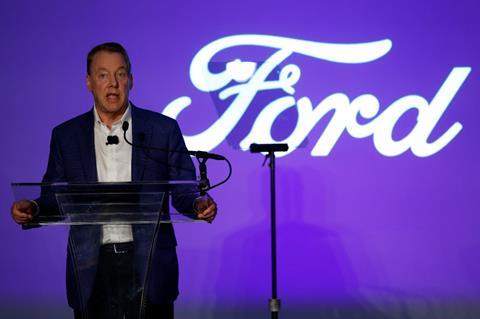 Ford has reshuffled its management and has promoted Kumar Galhotra, who was the carmaker's Combustion Vehicle Unit chief, to COO, as the UAW strikes continue.
The reshuflle follows exeuctive chair Bill Ford's remarks on 16th October, where he said an expanded strike will cause the "very fragile" supply chain to "start collapsing".
Speaking about the decision by the UAW to strike the Kentucky Truck Plant, he said: "Shutting down that plant harms thousands of Americans right away - workers, suppliers and dealers alike. It hurts the communities that depend on these local economies. If it continues, it will have a major impact on the American economy and devastate local communities. The supply base is very fragile and will start collapsing with an expanded strike. But it doesn't have to go that way. We can stop this now."
He added: "Toyota, Honda, Tesla and others are loving this strike because they know the longer it goes on, the better it is for them. They will win and all of us will lose. This is why Ford's ability to invest in the future is not just a talking point. It's the absolute lifeblood of our company. And if we lose it, we will lose to the competition."
12th October
The UAW has called 8,700 more union workers to strike at Ford's Kentucky Truck Plant in Louisville after president Shawn Fain said that the OEM "refused to make further movement in bargaining".
The move to strike the plant was unprecedented, as the union has previously announced new strikes on a weekly basis, giving the 'big three' carmakers a deadline before adding any strike targets.
"We have been crystal clear, and we have waited long enough, but Ford has not gotten the message," Fain said. "It's time for a fair contract at Ford and the rest of the big three. If they can't understand that after four weeks, the 8,700 workers shutting down this extremely profitable plant will help them understand it."
in response, a statement from Ford said the decision to add the Kentucky plant as a target was "grossly irresponsible but unsurprising". It added that it will cause "serious consequences for [Ford's] workforce, suppliers, dealers and commercial customers".
Fain is set to give an update on the strikes tomorrow.
11th October
Unifor, the Canadian union, and GM have reached a tentative agreement, halting strike action while members vote on whether it is accepted or not.
Stay tuned for further updates about the UAW strikes.
10th October
Canadian union Unifor has launched strikes at three GM facilities in Canada after it said the carmaker "continues to fall short on pension demands, income supports for retired workers, and meaningful steps to transition temporary workers into permanent, full-time jobs".
The strikes are set to target GM's Oshawa Assembly Complex and CCA Stamped Products, St Catharines Powertrain Plant, and Woodstock Parts Distribution Centre. Approximately 4,280 workers will be striking across the three facilities.
Elsewhere, UAW union workers have made the decision to strike at Volvo Group's Mack Trucks after rejecting a five-year contract, while UAW strikes against the Detroit 'big three' continue. The proposed deal included a 19% pay rise, improved retirement benefits, additional vacation time and a reduction in the time needed to get to top pay, as well as a $3,500 ratification bonus.
Stephen Roy, president, Mack Trucks said: "We are surprised and disappointed that the UAW has chosen to strike, which we feel is unnecessary. We clearly demonstrated our commitment to good faith bargaining by arriving at a tentative agreement that was endorsed by both the International UAW and the UAW Mack Truck Council."
6th October
Shawn Fain, president, UAW did not announce any new strike targets against GM, Ford or Stellantis, as he acknowledged that the OEMs are willing to come to the bargaining table.
In a Facebook Live update to union members, he said that the UAW was about to target GM's Arlington, Texas plant, but GM had a "major breakthrough" in bargaining at the last minute, causing the union to call off the additional strike.
He said: "The company knew those members were ready to walk immediately. Just that threat provided a transformative win. GM has now agreed in writing to place their electric battery manufacturing work under our national master agreement. We have been told for months this is impossible. We have been told the EV future must be a race to the bottom. We called their bluff."
He added: "Today we made GM say yes when they'd rather say no. Next up is Ford, Stellantis, and three record contracts."
5th October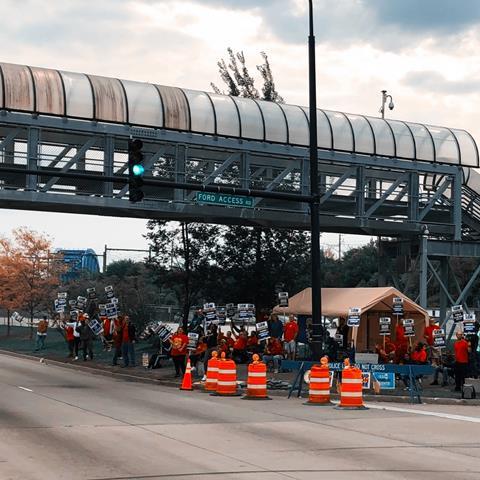 There has been progress between the UAW and the 'Big Three' Detroit automakers as we enter day 21 of the strike, with the union's president Shawn Fain expected to deliver an update to union members tomorrow.
Fain has announced new targeted strikes each Friday over the past two weeks, but it is unclear whether more local union workers will be called to strike tomorrow.
Mema, the Vehicle Suppliers Association, released a survey that revealed that the supplier base of the three carmakers are already feeling in the impact of the strikes. The Original Equipment Suppliers Survey found that nearly 30% of the surveyed suppliers have laid off employees as a result of the strike, with an additional 60% of suppliers expecting to begin layoffs by mid-October. And 70% of the surveyed suppliers said they have concerns about their sub-suppliers' ongoing financial viability, putting the wider supply chain at risk.
Here is where the three OEMs stand at the moment:
Ford
Ford said it has made a new comprehensive contract offer this week, but said a dispute over battery plants remained unresolved. The carmaker's latest offer includes wage increases, benefits, product commitments for every UAW factory and job security.
"There's no doubt our UAW workforce put us on their shoulders during the pandemic, and these same workers and their families were hit hard by inflation. We want to make sure our workers come out of these negotiations with two things, a record contract and a strong future," said Jim Farley, president and CEO, Ford. "We've put an offer on the table that will be costly for the company, especially given our large American footprint and UAW workforce, but one that we believe still allows Ford to invest in the future."
On Wednesday, the OEM temporarily laid off 400 more employees, bringing the total to 1,330 that have been laid off in connection with the strike.
GM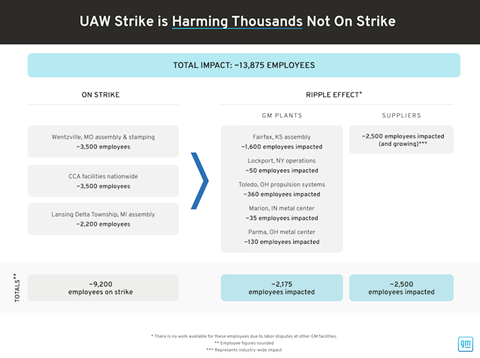 GM said the UAW strike is impacting a total of 13,875 employees through a ripple effect on its other plants. It currently has 9,200 employees on strike across its Wentzville Assembly and stamping plant, CCA facilities nationwide, and its Lansing Delta Township Michigan Assembly plant. These are having a secondary effect on its plants in Fairfax, Lockport, Toledo, Marion and Parma, impacting a further 2,175 employees, and impacting a further 2,500 employees of its suppliers according to GM's estimates.
The carmaker's latest offer includes wage increases, inflation protection, retirement security and more time off.
Stellantis
Stellantis was spared in the most recent wave of strike targets. The OEM said it has been "intensely working with the UAW to find solutions to the issues that are of most concern" to its employees while "ensuring the company can remain competitive given the market's fierce competition".
The carmaker's statement added: "We are committed to continue working through these issues in an expeditious manner to reach a fair and responsible agreement that gets everyone back to work as soon as possible."
29th September
The UAW has expanded its stike targets at Ford and GM, sparing Stellantis from further disruption for the moment.
As the strike enters its third week, it will expand to Ford's Chicago Assembly plant and GM's Lansing, Michigan Assembly plant, bringing the total number of workers on the picket lines to 25,000.
Shawn Fain, president, UAW said that the union had also been planning to announce further strikes against Stellantis today, but at the last second, the carmaker called and made significant changes to its offer.
In an update to union workers, Fain commented on the recent visit from President Biden to join the picket line. "I want to be clear about one thing about the president's historic visit," he said. "The most powerful man in the world showed up for one reason only. Because our solidarity is the most powerful force in the world. When we stand together untied in the cause of economic and social justice, there's nothing we can't do."
26th September
Ford and the UAW were thought to be close to a deal over the weekend, following the UAW's recognition of Ford's progress on 22nd September, but the carmaker's announcement that it has paused work on its $3.5 billion Michigan battery plant may have set things back.
Ford said it has paused the work due to concerns about its ability to competitively operate the plant while union negotiations are ongoing. The OEM added: "We haven't made any final decision about the planned investment there."
Shawn Fain, president, UAW said the announcement was a "shameful, barely-veiled threat by Ford to cut jobs".
The investment, which was announced in February, was part of Ford's plan to localise EV battery production in the US. The 35 GWh plant in Marshall is set to make lithium iron phosphate (LFP) batteries for its EVs from 2026, making enough battery cells for 400,000 EVs annually.
President Joe Biden is set to visit Michigan today to join the UAW picket line in support of the 'big three' striking workers.
22nd September
The UAW has called a strike on all GM and Stellantis parts distribution facilities from noon today (EST).
In a Facebook Live stream, Shawn Fain, president, UAW told an audience of 50,000 viewers: "We are not going to wait around forever for a fair contract at the 'big three'. Reinforcements are coming. We're doing things differently this time around. Our stand-up strategy is designed to do one thing, and that's win record contracts after years of record profits."
He did not announce any further strikes against Ford, as they have been negotiating with the union.
"There has been some movement, particularly in the last week, and we've made some progress with Ford, but to be clear, we're not done with Ford and we still have some serious issues to work through," he said. Fain added that he wanted to recognise that Ford is negotiating, adding that with GM and Stellantis "it's a different story".
A total of 38 parts distrubitions locations across GM and Stellantis are being called to strike.
Fain said: "We will shut down parts distribution until those two companies come to their senses and come to the table with a serious offer."
20th September
Stellantis has announced immediate temporary layoffs for 68 employees and 300 potential further layoffs due to the UAW strike.
In a statement, the OEM said: "As a consequence of the strike action at the Toledo Assembly Complex, Stellantis confirms that it will immediately temporarily layoff 68 employees at the Toledo Machining Plant in Perrysburg, Ohio, due to storage constraints. All other production at this facility continues.
"In addition, we anticipate similar actions at Kokomo Transmission and Kokomo Casting in Kokomo, Indiana, affecting an estimated 300 employees at these two facilities. Stellantis continues to closely monitor the impact of the UAW strike action on our manufacturing operations."
20th September
UAW workers have struck a ZF Group plant in Tuscaloosa, Alabama which builds and supplies front axles for Mercedes-Benz, further impacting the automotive supply chain in North America. The 190 members of the union walked off the plant today after an agreement couldn't be reached between the parties. Mercedes-Benz told Automotive Logistics it is monitoring the situation.
20th September
In Canada, Ford has avoided a labour strike by Unifor union members as the two parties reached a tentative deal that will cover 5,600 autoworkers. The union members must now ratify the deal by the end of the day.
18th September
Shawn Fain, president, UAW said the 'Stand Up' strike will expand at noon (EST) on Friday 22nd September if the OEMs have not made "substantial progress toward a fair agreement".
In a video posted on the UAW's social media sites, Fain said: "Autoworkers have waited long enough to make things right at the 'big three'. We're not waiting around, and we're not messing around. Be ready to stand up."
In a statement the same day, Stellantis said it had resumed "constructive and focused" negotiations with the UAW. The carmaker said its most recent offer was for nealry 21% in cumulative raises for hourly employees, an inflation protection measure, reduction of tiers from eight years to four, and $1 billion in retirement funding.
15th September
Strikes will affect more of Ford and GM's facilities, according to the OEMs.
GM said it expects to pause production at its Fairfax Assembly plant in Kansas due to a shortage of stampings from the struck Wentzville Assembly plant.
Ford said 600 workers at its Michigan Assembly plant, including at its body construction facility and south sub-assembly area, were told not to come to work due to the impact of the strikes.
15th September
Members of the UAW started a strike against Ford, GM and Stellantis after their contracts expired and no agreements were reached. The strike will be targeted and will start small but could grow bigger. For now, the union workers are on strike at GM's Wentzville Assembly plant, Ford's Michigan Final Assembly and Paint plant, and Stellantis' Toledo Assembly plant.
The UAW said that by starting the 'Stand Up' strike small, it has more flexibility to avoid exhausting its strike fund, giving it the "ability to escalate all the way up to a national, all-out work stoppage if necessary".
GM said it was "disappointed" by the union's actions and that it would "continue in good fait with the union to reach an agreement as quickly as possible". GM offered a 20% wage increase over four years, with a 10% raise in the first year (up from 18% in GM's previous offer), a faster path to top pay, inflation protection and job security.
Ford said it "bargained in good faith in an effort to avoid a strike, which could have wide-ranging consequences for our business and the economy". Ford offered a 20% raise over the life of a contract, cost of living adjustments, eliminated wage tiers, increased contributions to in-progression retirement savings and added more paid time off.
Stellantis said it was "extremely disappointed by the UAW leadership's refusal to engage in a responsible manner to reach a fair agreement", adding it "immediately put the company in contingency mode". It made an offer to increase wages to 19.5% (it previously offered a 17.5% pay rise on 13th September) and make salaried workers hourly.
The strike could see automotive suppliers facing redundancies and possible collapse, according to lawyers from Clark Hill.