UK vehicle production and exports are rising from pandemic lows, but the sector facing serious challenges in supply chain bottlenecks and labour shortages because of the need to self-isolate.
New data from the Society of Motor Manufacturers and Traders (SMMT) shows that British car production remains weak because of supply-chain limitations and labour shortages, which could potentially stifle economic recovery even as the industry sees positive developments in electric vehicle production and exports.
While output is up from a year ago, ongoing shortages of staff because of the 'pingdemic' – notifications from the UK's health service app that indicate when someone should self-isolate following potential exposure to Covid-19 – and the global scarcity of semiconductors have kept the industry's revival from reaching pre-pandemic levels.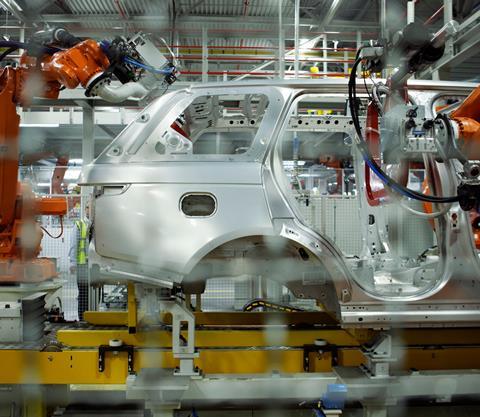 According to the SMMT release, the UK produced 69,097 units in June, a 22.1% increase during the same month in 2020 amid the Covid recession (and the worst UK production figures since 10=953), but still significantly lower than the past five-year average for first-half output.
UK plants rolled out 498,923 units in the first six months of this year, a nearly 31% increase year-on-year in the same period of 2020, but a 38.4% fall on the five-year average. That equates to a drop of 311,160 cars worth more than £8.5 billion ($11.8 billion).
Last week, Honda closed its UK plant in Swindon as it withdraws vehicle production from Europe.
Mike Hawes, SMMT chief executive nevertheless pointed to bright spots, including strong investment in vehicle electrification and lithium-ion battery production in the UK.
"While the UK automotive industry continues to suffer the effects of the global pandemic, with first half-year production down significantly and a tough few months looming, the sector has the capability to recover. The latest investments into new models and battery production show a bright future is within reach, yet the industry still faces headwinds most notably from global semiconductor shortages and staff absenteeism as a result of staff being 'pinged'", said Hawes.
Hawes said that businesses have ensured that their facilities are Covid secure and called for "urgent action", such as bringing forward the August 16 target date for exempting fully vaccinated adults from self-isolation and introducing a "test to release" scheme to support those employees not yet fully vaccinated.
He said that operating conditions "are still challenging" but also urged for recovery action such as a "Build Back Better Fund and the alleviation of high energy costs" to get the sector back on track and towards the volumes that make UK facilities viable.
Exports remain the major pillar of UK vehicle production, with 83.4% of models made in the UK in 2021 so far sold abroad, with more than half (51.7%) to the EU market. The US is the UK's single largest trading partner and receives 18.8% of exports, with China amounting to 7.8%, then Japan (1.9%), followed by Australia (1.8%). UK vehicle exports have recovered somewhat slower than overall vehicle production, growing 14% in the first six months of 2021 year on year.
Indicative of broader aggregate demand shifts from conventional to electric vehicles, the UK battery-electric (BEV), plug-in hybrid (PHEV), and hybrid electric (HEV) units have bucked the trend even amidst the coronavirus economic crises, amounting for nearly a quarter (22.6%) of all alternative energy cars so far this year.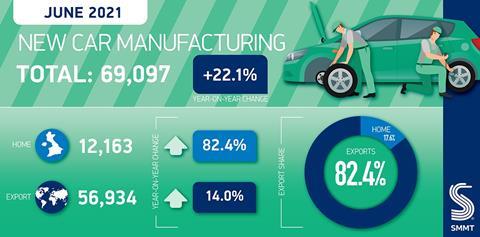 Recently, Nissan announced a £1 billion investment to build a new electric model in Sunderland, and a battery factory with its partner Envision AESC. Stellantis has also announced a £100m to build electric vans and commercial vehicles in Ellesmere Port.
European production is also being hit by the global semiconductor shortage, causing problems for inbound supply. In July, Renault doubled its predictions for car production losses as a result of the chip shortage, highlighting that supply chain issues and spiking costs of raw materials could inhibit recovery.
The French OEM now expects semiconductor obstruction to cause a drop in 200,000 vehicles in 2021, up from its previous prediction of 100,000 units. Mercedez-Benz production at three plants in Germany is being scaled back by Daimler, citing the semiconductor shortage as the main cause.
According to Automotive News Europe, employees at the Mercedes plants in Sindelfingen, Rastatt and Bremen in Germany will see their hours reduced for a week.
"The situation is still volatile, and we are permanently reevaluating what this means for Mercedes-Benz production", a Daimler spokeswoman told ANE.
A Mercedes factory in Kecskemet, Hungary, will halt all production for three weeks until mid-August.