GM has said it is taking steps to increase vehicle deliveries to dealers and customers in the US and Canada to make up for the shortfall in production caused by current semiconductor supply chain disruption and the strong rebound in demand for its products in North America.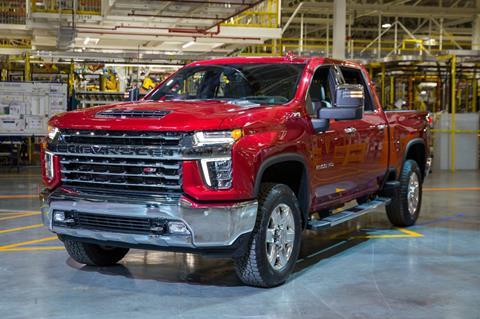 As reported last month, US dealer inventory is declining because of the combination of strong demand and lower output caused by the disruption to the supply chain.
The carmaker said shipments of Chevrolet Colorado and GMC Canyon mid-size pickups built at the Wentzville assembly plant in Missouri will increase by about 30,000 units from mid-May through the week of July 5 as the team there completes dynamic vehicle testing on units, which have been held at the plant because of the semiconductor supply problem.
Smaller volumes of vehicles held at other plants will also complete dynamic vehicle testing and ship to dealers during June and July, according to the company.
GM also said that assembly of the Chevrolet Silverado HD and GMC Sierra HD full-size pickups will increase by about 1,000 trucks per month from mid-July, as a result of production line efficiencies delivered by the team at Flint Assembly in Michigan.
The carmaker is also returning full-size pickup production to the Oshawa assembly plant in Canada during the fourth quarter of 2021.
In a further measure designed to make up dealer inventory, US assembly plants that build GM's most capacity-constrained products will not take any dedicated vacation downtime this summer.
GM said it was prioritising semiconductor usage and had managed to pull ahead some semiconductor deliveries, which it expects to help improve first half-year financial results.
"The global semiconductor shortage remains complex and very fluid, but the speed, agility and commitment of our team, including our dealers, has helped us find creative ways to satisfy customers," said Phil Kienle, GM vice-president, North America Manufacturing and Labor Relations. "Customer demand continues to be very strong, and GM's engineering, supply chain and manufacturing teams have done a remarkable job maximizing production of high-demand and capacity-constrained vehicles."
The carmaker said it would implement similar measures in markets around the world to resume production and increase deliveries to dealers though the second half of this year.
Earlier this year GM told Automotive Logistics that its recovery from the disruption caused by the coronavirus pandemic was down to the teamwork of its manufacturing and supply chain teams, as well as GM's dealers. But it was also down to the carmaker's prescient adoption of outbound logistics software. That software afforded it much better visibility in the delivery of its vehicles during the crisis and is being used again to speed deliveries to its dealers in the midst of the ongoing semiconductor shortage.