Volkswagen Group has increased sales in the first three quarters of 2022 and doubled its operating result (before special items) compared to the same period last year. However, deliveries were down -12.1% because of a "persistent shortage of parts", including semiconductors and wire harnesses.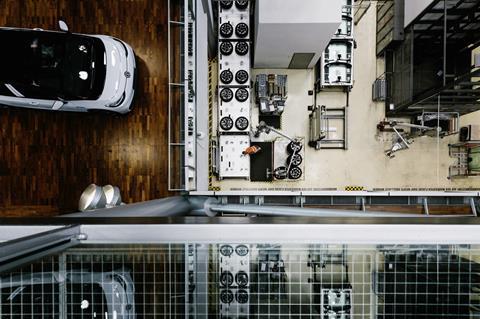 VW Group's sales revenue between January and September rose to €52 billion ($51.6 billion) but global deliveries stood at 3.3m, compared to 3.79m in the same period in 2021. The carmaker said that the VW brand's order backlog was very high, at 700,000 vehicles in Europe alone. VW said it was working hard to reduce delivery times for customers and processing the backlog as quickly as possible.
The shortage of semiconductors affecting vehicle production in Europe has resulted in historic backlogs in vehicle delivery and the disruption is forecast to last into 2023. Carmakers and suppliers are working to address the shortage in supply of advanced microchips but localised production is a long way from meeting the needs of carmakers today.
The EU has initiated a number of initiatives to increase advanced chip production, such as the Important Projects of Common European Interest (IPCEI) initiative. Under that programme, if companies commit production of 5nm and 2nm chips with 60-80% investment, state subsidies will top up with additional funds of between 20-40%. However, such projects have long-term timelines, with targets up to 2030, which does not address the present shortage.
"We are making every effort to process the order backlog that has reached a historic high as swiftly as we can so that our customers can take delivery of their new VW as soon as possible," said Thomas Schäfer, CEO of VW Passenger Cars and head of the Volume Brand group.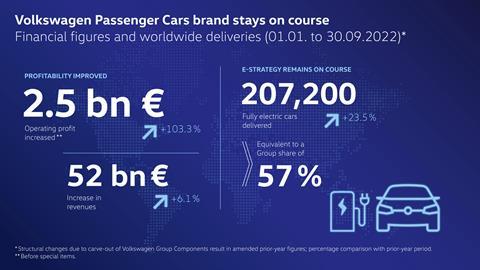 Volatile volumes
On a more positive note, VW Group reported a recovery in delivery volumes in the third quarter, moving 1.26m vehicles to market, a figure 15.3% higher than the July-September period the previous year. Deliveries in September were particularly strong, up +19% according to VW Group.
However, looking ahead to Q4, VW said "the volatile parts supply situation and mounting pressure from rising raw material and energy costs" would continue to cause problems for the production and delivery of VW-brand vehicles.
"The fourth quarter will be especially challenging with regard to global supply chains and parts supplies," said Patrik Andreas Mayer, CFO of the Volkswagen Passenger Cars brand. "That makes it all the more important to safeguard the result for the long term through cost discipline and by optimising the model mix."
That model mix includes VW's electric vehicle range and more than 207,000 were delivered in the first nine months of this year, led by the ID.4 and ID.5.
To secure the future production of EVs in Europe VW Group is looking at group-wide initiative to localise battery production. Vertical integration of battery production within VW Group in Europe is in part motivated by the fact the battery makes up around 40% of the value of a pure EV, but battery production remains predominantly in the hands of Asian producers. Bringing that value inhouse while at the same time removing the risks associated with international battery cell supply is a strategy that will help the carmaker overcome disruption to the international inbound supply chain.
Contracts for capacity
Along with shortages in supply of parts, which is affecting final production of the vehicles, Europe is currently suffering a critical shortage in capacity for finished vehicle deliveries because of driver and asset shortages. That is also hindering delivery targets.
To address the shortage in outbound capacity, VW Group is looking at renegotiating contracts and pricing with its finished vehicle logistics providers. At this year's annual conference of the Association of European Vehicle Logistics (ECG), Benedict Bayer, product owner of the outbound order book at VW Group Logistics, said the carmaker was open to discussing the needs of its LSPs and way it worked with them in the future.
"If this means we need to think about the content of our contracts, we are willing to do this," he said.
To that end, VW has plans to collaborate on fixing a single access point for LSPs and yard managers to communicate forecasts and order data. "We need one communication channel for all brands within the group – a single access point with transport providers and one standardised communication channel through the whole group," said Bayer.