Porsche has resolved a supply chain bottleneck that forced it to delay deliveries this month of Macan and Panamera models made at its Leipzig plant in Germany.
A shortage in the supply of matrix headlights (from an unnamed supplier) fitted on the two models meant the carmaker could not complete assembly and is now retrofitting the components on site at Leipzig.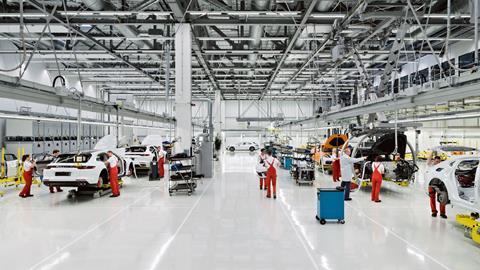 Porsche did not divulge the exact number of vehicles affected other than to say it was in the hundreds. A spokesperson for Porsche said that the company was working rapidly on the retrofit and the number of cars without headlights was decreasing quickly. Porsche has not engaged additional staff to handle the retrofit.
This latest disruption to parts supply adds to ongoing issues Porsche has been dealing with since the Covid pandemic, along with the rest of the automotive industry, including the shortage in the supply of semiconductors, container shipping congestion and the war in Ukraine.
Porsche's spokesperson said that while the headlight shortage was not a major issue, it was another example of disruption and the difficult economic climate the automotive industry as a whole has been operating in since the Covid pandemic.
Porsche's head of production Albrecht Riemold told German trade publication Automobilwoche this week that the supply chain situation was tense and required the carmaker to be vigilant in the face of continued uncertainty in the supply of parts. He said Porsche needed to "standardise more in components to reduce complexity in supply chains", according to the publication.
Porsche's spokesperson said there was scope for greater standardisation of components across VW Group brands without compromising the character of Porsche's products.
In an interview with automotiveIT last year Riemold explained that Porsche was in close contact with Volkswagen Group purchasing and logistics, and had formed a cross-brand task force to approach tier suppliers.
"We do not want 12 different group brands to approach tier one or tier two suppliers separately to express their special concerns," said Riemold. "The group is trying to control supply centrally at this time. That means a brand sometimes must make concessions."
The interview with Albrecht Riemold was republished in English in Automotive Manufacturing Solutions