The Suppliers Partnership for the Environment (SP) recently updated its guidance on sustainable packaging for automotive manufacturing operations.
The SP is an association of global automakers, including Ford, GM, Honda, Stellantis and Toyota, and their tier suppliers and packaging providers. They work together with government bodies, including the Environmental Protection Agency (EPA), to advance environmental sustainability through the automotive supply chain, while also providing economic value to it.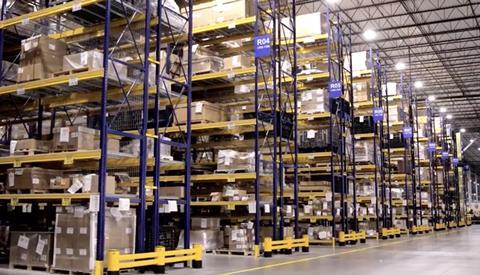 The latest version of the guidance document contains information on the viable recyclability of 35 different packaging material types and designs commonly used in the automotive industry in the US. The document also contains 18 recommendations aimed at helping companies source sustainable packaging designs for use in automotive manufacturing operations.
The guidance also includes new information on common packaging attachment methods, which the SP said can be detrimental to recycling. The updated document also includes information on alternative designs that do have viable outlets for recycling in key automotive regions.
According to the SP, the document aims to give straightforward industry-supported guidance to help automakers and their suppliers source sustainable packaging designs for use in automotive manufacturing operations. That guidance is based on best practices that have been applied by environmental sustainability leaders across the automotive industry.
The new document builds on earlier guidance published by SP at the end of 2020. That included 18 recommendations for better practice when designing packaging and planning its use, including a recommended selection of materials for containers, dunnage and other equipment, the avoidance of metal components and minimising single use packaging.
The new document is a product of collaboration by the Sustainable Materials Work Group's Sustainable Packaging sub-team, made up of representatives from the carmakers and reviewed and updated by Magna International and Toyota Motor North America.
Members of SP will be discussing the new standards for sustainable packaging at this year's Automotive Logistics and Supply Chain Global conference, which is held between September 20-22 in Detroit, Michigan. Learn about the latest developments from: Jeremy Galanty, sustainability analyst at General Motors; Bridget Grewal, director of packaging continuous improvement at Magna International; and Kacie Freeberg, senior director of Industrial VST at Orbis.
"Toyota is working to reduce the use of packaging and wrapping materials in our operations as we work toward our long-term goal to support a recycling-based society, and we expect our suppliers to undertake similar activities," said Matt Marshall, supply chain sustainability consultant at Toyota Motor North America. "Through this collaborative project, we are working to provide tools and resources to help the industry in its drive to minimise automotive packaging waste and continually improve sustainability."
Bridget Grewal, director of packaging continuous improvement at Magna International added: "When considering materials to create a packaging design it is important to think about not only the quality and performance, but also the sustainability and recyclability, of those material choices."
Grewal explained that the team brought in packaging and sustainability experts from across the value chain and developed a list of common packaging designs that were a problem to recycle and a list of alternative designs that were more viably recyclable.
"We rely on our packaging engineers to design packaging that minimises environmental impacts, and these new guidelines are a strong step forward in providing consistent information to help the industry source more sustainable packaging," said Grewal.
Last year the SP also provided a five-point guidance document on carbon reporting and reduction.
Look out for our forthcoming interview with some of the main OEMs and supplier partners involved in drawing up the new packaging guidelines