The Suppliers Partnership for the Environment (SP) has released a new five-point guidance document on supply chain carbon reporting and reduction for the automotive industry.
The partnership is a US-based association of vehicle makers and suppliers that works with government bodies, including the Environmental Protection Agency (EPA), on projects designed to advance environmental sustainability, while providing economic value to the automotive supply chain. The carmakers in the partnership are Ford, GM, Honda, Stellantis and Toyota.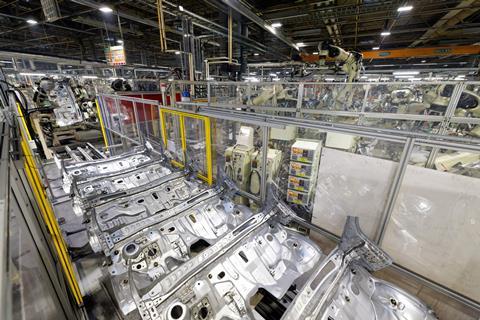 The latest document outlines five key performance indicators (KPIs) designed to help suppliers establish a framework for carbon reporting and reduction aligned with common industry expectations and requirements, as agreed by the OEMs. The KPIs cover standard reporting cycles, long-term target-setting, comprehensive carbon reduction plans, consistent education and expectations for suppliers, and supplier recognition processes. Suppliers are also recommended disseminate the guidance along the automotive supply chain further down the tiers.
"As companies in the automotive industry proactively work toward long-term goals of achieving carbon neutrality, it is increasingly expected that suppliers take an active role in striving to reduce carbon emissions from their businesses as far as possible," said Steve Hellem, executive director of SP.
The guidance calls on suppliers to establish a standard reporting cycle with tier x suppliers on carbon use and identify a long-term absolute CO2 reduction target. Comprehensive CO₂ reduction plans should be part of an overall environmental sustainability policy within each supplier company and there needs to be clear communication and education via a core set of expectations updated on a regular basis, according to SP. Finally, each supplier is encouraged to recognise the participation and achievements of their own sub-tier suppliers in terms of carbon reporting and reduction.
Ford's manager of supply chain sustainability, Deb Heeds, said suppliers played a critical role in helping the company achieve carbon neutrality. "[W]e are working with them to establish clear targets to meet our collective goals for reducing emissions," she said.
Alissa Yakali, sustainability manager at Honda Development and Manufacturing of America, added: "We are striving to achieve carbon neutrality for all products and corporate activities by 2050. We know we cannot achieve this vision alone and welcome additional opportunities to work together with our supplier partners and industry colleagues to support each other in sharing know-how and tools to drive meaningful improvements and accelerate our journey toward a carbon-free society.
At the end of last year, the partnership published an 18-point guidance document on sustainable packaging aimed at reducing waste in the automotive sector and increasing the amount of packaging that could be recycled. The guidance document – Sustainable Packaging Specification Recommendations for Automotive Manufacturing Operations – aims "to provide straightforward industry-supported guidance to help automakers and their suppliers source sustainable packaging designs for use in automotive manufacturing operations".
SP members GM and Toyota discussed the merits of the packaging guidance document at that time with Automotive Logistics and since then there has been good participation reported from the supplier base in that initiative.
Developments in sustainability in the automotive supply chain will be under discussion at Automotive Logistics and Supply Chain Global Live, which takes place in Detroit (and online) this year between October 5-7