What's worse than having to locate a small part while staring at a wall of containers holding small parts? Accidentally sending the wrong part to a customer who is depending on you.
Spare parts distributors are increasingly investing in automation that eases labor requirements and improves picking efficiency and accuracy in order fulfillment. Trust and reliability are high value currencies among manufacturers, distributors and their customers. AMR-driven fulfillment solutions are strengthening these partnerships by eliminating the rate of errors and providing lean processes of order fulfillment.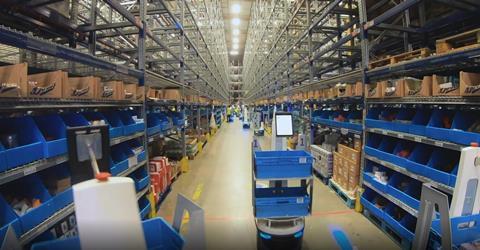 Here are the key reasons manufacturers are turning to multi-bot robotic automation solutions:
They want faster, more accurate fulfillment without pausing operations for the install
Manufacturers often look to install robotic automation into their existing parts distribution warehouse in a way that avoids disrupting operations, as well as costly or time-consuming infrastructure changes. This brownfield approach leverages flexible solutions to optimize throughput and productivity, resulting in faster integration of new technologies. Alternatively, a greenfield approach ensures the most optimized levels of order fulfilment, and a multi-bot solution is designed to be up and running in new sites within just weeks to meet business objectives at every end.
They want to meet stringent customer service expectations
Human error is par for the course in any manual order-fulfillment process. Introducing autonomous mobile robots that direct humans eliminates the possibility for error by confirming each product with visual aids and a quick scan. It has been proven to improve the order accuracy rate of workers to nearly perfect levels. This builds loyalty for customers that depend on a reliable supplier to send critical parts when they are needed.
They need to optimize the fulfillment of multiple order profiles
Spare parts range drastically in size. A multi-bot solution can be outfitted with varying container sizes (including the ability to handle oversized parts), while also carrying small bags to contain the tiniest of parts.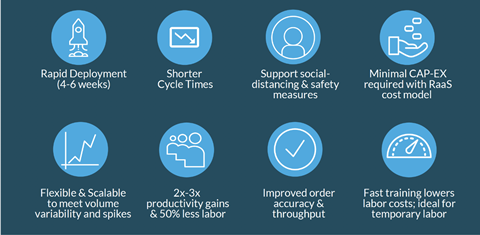 They need to support same day or next day delivery
Customers that need critical parts as soon as possible are willing to pay extra fees for expedited shipping. This does not work if the distribution center is not capable of fulfilling orders within minutes of receiving them. Robotic automation removes most of the manual processes that delay order fulfillment by automatically deploying a robot to the pick location, alerting a nearby associate to perform the pick, and immediately traveling to the shipping station for packaging.
This is so effective, the top third-party logistics providers (3PLs) in the world are employing the multi-bot solution to fulfill orders for immediate shipping. Manufacturers that partner with 3PLs for their warehousing and distribution operations can lean on their expertise for implementing this technology. 3PLs are increasingly offering this technology in multi-tenant facilities as well, to split the costs between multiple tenants in the same fulfillment space.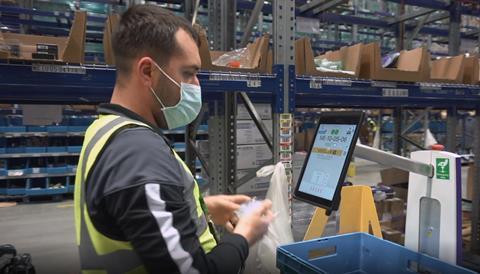 The solution: multi-bot order fulfillment
The multi-bot solution uses autonomous mobile robots (AMR) and runs on a Robots-as-a-Service (RaaS) model, essentially removing the up-front capital costs that cripple many plans to automate. It requires little infrastructure changes, can be installed in working operations, and multiplies the productivity of workers while returning an ROI within months instead of years. Warehouses monitor their demand in real-time and place an order for additional robots when volume increases, then send them back to return to the baseline operation. The fleet of robots is also safe enough to operate in hybrid environments, fulfilling orders from a stockroom or traveling between aisles to the many locations of parts and sizes.
A multi-bot solution is so flexible, it is capable of high performance in hybrid human-centric environments as well as dark microfulfillment (MFC) or ecommerce fulfillment (EFC) centers. Being highly portable as well, it does not limit warehouses to keep unbusy robots in a particular store site, as robots can be moved between multiple sites based on demand. This power of flexibility strengthens operations to weather through the most unexpected demand increases or changes; it future-proofs the entire operation.
Watch David Paquin, director of industrial segments at Locus Robotics, discuss the role of automation in automotive logistics during the Automotive Logistics and Supply Chain North America Live conference, which was held February 2-3.