Five shipping firms have been accused of overcharging OEM customers by conspiring to fix the prices they charged for transporting new cars and vans to the UK.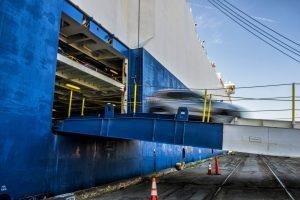 Former parliamentary and legal affairs manager Mark McLaren has filed the Consumer Rights Act 2015 in the UK's Competition Appeal Tribunal (CAT) against Chilean carrier CSAV, Japanese carriers K Line, Mitsui OSK (MOL) and NYK Line, as well as Norway's WWL and its subsidiary Eukor.
McLaren, who worked for nine years at Which? The Consumers' Association, and currently sits on the consumer panel of the Legal Services Board, (an independent body responsible for overseeing the regulation of lawyers in England and Wales), said: "When UK consumers and businesses purchased or leased a new car, they paid more for the delivery of that car than they should have done, as a result of a long-running cartel by five of the world's leading maritime shipping companies.
"I have spent much of my career working in consumer protection and I strongly believe that compensation should be paid when consumers are harmed by such deliberate, unlawful conduct."
Motorists and businesses who bought or leased a new car between October 2006 and September 2015 could be entitled to compensation because of the additional cost passed on in the price of their vehicles by the higher transport charges. The claim is funded by litigation funder Woodsford Litigation Funding and there is no cost to being part of the claimant group, according to Mark McLaren Class Representative Limited.
Affected cars include passenger cars and light commercial vehicles such as vans, which represent over 80% of all new car and van purchases. Examples of affected cars include Ford, Vauxhall, Volkswagen, Peugeot, BMW, Mercedes, Nissan, Toyota, Citroën and Renault.
The value of the claim, believed to be in excess of £150m follows the European Commission's (EC) ruling on 21 February 2018 that the four shipping companies, excluding MOL, had violated EU competition law, imposing fines of over €395m. According to the EC, the carriers had agreed to maintain the status quo in the market and to respect each other's traditional business on certain routes, or with certain customers, by quoting artificially high prices or not quoting at all in tenders issued by vehicle manufacturers.
Outside Europe, there have been investigations into cartel activity by the shipping industry in countries including Australia, South Africa and the US.