The US west coast ports of Los Angeles and Long Beach are making moves to improve freight movement and reduce delays to container throughput following months of congestion. Both ports are expanding hours of service during which trucks can pick up and return containers, among other measures to address the backlog.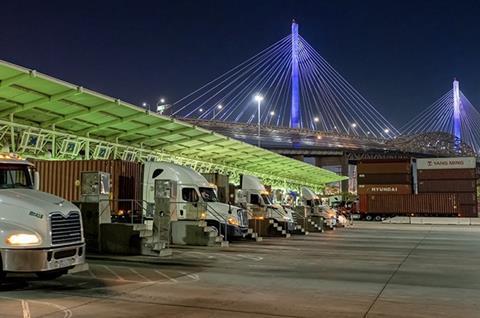 The ports, which both lie in the San Pedro Bay area, move approximately 40% of all containerised cargo entering the US each year and about 30% of all containerised exports. They are the two largest container ports in the country and handle a significant amount of inbound automotive parts shipments.
Last month it was reported that more than 60 vessels were anchored in the San Pedro Bay waiting to offload their container freight.
As previously reported, the aftermath of the first wave of the coronavirus disrupted ocean container shipping, especially between Asia and North America. As global production of non-essential items ground to a halt, shipping capacity was cut. However, when demand rebounded as lockdowns were eased, the industry was unprepared for the scale of demand. Moreover, the recovery in consumer demand coincided with increases in manufacturing, notably a stronger than expected resurgence in automotive production.
Covid outbreaks at ports in China over the summer and the resulting shutdown of operations have added to the problems in container trade between Asia and the US.
At Long Beach, executive director Mario Cordero said the port will take its first step towards a 24/7 supply chain by maximising overnight operations. Meanwhile, in Los Angeles, executive director Gene Seroka announced that the port will expand weekend operating gate hours. Both ports have called on marine terminal operators to encourage the use of all available gate hours, especially night gates, to reduce congestion and maximise cargo throughput capacity.
The Total Terminals International (TTI) container terminal on Pier T as Long Beach port has now expanded the pick-up windows for trucking companies between 11pm and 1.30am as part of a new pilot project. Additionally, TTI is opening gates during a third shift, from 3am to 7am, Monday to Thursday, for two-way, prearranged truck appointments to both drop off and pick up containers in the same trip.
"We welcome this pilot project by TTI as a first step toward extending gates to 24/7 operations, and we encourage our cargo owners and trucking partners to give this innovative programme a try," said Cordero.
The port of LA has identified a pilot project called Accelerate Cargo LA, designed to provide greater operational transparency on freight movements and ensure gate availability meets cargo demand.
"We appreciate the leadership of the Biden-Harris Administration in marshalling a response to the unprecedented global supply chain disruption so acutely felt here at the San Pedro Bay Port Complex," said Seroka. "These steps, in addition to what has previously been recommended, demonstrate that the port of Los Angeles will continue to innovate in order to manage this historic cargo surge."
Last month president Biden said his administration was bringing together port operators and shipping lines, along with labour unions and multimodal transport providers, to speed up throughput at LA and Long Beach ports.
For Long Beach, Cordero said the port was prepared to take bold and immediate action to help the supply chain move record cargo volumes and also acknowledged the support and leadership shown by the Biden-Harris Administration.
Speaking to Automotive Logistics at the beginning of 2021, Cordero explained that tighter capacity at the landside warehouses and distribution centres delayed container throughput.
"Typically, if the containers sit in the terminal a little longer, that has the effect of limiting capacity at the port," he said. "Fluidity and velocity are the ways that we maximise capacity. When you see ships at anchorage to this level it is an indication that fluidity and velocity in the terminals has been compromised."
Both ports are working closely with the road haulage sector to help individual truck operators understand how to make the most of the longer gate hours and move cargo during non-peak times. In a joint statement, the ports said that as well as expanded hours and an incentivised reservation priority, they urged terminals and the trucking community to consider other corrective measures.
The ports are also working closely with the White House supply chain disruptions taskforce to alleviate bottlenecks and speed up the movement of goods.
"I thank directors Cordero and Seroka for their leadership and all of the men and women who have helped meet the challenge of moving extraordinary cargo volumes during a global pandemic," said John Porcari, the ports envoy to the Biden-Harris Administration's Task Force on Supply Chain Disruptions. "I look forward to continuing to work with all stakeholders to strengthen the resiliency of our transportation supply chain.
Management of the freight network in North America during a time of crisis will form part of discussions at next week's Automotive Logistics and Supply Chain Global Live conference being held in Detroit and online between October 5-7