Tata Technologies is partnering with Jaguar Land Rover (JLR) to provide the carmaker with cloud-based enterprise resource planning (ERP) tools. The carmaker said the new digital tools will help transform its manufacturing, logistics, supply chain, finance and purchasing functions.
Tata Technologies is a global product engineering and digital services provider and a sister company of Tata Motors, JLR's parent company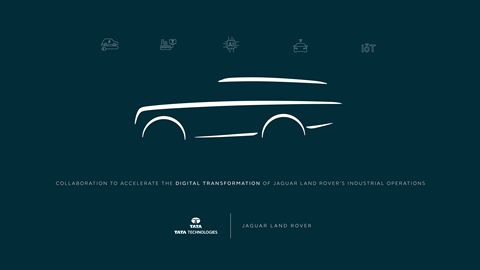 The first phase of the transformation will affect UK core production facilities, before being deployed to other global locations, according to JLR.
Tata Technologies is bringing data from multiple departments into one single source to stabilise operations and improve supply chain visibility for both the carmaker and its suppliers. It is using a new user interface to do so and JLR said that it would result in more agility and better lead times in getting cars to market.
Tata will integrate Sap S/4 Hana and Sap BTP with the existing software to upgrade JLR's architecture. It said the Sap S/4 Hana software package represents a shift from legacy ERP solutions to a modern cloud-based system, driving operational efficiencies and stability.
"The partnership with Tata Technologies will allow us to accelerate the transformation of our core ERP infrastructure to deliver the efficiency and usability we require for the future and our transformation objectives," said Barbara Bergmeier, executive director of industrial operations, at JLR. "It also demonstrates the power of being part of the Tata Group to help us to achieve targets for our supply chain and wider industrial operations."
Levent Yuksel, freight operations director at JLR, will be speaking about visibility, planning and sustainability at this week's Automotive Logistics and Supply Chain Europe conference, which is taking place in Bonn, Germany between March 21-23
The carmaker explained that ERP was better managing information across core business areas, including logistics and supply chain. The system provided by Tata Technologies will aggregate, store and interpret data from across those and other departments to provide instant insights supporting faster responses to potential disruption.
"We believe this collaboration will help JLR to build innovative and sustainable vehicles, and achieve faster time to market using new-age digital technologies," said Warren Harris managing director and CEO of Tata Technologies.
Improving transparency and response times has become more important over the disruption of the last three years and carmakers across the world are looking for digital solutions to avoid supply chain disruption, such as that seen with the shortage in the supply of semiconductors. It is also important to have greater visibility of the supply chain to ensure parts and materials are ethically and sustainably sourced.
As previously reported, BMW, Mercedes-Benz and Volkswagen are among ten companies that have set up a digital platform called Cofinity-X that aims to provide products and services to connect companies and enable, through the secure exchange of data, improved transparency on the sourcing, production, movement and recycling of parts and materials.