Executive director of industrial operations, Barbara Bergmeier, has unique oversight of JLR's production, procurement and supply chain – and she's using it to upgrade plants, systems, skills and supplier relations as the carmaker gears up to build more electric vehicles (EVs), increase flexibility and cut emissions
Speaking to Barbara Bergmeier at JLR's global headquarters and technology campus in Gaydon, in the West Midlands of England, her enthusiasm for the carmaker is infectious. She is thrilled to lead operations during the carmaker's ambitious transformation plans, which will include an overhaul of its production plants for electrification and an upgrade of IT systems. Bergmeier is smitten with the company's products and its culture, something the Bavarian executive first encountered more than 25 years ago when she worked at BMW, which owned Land Rover at the time.
She is particularly delighted to talk about the carmaker's supply chain management.
"I'm really happy that you're asking me about the supply chain as this is an area in which we have achieved a lot over the past two years, and we really have a lot to share," she says.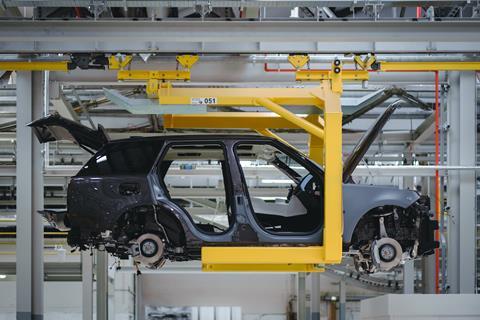 Bergmeier is not just being polite for a supply chain and logistics audience. Since 2021, when it first unveiled its 'Reimagine' strategy, JLR has reorganised and invested in its supply chain operations even while it faced significant disruption. It formed a new, separate supply chain organisation in 2021, bundling functions that were previously split across departments. In doing so, it established new line functions, including for fulfilment, and separated in-plant logistics to be part of manufacturing; it has also expanded supplier development and key logistics roles.
JLR took another step with Bergmeier's appointment in July 2022 and the creation of the industrial operations organisation, which combines oversight of global manufacturing, procurement and supply chain. Bergmeier set out with a goal to create a more resilient, digital and sustainable operation, and to accelerate an end-to-end approach to operational decisions. That has led directly to more investment in digital systems for supply chain planning and risk analysis, supplier relations and real-time visibility across production and logistics. The company is now upgrading its legacy IT infrastructure across its UK facilities with the latest cloud-based SAP S/4Hana enterprise resource planning (ERP) system ­– a major step in digitalising manufacturing and logistics processes.
JLR has also made fundamental changes to the way it works with key supply chain partners. For example, the OEM has developed direct contracts with around ten semiconductor suppliers. Rather than working indirectly through other suppliers, JLR's procurement, engineering and logistics teams align with these suppliers to design and plan capacity for its vehicles.
Similar partnership extends across the wider Tata ecosystem. JLR is working directly with Tata Technologies, a central systems and IT consultancy within the group, to roll out SAP across operations. Tata has also announced that it would build a gigafactory for battery cells in Europe, for which JLR would be an anchor customer, helping it to secure battery supply beyond current suppliers. At the time of publishing, there were media reports that Tata was close to confirming its European factory would be in the UK.
This integrated supply chain approach will be vital as the company embarks on its most significant industrial overhaul in more than a generation. In the latest update to its Reimagine strategy, JLR will more than double investment in upgrading its UK plants and supply chain for electrification, spending £15 billion ($18.7 billion) over the next five years to introduce EV models and components. That includes turning its Halewood plant into an all-electric factory, introducing new models in Solihull, and adding battery pack and electric motor manufacturing at JLR's powertrain plant in Wolverhampton.
The end-to-end perspective from industrial operations has had a critical influence in these investments and the decisions on where JLR should take more direct control of operations, including for chips and batteries.
"We want to work with strategic suppliers, but also to be less reliant on the supply base," she says. "As electrification is creating a new value chain, we need to ensure the right supply and demand in the coming years because all OEMs will walk in the same direction. If you look at the lead times for chip manufacturing and foundries, you need to work at least two years ahead to get the right allocation.
"Likewise, if you go through the whole value chain, including inverters, motors and battery packs, that's where we have decided what we want to design and manufacturer in-house," adds Bergmeier.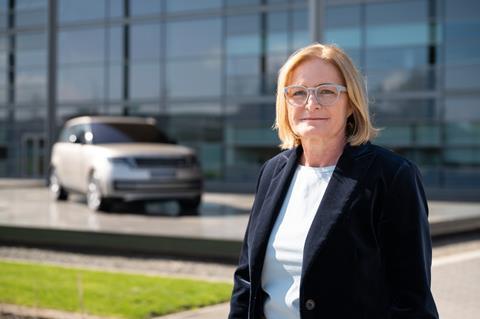 Barbara Bergmeier: A career across functions
Barbara Bergmeier's role as executive director for industrial operations at JLR combines responsibility for procurement, manufacturing and supply chain, functions that she has led across different companies in her career. Leading all three is now a unique role for the automotive industry, but more familiar in other industries in which she has worked.
Bergmeier spent 25 years at BMW across operations and production at the company's headquarters, in plants and global locations. It was also at BMW where she had her first touch points with colleagues and operations at what is today JLR. Back in the 1990s Rover Group belonged to BMW, including Land Rover (Ford acquired Jaguar in 1989 and Land Rover in 2000, selling both to Tata in 2008). The company's Longbridge plant in the UK, now closed, was then a sister plant to BMW's Munich factory. "I still have friends all over the world from this period. The experience of working with JLR always invokes such good memories and emotions for me," she says.
She went on to be chief operating officer at tier one parts supplier Dräxlmaier, giving her an important perspective into how automotive suppliers work. She later spent four years at Airbus Defence and Space as head of operations, exposing her to an entirely different supply chain in the defence sector – one that would be particularly revealing in the build-up and outbreak of war in Ukraine. It was also at Airbus where Bergmeier encountered a more integrated supply chain organisation, as the company has more cross-functional integration than is common in automotive.
Her appointment at JLR in July 2022 was an important step in the company's strategy to create a resilient, digital and sustainable value chain, establishing an end-to-end industrial operations group. Today, the company is making key investments and progress in creating a state-of-the-art, end-to-end supply chain, including in planning, fulfilment, supplier relations and digital transformation.

Stable supply and logistics to satisfy all customers
Logistics, including transport and inventory considerations, is increasingly important in these decisions. For example, in mitigating costs and emissions when moving heavy battery packs, or in mitigating potential impacts to production. Bergmeier also points to digitalisation projects that have helped reduce costs and optimise delivery routes.
Logistics performance and readiness will be in even sharper focus as the company works through its large order backlog. Like others across the industry, JLR's production in 2021 and 2022 was curtailed by chip shortages, forcing it to prioritise production schedules based on parts availability and key models – notably Range Rover, Ranger Rover Sport and Defender. Such constraint-based production has proved successful in navigating the crisis and in improving margins.
That favourable model mix has continued as production begins to recover. Deliveries rose by around 25% in the first three months of 2023 compared to the same period last year, with revenue up close to 50% thanks to the delivery of high value models. JLR's order backlog did slowly start to decline, however, and Bergmeier wants to reduce lead times for all customers and products. "Our aim and our efforts are all based on satisfying customer demands and to deliver what every single customer ordered," she says.
"As electrification is creating a new value chain, we need to ensure the right supply and demand in the coming years because all OEMs will walk in the same direction. If you look at the lead times for chip manufacturing and foundries, you need to work at least two years ahead to get the right allocation"
– Barbara Bergmeier, JLR
While improving, chip supply is still volatile, with OEMs facing bottlenecks in other parts of the delivery chain. Tier one suppliers are not always delivering in line with orders and call-offs, perhaps in part because they are cautious about increasing output and inventory at times of high costs and economic uncertainty. There are also constraints in vehicle delivery, including global ro-ro ocean transport, rail capacity in Europe and North America, and driver and car carrier shortages.
Bergmeier recognises that it takes close collaboration with suppliers and logistics providers to build trust and unlock investment. That makes internal cross-functional collaboration and collaboration with outside partners more vital. Digitalisation also helps, including better visibility across operations, more accurate demand planning, simulation and risk mapping. She points in particular to progress that JLR's supply chain and planning teams have made in updating and sharing forecasts with suppliers.
Bergmeier is determined that JLR and its supply base deliver on volume plans and meet service expectations. "JLR is as responsible for achieving this as our partners," she says. "But if there is no collaboration and trust, and we do not perform and deliver the volume, then we can't invest in the future."
Partnering in a new ecosystem
Bergmeier believes that the complexity and dynamism in the supply chain is changing the way OEMs, suppliers and logistics providers work together. It is no longer only customer and supplier, but an "ecosystem" of strategic partners based on co-creation, knowledge support and collaboration. That is in part why the carmaker has significantly expanded its Supplier Technical Assistance (STA) team, which pairs JLR engineers, manufacturing and supply chain experts with suppliers. These teams focus on challenges at suppliers or at JLR; they likewise identify innovations that can be transferred elsewhere.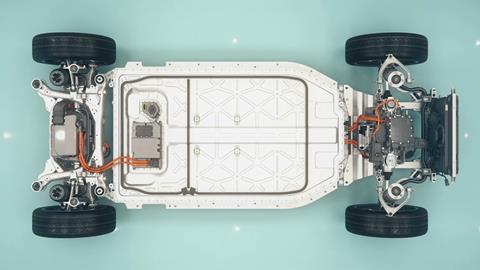 The projects teams are organised into "agile squads", according to Bergmeier, working in concentrated sprints across functions to quickly resolve issues, rather than sequentially through engineering, procurement and logistics, for example. "Such approaches would take too long, which is why we take an agile approach to these complex topics," she says.
One of the most important focus areas for cross-functional STA teams has been in working directly with semiconductor manufacturers to understand the semiconductor supply chain and how the chips function in JLR vehicles.
"This was a complex process, but now it is done, and since last year we provide our demand and supply requirements to the most important suppliers through this end-to-end process," says Bergmeier. "It has helped a lot. We can't do it for every chip, but we have focused on the high-end chips most used in our vehicles."
Along with semiconductor suppliers, Bergmeier sees cross-functional collaboration as important to rebuilding trust and reliability among suppliers in JLR's production plans. For example, the company invites around 20 key suppliers to weekly supplier calls to review status updates and anticipate any possible changes across manufacturing and supply. There are also weekly 'chapter days', which bring together cross-functional teams to review KPIs and targets in specific areas, and identify improvements, as well as randomly visiting plants and suppliers to understand successes and challenges.
"Such transparency is important to help suppliers build trust, and to understand that if they get an EDI signal for 100 units, then they should build and ship 100 units," Bergmeier says. "After so much disruption, we have more recently been able to show that we have realistic planning and that we are fulfilling our demand."
These efforts are starting to pay off, with deliveries improving over the past two quarters, and forecast accuracy improving. Members of the logistics team also point to the advantages of working more closely with its partners and sharing information. Levent Yuksel, freight operations director at JLR, responsible for inbound and vehicle logistics, told the recent Automotive Logistics and Supply Chain Europe conference that efforts to better align and engage with suppliers had helped JLR to exceed output targets in recent months, and make efficiency gains.
"The more we get rid of the unexpected, the better we can focus on the good things, such as sustainability, efficiency and operational excellence [in logistics], and together these are bringing better results collectively," said Yuksel.
Digital supply chain transformation, end to end
Bergmeier recognises that as volumes increase, JLR faces other issues, for example vehicle logistics constraints, which will require ongoing flexibility. She believes digitalisation will be essential in mitigating these challenges; for example, JLR has improved its demand planning capabilities, with constant updates based on market and customer signals fed back through manufacturing planning. JLR simulates potential changes to production, which has helped it to prioritise and flex its supply chain when it faces constraints, she says.
The carmaker has also invested more in supply chain visibility tools to anticipate risks before they disrupt operations; for example, JLR recently began using an artificial intelligence-based risk analysis system. "It looks through our entire supply chain and analyses potential issues including fires, earthquakes and other disruptions," Bergmeier says. "It would have previously taken us weeks to run such an exercise across our suppliers and logistics, and we can now run in it a matter of minutes."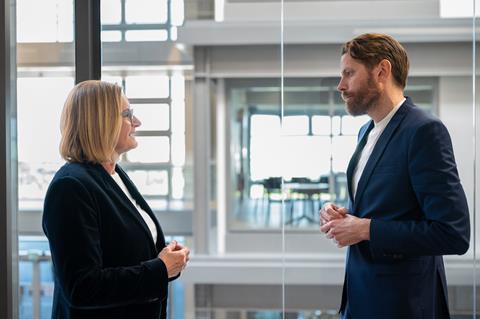 JLR is now investing significantly to enhance this digital connectivity with the integration of SAP S/4Hana. The cloud-based ERP will replace many legacy systems, some dating decades back to Ford's ownership of the OEM. As well as production, it will also cover procurement, finance and logistics, including warehouse and transport management, network optimisation and production control. Eventually, this new architecture will be part of end-to-end data connectivity from JLR's supply chain through to interfaces with customers.
Although the system will bring state-of-the art functionalities, Bergmeier stresses that JLR would not benefit just by 'plugging in' the system. Teams within the industrial operations group are evaluating end-to-end processes to ensure they match best practice and are as standardised as possible. That will also allow JLR to use the data to better create digital twins of its manufacturing and logistics and ultimately make more use of analytics and AI.
"We are close to finishing what we call a standard template, which aims to standardises our processes as much as possible," Bergmeier says. "That will allow us to roll out more applications and functions at a cloud level that can apply across operations without breaks in the data collection. Otherwise, you cannot apply full transparency across areas like procurement or how we deliver parts to the line."
JLR aims to integrate key facilities, including its Halewood plant this year, and Solihull by 2024 (its plant in Nitra, Slovakia plant, launched with another SAP system when it opened in 2018, and will not be part of the current rollout). The complexity of this transformation is one of the reasons JLR has partnered with Tata Technologies (TTL).
"TTL has helped in similar transformation at other companies many, many times, including other automotive companies," Bergmeier says. "Working with Tata in this way is an important way to accelerate our 'Reimagine' strategy, ensuring that we make the most of the Tata ecosystem."
Paulina Chmielarz, manufacturing business office director and one of the sponsors of the project at JLR, anticipates huge benefits for JLR in upgrading its operational processes and upskilling many of its employees. "We will have breakthroughs not yet visible in automotive, but I see a way out of doing it and I'm extremely excited," she recently told Automotive Logistics.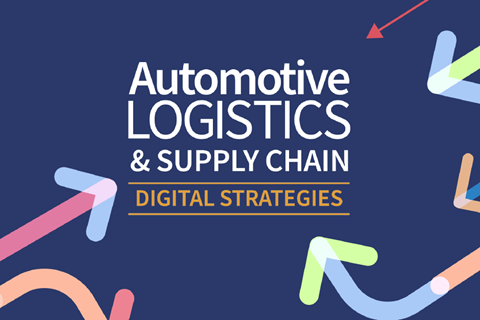 Automotive Logistics & Supply Chain Digital Strategies
is a new event taking place in Munich November 6-7, 2023, focused on digital transformation in automotive logistics, including improving visibility, predictability, and driving value from data across the supply chain. Paulina Chmielarz, who was recently promoted to Industrial Operations Digital and Innovation Director at JLR, will be among the speakers, along with leaders from BMW, Volkswagen Group, Toyota, ZF and many more. Come to see where Logistics Meets IT.
Find more more about our agenda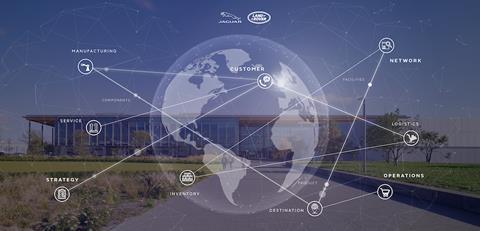 Sustainably shaped supply chains
As part of its Reimagine strategy, JLR has set ambitious long-term targets to reduce emissions, including a 46% cut in emissions from facilities by 2030, and carbon neutrality across all operations and the supply chain by 2039. In the UK, JLR's plants and facilities are already running on renewable energy; the company is working with global suppliers on where they can transition their plants, too. But there is no question that one of the biggest challenges will be in the supply chain.
Barbara Bergmeier points to progress the carmaker has already made. It has more than 150 programmes with various suppliers on reducing emissions, from switching to LED lighting to energy supply and water consumption in facilities. In 2022, JLR achieved reductions in CO2 in its logistics thanks to changing transport routes, and in some cases switching modes, for example from road to rail or ocean.
The carmaker is increasing its use of closed-loop recycling with aluminium suppliers to its factory and is actively exploring recycling and second life applications for batteries, for which it aims to establish a circular supply chain. "That will be important for our sustainability ambitions, but it will also be a competitive advantage to reuse battery or aluminium materials and save costs," says Bergmeier.
Circular supply chains will also play a greater role as JLR transforms its industrial footprint. Its Castle Bromwich plant, which is slated to end volume vehicle production by 2025, will increase its stamping operations for EVs, which will include many aluminium parts. Bergmeier suggests that ramping up circular loops and recycling could play a greater role at the facility in the future.
Carbon emissions in logistics and sourcing will shape JLR's manufacturing and sourcing decisions. She anticipates that locations able to provide more carbon neutral, sustainable transport and manufacturing options will have a competitive advantage. "The countries that provide this sustainable industry will make gains in the supply base and in manufacturing compared to those who do not," she predicts.
Flexible supply chains as a competitive advantage
As JLR's production recovers from the semiconductor shortage, and as the OEM scales up electrification across its plants, it faces a contradiction: it must achieve greater stability, while increasing flexibility across manufacturing and logistics. Stability ensures suppliers can produce and deliver to expectations; while flexibility helps JLR manage uncertainties in supply and market demand, and to meet premium customers' expectation for customisation and individualisation. Identifying the skills, processes and tools to achieve this balance will be essential for JLR's industrial strategy.
Bergmeier has set out to do both. Wherever possible, she wants to simplify processes and ensure consistency in operations. "It's important to follow golden rules and not to change everything in your manufacturing plan, but to give stable signal and demand to suppliers," she says. That is part of the approach JLR is taking with direct supply communication with chip suppliers, for example.
As part of its Reimagine strategy, JLR is rationalising its vehicle platforms across three architectures: the multi-powertrain MLA platform, all-electric EMA and a forthcoming Jaguar platform for EVs called JEA. Fewer platforms will reduce complexity in supply, logistics and lineside delivery. Electrification is also expected to further reduce part numbers and complexity compared to combustion engines.
However, it would be wrong to assume JLR's supply chain and vehicles are about to become much simpler. The high specification of software and engineering in vehicles such as Defender or Range Rover Sport, for example, show few signs that electrified versions will be less complex, even if they have fewer engine parts.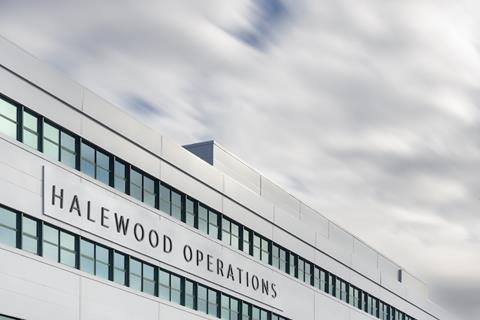 JLR's investment in UK production demonstrate that, even as it will build more EVs and battery packs, flexibility across assembly line and supply chains will be paramount. JLR will add more variety to its plants, including a new electric mid-sized luxury Range Rover at Halewood by 2025 as it transitions to become a fully electric plant. In Solihull, a new electric Jaguar GT will start production in 2024 ahead of models on the new platform in 2025. JLR will also retain its flexible MLA platform, on which Range Rover and Range Rover Sport are built, giving it the potential to continue offering internal combustion engine (ICE) and hybrid versions.
Nitra will also continue to produce multiple powertrains, while plants in Brazil, India and China look set to remain flexible. JLR has also said that it will explore the potential of other propulsion technology, such as hydrogen fuel cell, suggesting even more complexity in supply chain and production.
"No one knows exactly how the move from ICE to EVs will go, and I believe that the ones who have the most flexibility will be the ones who have the right products," Bergmeier says. "It won't help if you have single plants dedicated to single products."
That flexibility applies to meeting customer demand, too. Luxury customers are not only expected to specify exactly the vehicle that they want, but to change their mind and adapt orders. "In fact, they are welcome to make these changes, and it's our job to enable them to do that," says Bergmeier.
SAP implementation, re-stabilising the supply chain, managing transforming and contending with more supply chain bottlenecks: it's all in a day's work for JLR's industrial operations and supply chain teams. Bergmeier is not only ready to tackle these issues and invest in the systems and partners to do it, but she approaches it with a joy that few might expect after years of supply chain crises. "It's what makes this industry so exciting and fun!" she says.
"No one knows exactly how the move from ICE to EVs will go, and I believe that the ones who have the most flexibility will be the ones who have the right products. It won't help if you have single plants dedicated to single products."
-Barbara Bergmeier, JLR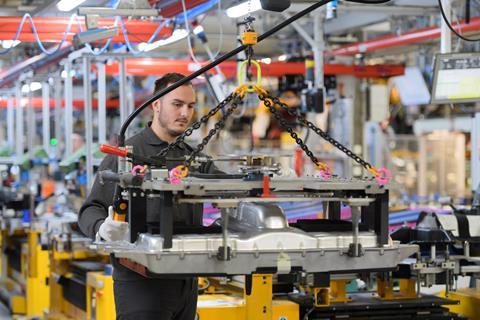 Charging group synergies: Tata's gigafactory plans
Deepening synergies within the Tata ecosystem is a key objective for JLR, including in its industrial operations and the supply chain. The battery supply chain will be an important example. Although the UK is still without a significant pipeline for battery cell production capacity – particularly after the collapse of Britishvolt's plans – JLR is pursuing a strategy that would make it less dependent on other battery cell suppliers.
Tata has revealed that it will build its own gigafactories in India and Europe, with JLR set to be its primary customer for the latter. The Indian conglomerate is reported to be exploring locations between the UK and Spain, with the British government reported to be offering Tata incentives worth more than £500m to build the battery cell plant and upgrade its steel-making operations in the UK. At the time of publishing, it was reported that Tata would soon confirm a location in Bridgewater, in Somerset, England, but there has yet to be an official announcement. [Editor's update: Tata has since confirmed that it would build its new £4 billion gigafactory in the UK, with JLR and Tata Motors as anchor customers].
Whether the factory is closer to JLR's British industrial base or further away, Barbara Bergmeier is relatively relaxed, knowing that JLR will configure its supply chain to best match the location. It has already decided that it will build its own battery packs in Wolverhampton, reducing the distance that these heavy products travel to its main plants in Halewood and Solihull. That facility will depend on battery cells from other suppliers in other regions for several years until a Tata gigafactory is ready.
"I would not tell my Tata colleagues where they should build their plant, but once they tell us where the plant is, we will define the most optimal supply chain based on the best quality, cost and most efficient value stream," she says. "We will have several possibilities to achieve that."