Volkswagen is making a concerted effort to make the way it moves its vehicles as sustainable as the electric vehicles it is moving. A good example is seen in the export of ID.4 from Germany to the US, as Marcus Williams finds out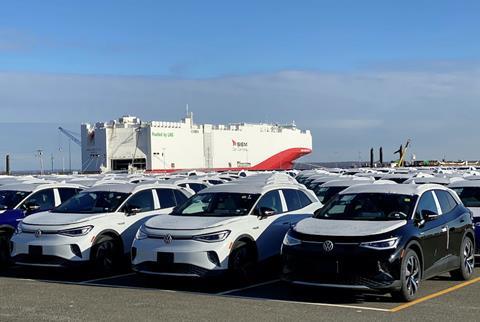 Volkswagen has been exporting volumes of its ID.4 luxury electric SUV to the US from its assembly plant in Zwickau Germany since March 2021. By the end of May it had moved 8,300 of the vehicles and what is significant is that VW wants the method of delivery to be as sustainable as the vehicle it is delivering. That is part of the carmaker's 'goTOzero impact logistics' strategy, which is focused on green rail transport and the use of car carrier ocean vessels fuelled by liquified natural gas (LNG).
VW is moving the ID.4s from Zwickau by rail to the port of Emden, which is dedicated to VW vehicle processing for export. As part of its goTOzero strategy, VW Group aims to switch all of the vehicles it moves in Germany with state-run rail provider Deutsche Bahn (DB) to 'green electricity' by the end of this year. That also goes for parts and materials, and as has been reported elsewhere, the lifecycle of the ID.4 is conforms to this strategy in that battery modules and battery systems for the ID.4 are delivered into Braunschweig and Zwickau by rail.
In Germany and Austria the company has already switched the rail transport it uses for parts and finished vehicle shipments completely to green electricity with the main German transport company DB Cargo.
By green electricity VW means power generated by wind farms and hydropower plants. Furthermore, the carmaker said last year that it intends to increase the number of vehicles it moves by rail in Germany to 60% by 2022, an 8% increase on the number currently moved.
It is also making moves to clean up the outbound logistics once the vehicles arrive in the US as the company plays an active role in reducing overall transport emissions in the industry. The company's stated goal by 2025 is a 30% reduction in emissions, from a baseline of 2015.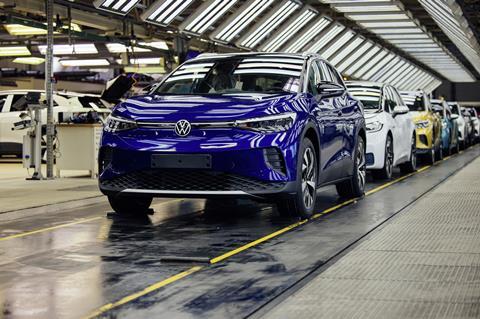 Scott Mabry, manager of cross border logistics at VW Group of America, revealed at this year's online Finished Vehicle Logistics North America conference, that 14% of global CO2 emissions were created by the transport sector and said the carmaker was for the same battery technology being used in the latest EVs to transfer to the freight sector, as a means to clean up transport emissions. That magic bullet is going to take some time to hit its target but there are things that carmakers can do in the meantime.
"One is looking at operational procedure… we have to work on this today to hit our goals, and we also have to look at how we design the supply chain," said Mabry. "Are the places we are picking up vehicles helping us to reduce our CO2 or can we optimise?"
We have to work on [operational procedure] today to hit our goals, and we also have to look at how we design the supply chain. Are the places we are picking up vehicles helping us to reduce our CO2 or can we optimise? – Scott Mabry, VW Group of America
Cross-Atlantic by LNG
At the port of Emden the ID.4 EVs are loaded onto car carrier vessels along with other VW Group models. VW is using nine vessels in total on the North Atlantic route as part of its the weekly in-house charter ship service.
Currently, that includes two LNG vessels chartered from Siem Car Carriers – the Siem Confucius and Siem Aristotle, each with capacity for 4,800 vehicle units. They deliver ID.4s to the US ports of Davisville, Baltimore, Jacksonville and Houston, as well as two ports on the west coast. The Siem vessels also call at Halifax in Canada and Veracruz in Mexico. VW says it has plans to increase the use of LNG vessels in its service and is preparing for shipments of the ID.4 to Canada.
"The task [of goTOzero] is to minimise environmental impacts [and] in logistics we proceed according to the action-premises of avoid, reduce, convert and compensate," says a spokesperson for the carmaker. "The LNG ships and rail transports, powered as much as possible by electricity generated from renewable sources, are important measures in this regard."
It takes 27 days for the vehicles to reach the first US port from when they leave the factory in Zwickau. On arrival in the US the ID.4 is handled from a processing standpoint like any other vehicle being delivered alongside it, both EV and those driven by convention internal combustion engine (ICE).
"We have several other BEV [battery EV] and PHEV [plug-in hybrid] vehicles in the VW Group of America [VWGoA] family," says a spokesperson for the carmaker. "With some differentiation in handling for battery charging requirements, these cars are released to carriers for dealer delivery with our ICE [internal combustion engine] vehicles."
As with every VW delivered to the US, some accessory installation is carried out on arrival, as well as labelling and throw-ins relevant to the US market. Fleet cars also receive additional attention carried out at the dealer locations.
VWGoA is working at eight locations in the US for these services and terminal operations are provided by Amports, Mid-Texas International, Norad, Pasha and Willenius Wilhelmsen.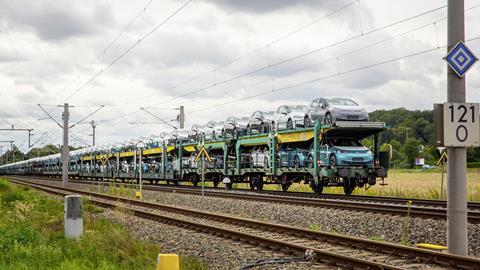 Multimodal savings strategy
VWGoA does not have the same set up for green rail in the US but says it is committed to an optimised multimodal delivery service combining rail and truck, and that includes accommodating for the weight of the heavier electric SUV.
"The ID.4 is shipped by both rail and truck," says the carmaker's spokesperson in the US. "We've seen no weight related issues on the rail side [and] with proper load planning and product mix, while heavier, the ID.4 has not made a significant impact to load factor [on the road]."
The carmaker works with 25 contracted carrier partners in the US and meets them regularly to discuss sustainability and environmental targets.
"We continue to have discussions with our carrier partners about developing efficient, safe and cost-effective solutions that put alternative fuelling measures into effect for our vehicle deliveries," says its spokesperson.
If you are picking up your car in the [Washington] DC area it is now coming from the DC area and not from Florida or New England. That is a huge change – Scott Mabry, VW Group of America
Outbound transport planning is carried for VW and Audi brand vehicles in the US by the vehicle logistics team in Reston, Virginia (and there are similar teams in Canada and Mexico). Again, operational procedures are scrutinised by the teams.
VW is working with ports, road and rail transport providers, and the dealers, to establish standards to measure emissions, as well as making adjustments to the outbound supply chain find the most sustainable routes and methods of delivery.
"[For instance,] if you are still burning diesel with the trucks, you want to minimise the miles to the dealer, so be very careful where you put your locations," said Mabry. "VW added the port of Baltimore and cut the miles down here. If you are picking up your car in the DC area it is now coming from the DC area and not from Florida or New England. That is a huge change."
For longer hauls, including those between Halifax and Vancouver, and Houston to Seattle, VW is using rail as the most environmentally efficient mode.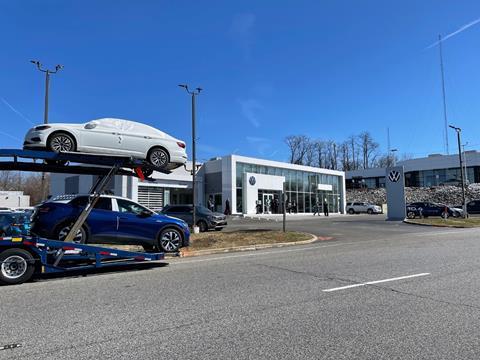 Closer collaboration outbound
Mabry said that that in between those points the carmaker was looking at everything it could in terms of facilities and processes to drive sustainability into the process, and importantly, it was doing so in collaboration with its logistics providers on road and rail, and other parties, including rival OEMs.
"What we need to do is align how we talk to each other and measure [emissions]," said Mabry. "I want to make sure that if a partner comes up with a great idea and can save us a certain amount of CO2 [we can say we] found a good solution to measure things the same way and talk the same language. There are a lot of companies in the supply chain and we all have to get our message coordinated and agree on a standard framework."
Mabry said the key to improving sustainability in the supply chain was through studying the finer points in the data it was gathering with its partners rather than working with averages. That included with the trucking sector and Mabry said closer collaboration with its haulage providers was very important:
"They are further ahead than we knew they were, so more communication and working on a format to get the actual numbers together that we need to track progress – that is the key."
Read more in the latest Automotive Logistics digital edition focused on supply chain sustainability and vehicle-handling ports