Volvo Cars is reducing the CO2 emissions in its supply chain by 84% switching to renewable fuels for its ocean freight, as it becomes the first OEM to switch all intercontinental container shipments to more sustainable fuels.
The carmaker will start to use fatty acid methyl esters (FAME) fuel instead of traditional fossil fuel, which is based on renewable and sustainable sources such as waste cooking oil. The FAME fuel will be used for inbound ocean container transports of production material destined for manufacturing plants in Europe and the Americas, as well as spare parts distribution made globally by ocean container transports. By making the switch, Volvo said it will immediately reduce its CO2 emissions from intercontinental ocean freight by 55,000 tonnes a year.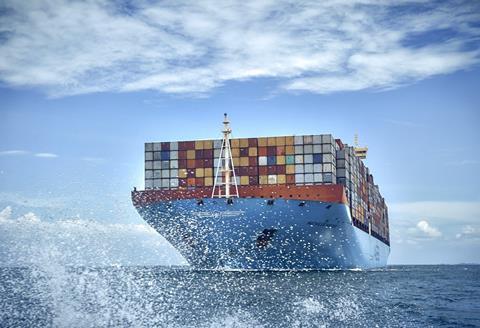 The company is working with logistic partners Maersk, Kuehne + Nagel and DB Schenker to make the change for all container transports. Maersk has been working on trialling new sustainable fuels in its shipping logistics. AP Moller-Maersk signed a deal with Hyundai Heavy Industries in 2021 to build eight ocean-going container vessels that would be able to run on carbon-neutral methanol and low sulphur fuel. The Danish shipping company also recently launched a bio-methanol sourcing agreement in Europe and invested in US-based sustainable fuel start-up WasteFuel.
Volvo Cars aims to reduce its lifecycle carbon footprint per car by 40% between 2018 and 2025, which it said requires a 25% reduction in operational and logistics emissions.
"Renewable fuel is not the end game for removing CO2 from the world's ocean freight needs, yet this initiative shows that we can act now and implement solutions that achieve significant results during the wait for long-term technological alternatives," said Javier Varela, chief operating officer and deputy CEO, Volvo Cars. "We don't view this initiative as a competitive advantage. On the contrary, we want to spark other carmakers into action as well, to increase demand for carbon-efficient ocean transports and to establish renewable fuels as a mid-term solution that works."
Varela recognised that biofuels are not the ultimate solution as they still involve burning a lot of fuel and releasing emissions into the air. FAME fuel only partly reduces carbon due to its use of fossil carbon-based methanol. While some FAME fuels have been criticised for their ties to palm oil, which contributes to deforestation, Volvo Cars said the FAME fuels it will use will not come from feedstock related to palm oil or palm oil production. FAME fuel is also not ideal for anything more than a short-term solution as the fuel can cause contamination problems due to it being able to absorb more moisture than petroleum-based diesel. When water contaminates diesel, it can provide ideal conditions for bacteria spreading throughout the fuel, which when untreated, can damage the fuel permanently.
To offset some of the less sustainable aspects of the fuel, Volvo said it will use a method known as mass-balancing. This means that when the FAME fuel is not available on a Volvo Cars shipment, it will be used by the logistics firm for another customer's route to make sure the overall reduction in fossil fuels is kept on par with the use in container vessels. The method is regularly audited by a third-party, as well as the fuel itself being certified and not produced in competition with food crops, making it sustainable in accordance with the EU Renewable Energy Directive.
Varela said: "We're continually exploring sustainability opportunities across all aspects of our supply chain and across our overall business. Our list of initiatives keeps growing as we work towards our ambition of becoming a climate-neutral company by 2040."
Other OEMs have been using similar biofuels in their finished vehicle logistics, or in pilot projects. In 2020, Volkswagen Group Logistics announced that its European ro-ro vessels carrying its finished vehicles would use vegetable oil, including oil recycled from restaurants and the food industry. In road logistics, BMW recently announced that it would expand its hydrotreated vegetable oil (HVO) powered trucks in a pilot programme. However, Volvo Cars would appear to be the first OEM to make this change across all of its intercontinental container shipments.
According to Varela, Volvo Cars has not made the switch to save costs or gain an advantage over other OEMs, but instead to encourage change across the sector. "On the contrary, we want to spark other carmakers into action as well, to increase demand for carbon-efficient ocean transports and to establish renewable fuels as a mid-term solution that works. We all have a responsibility to act."
Read more: Shipping lines and OEMs invest to decarbonise finished vehicle shipping