Volkswagen Group's battery spinoff PowerCo has officially launched construction on its second European gigafactory near Valencia in Spain. Production of unified cells at the €3 billion ($3.2 billion) facility is set to begin in 2026.
PowerCo is building its first gigafactory in Salzgitter, Germany and recently announced plans to build a third battery facility in Canada.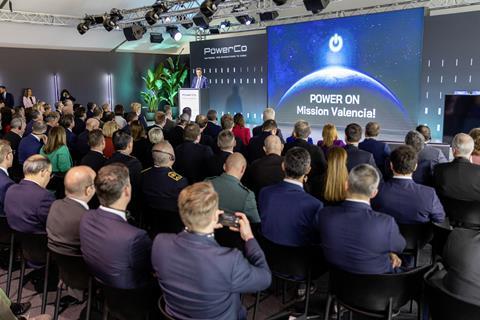 Thomas Schmall, head of group technology and chairman of the supervisory board at PowerCo, said the company is moving into the fast lane.
"We have just broken ground for PowerCo's second gigafactory in Valencia, and are already making the next step with the announcement of another gigafactory in St Thomas, Canada," he said. "Our objective is to make PowerCo a global player in the battery business and pave the way for better mobility with sustainably manufactured battery cells. The gigafactory Valencia is an important milestone in that."
The Spanish facility, which will cover 130 hectares of ground in Sagunto, 30km north of Valencia, will begin with production capacity for 40 GWh, though the company expects that to increase to 60 GWh in the long term. The development of an onsite supplier park will bring the overall footprint to 200 hectares, according to PowerCo.
Logistics efficiency
Transport infrastructure and proximity to VW Group's vehicle plants in nearby Martorell and Pamplona, which make Seat and Cupra brand vehicles, were key factors in the decision to build in Sagunto, according to the company.
In a recent interview with Automotive Logistics, Matthias Braun, head of logistics at PowerCo, pointed out that the company had a new way of thinking about the complexities of its logistics network. PowerCo is factoring in logistics costs, risks, systems and efficiency into its entire business model.
"PowerCo is making strategic partnerships with our suppliers and their suppliers to make an end-to-end approach possible. The great collaboration with our purchasing team helps us a lot in realising this," said Braun.
PowerCo also pointed to the availability of low-cost sustainable electricity for its decision to locate in Sagunto. It said the factory will be supplied completely with green electricity generated by solar and wind power, including from a new 250-hectare solar farm in the immediate vicinity – Iberdrola's €100m Cofrentes Photovoltaic Farm, which will be populated with 445,000 photovoltaic modules.
PowerCo added that the raw material cycle for battery production will be closed directly on the site of the cell factory.
The site will also benefit from a regional research and innovation cluster. Energy Cluster of Valencia Region, which has been running since 2010, is an association of 38 companies aimed at improving competitiveness through innovation in the energy, water and environmental sectors.
The gigafactory in Valencia is part of VW Group's €10 billion investment programme called Future: Fast Forward, which the company announced last year together with PowerCo and Seat, along with 49 supplier partners. Under that plan, VW Group will also electrify its car factories in Martorell and Pamplona as part of the first project under Spain's Strategic Projects for Economic Recovery and Transformation (Pertes), which involves the establishment of a supply chain for electric and connected vehicles.